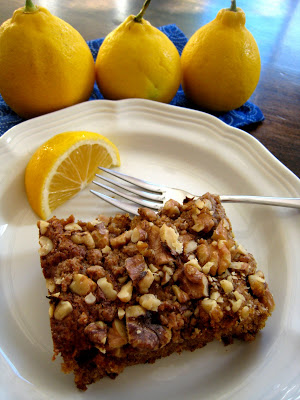 So far, so good. We're eating from the pantry and living to tell about it. We are due for restocking fresh fruit and cheddar cheese, but I don't think anyone's really noticed yet. Started the morning with a replay of Saturday's Lemon-Walnut Coffeecake. Watch for the recipe at Ultimate Recipe Swap this week. It's really healthy, believe it or not!
So far this pantry experiment is still working and it's still fun to think up yummy combinations. Thanks for being an encouragement. Only 25 days or so left to go….
Breakfast: Lemon-Walnut Coffeecake
Lunch: FishPapa was at a training so his lunch was provided by his employer, the kids had leftover Chicken Pot Pie, apple slices, and oranges. I had a Spicy Hummus and Veggie Wrap.
Dinner: Roast Chicken, Mashed Potatoes and Gravy, Cranberry Sauce, and Green Beans – from a can, 'cause I'm fancy like that 😉
Are you doing the Pantry Challenge? Is it fun or …. not?
Want the dish on delicious ways to act your wage? Subscribe to GCE in a reader or via email.