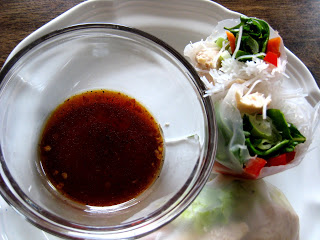 Today was the last official day of our Christmas vacation as well as our time with friends. I was glad to have some fun food in the pantry. Summer Rolls are so yummy, easy, and just a little out of the ordinary. Rice paper rounds are a great dry staple to keep in the cupboard. Fill them with lettuce, veggies, chicken, and rice noodles and, of course, serve them with a dipping sauce. Delish!
Breakfast: cereal for the kids, leftover potatoes for me (heehee)
Lunch: Summer Rolls
Dinner: Homemade Pesto on Whole Wheat Noodles (tasted really wheaty), Macaroni and Cheese, Caesar Salad (no croutons), Steamed Broccoli
How's your challenge going? Be sure to link up your progress report tomorrow at LifeasMOM.
Want the dish on delicious ways to act your wage? Subscribe to GCE in a reader or via email.