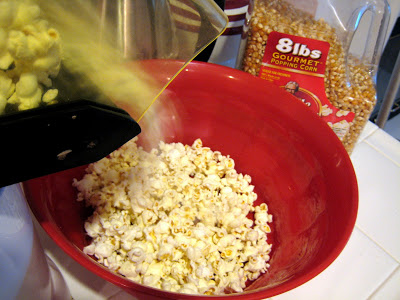 We're in for a full week of rain here in "sunny" Southern California. I know that might not seem like a big deal to you folks who deal with "weather" all the time. Unfortunately, California experiences extremes in terms of precipitation and going from drought to deluge can be cause for flooding and landslides. Not a fun way to spend a January day or week. Aside from tomorrow's dental visit/library trip, we're going to stick close to home. After school today the kids watched Davy Crockett and snacked on popcorn. The perfect rainy day activity!
Since today was a holiday for my husband, we decided to "make a memory" and take the kids out to breakfast. When we lived in cold weather country, breakfast outings were a regular event since there weren't too many other places to go! One of the kids pointed out that we hadn't gone out to breakfast in the entire 15 months that we've been back in California. So, it was time. And we didn't do too bad – $26 + tip to feed the 8 of us at IHOP. Amazing, is it not? And yes, I'll share our secret — another day.
Today's Good Eating:
Breakfast: Pancakes, Eggs, Bacon, Sausage, Hashbrowns
Lunch: Chicken Noodle Soup (from a can), drop biscuits, apples and oranges
Dinner: due to unforeseen circumstances, my planned Carnitas didn't happen, so we had shredded beef enchiladas, rice, beans, and green salad instead.
What did you eat today? Don't forget to share your Pantry Challenge Update.
Want the dish on delicious ways to act your wage? Subscribe to GCE in a reader or via email.