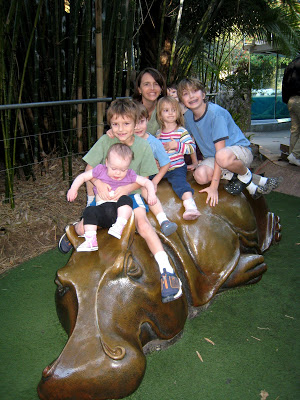 Well, here we go. Call me crazy, but we're going to be eating from the pantry this month. And to top it off, I've got good friends in town this weekend! It's such a wonderful blessing to be hanging with the Paines this week. I just wonder how much they'll like my pantry cooking….
This morning we started off with a very mellow New Year's morning breakfast. We decided to take advantage of the zoo's extended hours today, so I was too busy bustling about trying to get us ready and out the door to make a fancy spread. (We had a very fun day, by the way, with only one casualty. That's pretty good when you have 9 kids in tow!)
So, while I was hunting down wayward shoes and sweatshirts, the FishFam ate oatmeal. I grabbed the leftover potstickers and egg rolls from last night and ate them cold on the way to meet up with our friends. Yes, yes, I did. I'm big on cold leftovers for breakfast, something that hubs can't quite understand.
For lunch, we had a picnic based on what I had in the fridge and cupboard. PBandJ for the kids, turkey and swiss for the adults, apple slices with caramel dip, biscotti and chocolate chip cookies, juice pouches, and iced tea.
Dinner found us tired and exhausted after marching all over kingdom come the San Diego Zoo. My five year old who is the ultimate tough guy cried, "I have walked enough today." The Paines graciously included us in their one dinner out per week. Since we were on "our turf," we suggested a Southern California classic, In-N-Out Burger. And it was sooo good! (Thanks, Paines!)
So far, so good. What did you eat today?