These "ranchers eggs" are such a great thing to wake up to. Huevos Rancheros also makes a great quick supper.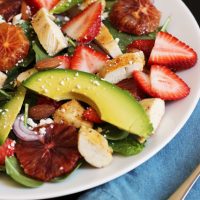 This spinach salad will make you happy. It's easy to make and the chicken, strawberries, and other fruit just make it sing.
These Taco Sloppy Joe's, made with Mexican-spiced ground beef and topped with your favorite taco toppings, are delicious!
Want to enjoy pancakes without a lot of added sugar? This recipe for Whole Wheat Banana Pancakes is packed with flavor and nutrition.
A Cobb Salad is full of flavor so it never need be boring. This one with ham and turkey gets dressed up with bacon and leeks.
Pull dinner together in a jiffy with this recipe for Easy Chicken Fajitas. Slices of chicken, onion, and pepper are simply seasoned with cumin, oregano, and garlic for a quick-fix dinner.
Take Hobo Dinners to a whole new level! These Easy Fish & Shrimp Packets come together super easy for a quick and delicious supper. In October when we met Monsieur Renaud, we had one of the most remarkable experiences of our trip. To meet a man who had lived through the German occupation of France […]
Take beans and rice to a whole new level with this savory chicken topping touched with the awesome sauce that is sour cream and salsa verde. The fabulous magic of mixing sour cream and green salsa together is not to be underestimated. I use it as the topping for my famous Poblano Chile Enchiladas as […]