Here's a hamburger that Popeye would be proud of: a beef patty chock full of greens.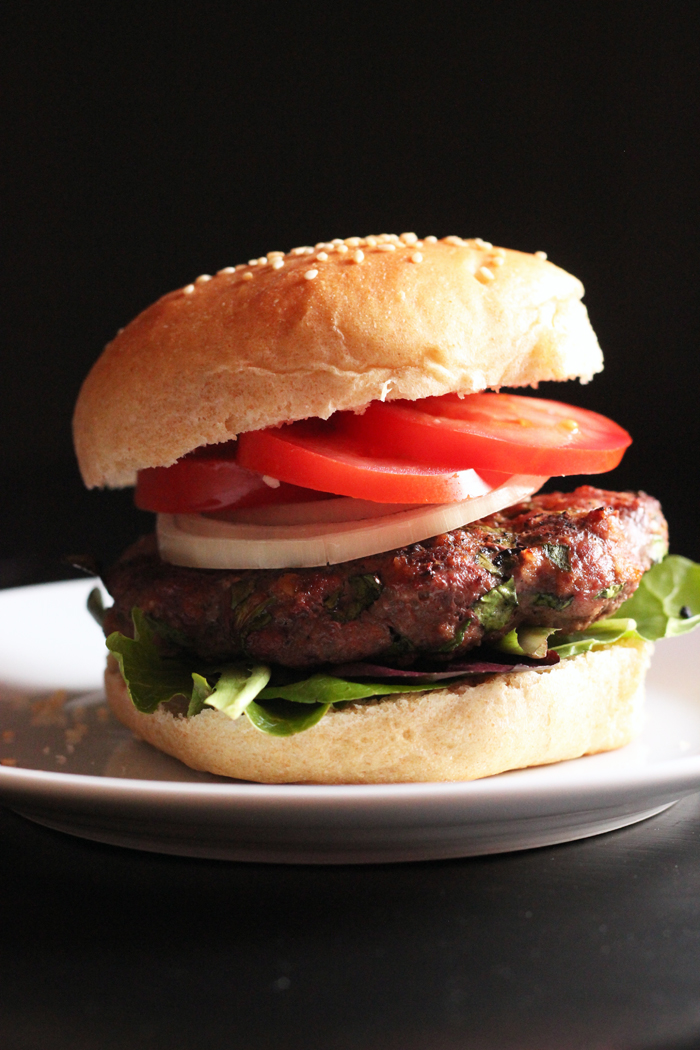 My eight-year old son is the resident "picky eater" around here. Almost everyone else will eat almost everything. At least without complaining. He doesn't keep his opinions secret.
And he's been known to gag on stuff that he convinces himself he doesn't like. Even though he's never tasted it.
So, his taste buds are often the growling dog that I try to sneak past when it comes to meal preparation. When he compliments a meal, I take note, dissecting it and contemplating how to up its nutritional value. When he said he loved my spinach meatballs, I remembered.
And then made spinach burgers. Bwahaha.
All the family loves hamburgers. When it comes to burger toppings, though, the kids can tend to skimp on the lettuce and tomato and pile on the condiments. I decided to put the greens in the burger!
The kids saw that the burgers had green stuff in them. And, yes, they were a little skeptical. But, they fought over the leftovers, so I guess that means they were a hit. Make them slider size so that little hands can more easily grasp them.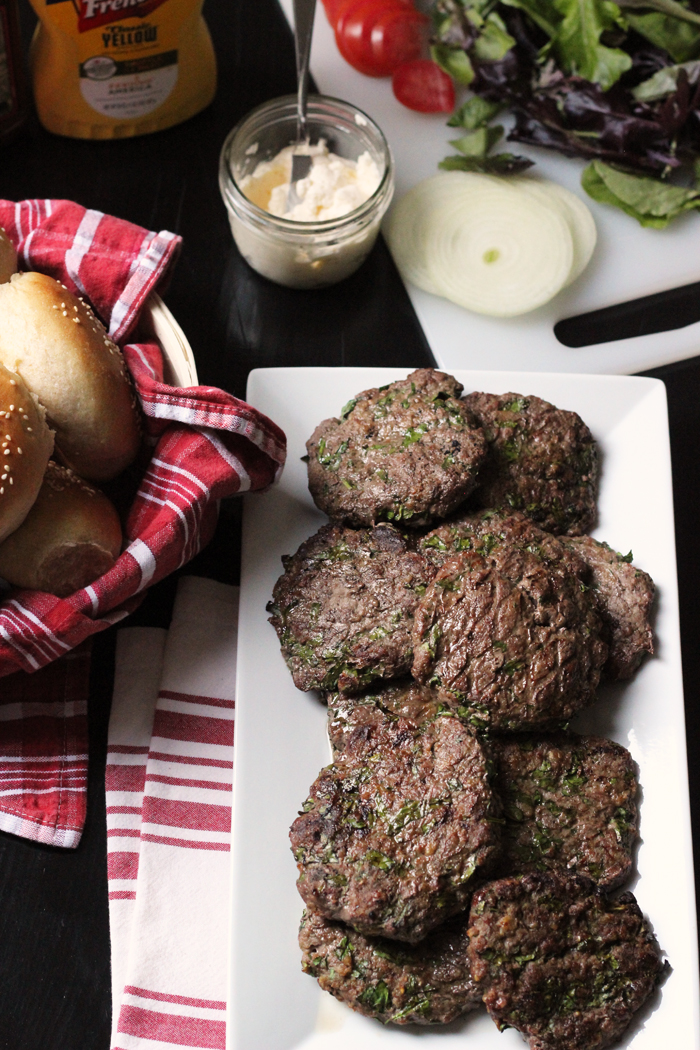 I use bread crumbs to bind the ingredients and stretch the meat just a bit. If you use the heel of the sandwich loaf, you're making good use of something that might otherwise be left for the trash.
Popeye's Burgers with Spinach
Here's a hamburger that Popeye would be proud of: a beef patty chock full of greens. 
Ingredients
1

lb

ground beef

1

slice

sandwich bread

ground into crumbs, about 3/4 to 1 cup fresh bread crumbs

3/4

cup

kale (chopped)

or other greens

2

tbsp

milk

2

clove

garlic

chopped

1/2

tsp

salt

1/8

tsp

black pepper

4

hamburger buns

or sliders

1-2

tomato

sliced

condiments for burgers

, such as cheese, mustard, ketchup, mustard, and additional greens
Instructions
In a mixing bowl, combine the beef, bread crumbs, greens, milk, garlic, salt, and pepper. Combine well, but do not overmix.

Divide mixture into eight sliders or four quarter-pounders and form patties.

Patties can be frozen at this point if you want to make them ahead of time. Divide them with layers of waxed paper. Wrap tightly with plastic wrap. Place in a ziptop freezer bag and freeze. Thaw completely in the refrigerator before proceeding with the recipe.

Cook in a skillet or over a hot grill until cooked through.

Serve with buns and toppings.
Notes
Nutritional values are approximate and are based on 4 hamburgers (without condiments). Refrigerate leftovers promptly and use within 4 days.
Nutrition
Calories:
368
kcal
|
Carbohydrates:
38
g
|
Protein:
32
g
|
Fat:
9
g
|
Saturated Fat:
3
g
|
Cholesterol:
71
mg
|
Sodium:
738
mg
|
Potassium:
601
mg
|
Fiber:
2
g
|
Sugar:
5
g
|
Vitamin A:
784
IU
|
Vitamin C:
7
mg
|
Calcium:
139
mg
|
Iron:
5
mg