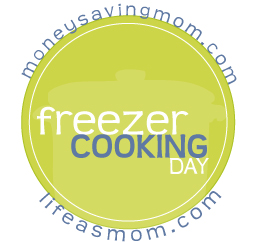 One of the things that I love about freezer cooking, or once-a-month cooking as it is often called, is that I can make a multitude of homemade convenience items that are less expensive and healthier for us than their storebought counterparts. Don't get me wrong, storebought has its place, most definitely.
But, even before we were on this "be-frugal-and-live-debt-free" kick, I made a lot of things from scratch just because they tasted better. When I break down and buy the frozen TV dinner, I'm swayed by the pretty picture, but oh-so disappointed by the taste. Do you know what I mean?
If you haven't done DIY cooking, then there's no better time to start than the present.
I started out this month's freezer cooking by preparing three ingredients that we enjoy a lot and use often: croutons, shredded chicken, and red sauce. (Scroll down for recipes.) None of these are difficult nor are they time-intensive. It's just a matter of gathering the ingredients and spending a little focused time.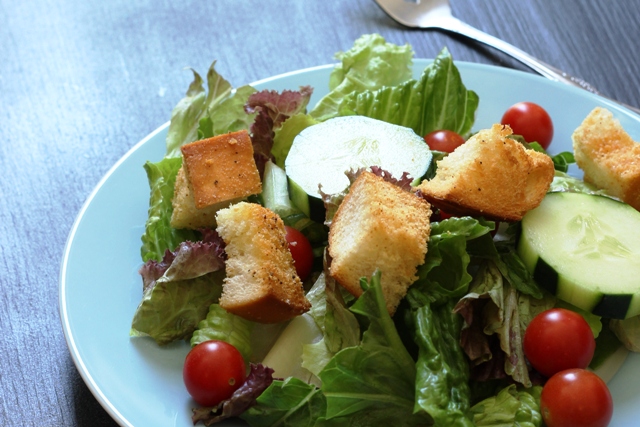 Croutons are Easy to Make Yourself
Packaged croutons are often full of preservatives and sodium. My toddlers have always been able to eat a box in one sitting. Not the most nutritious of snacks. And not that I would let them or anything. Nowadays, I make them myself. You'll be surprised at how easy this is!
I often buy marked-down artisan bread from the grocery store with the specific intention of making croutons out of it. It usually happens that I'm browsing the clearance section of the store and find great sourdough or whole grain breads that are a day or two before their sale-by date. The store wants to move them before they are no longer saleable, so they mark down the price, sometimes as low as 25% of the original price. These are a great addition to dinner, but sometimes bread isn't the side dish I want to use that night. Instead, I find other ways to use dry bread. Often they become frozen bread cubes.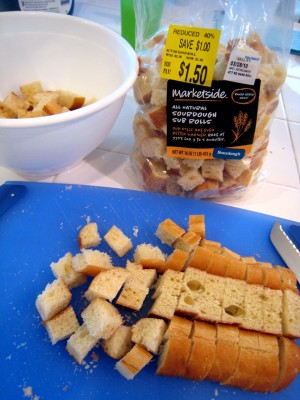 Recently, I found packages of sourdough rolls as well as larger sourdough rounds for about a dollar each. I brought those home and cubed them. I could have baked them all into croutons right then, but I know that my family would gobble them up in a second. They eat croutons like potato chips. And we'd have none for later in the month when I want to add some crunch to a salad.
So, I cubed all the bread and put the cubes back in the bread bags and then in the freezer. When I want to make croutons, I will pull out a few handfuls of cubes, toss them in olive oil and toast them in the oven, usually alongside our main dish. They cool fairly quickly on the counter and are then ready to sprinkle over salads.
Leaving the cubes in this form also makes it easy for me to make homemade bread crumbs or egg bakes. Much of the work is already done for me if I've already cut the bread into cubes.
Cook and Shred Your Own Chicken for a Fraction of the Price of Pre-Cooked

On busy nights and the ones when I forget to thaw dinner, it's tempting to run for take-out or pick up a rotisserie chicken. But, if I've played my cards right, I can instead, go to the freezer and grab a bag of precooked, shredded chicken. We use it in tacos, sandwiches, and salads as a quick protein. (This was one of the first things to disappear from our freezer last month, so what does that tell you about my defrosting abilities?)
Recently my local grocery store had bone-in chicken breast for $0.97/pound. This is about as inexpensive as I've seen it. I prefer bone-in chicken breasts in many situations because the meat tends to be more flavorful and doesn't dry out in the same way as boneless. Plus, I trust Amy's math that it is the less expensive cut.
I actually cooked this chicken earlier this week. The oven was already heated from preparing dinner. So, I slipped two pans of chicken breast into the oven to bake while we ate dinner. I seasoned it simply with salt, pepper and garlic powder and then baked at 375° for about 45 minutes to an hour. The chicken was done by the time we finished eating. It cooled while I cleaned up the kitchen, and then I shredded it, bagged it and stowed it in the freezer.
DIY Pasta Sauce is a Sure Thing
When FishPapa and I first got married, we had a favorite brand of jarred pasta sauce. Only one. My husband is really sensitive to the taste of sugar in pasta sauces and there are very few prepared brands that aren't sweet.
As you know, brand loyalty can be rather pricey. And once we moved to one income, I knew we needed to economize. I started making my own pasta sauce and haven't looked back. About once a month I cook up a big batch, divide it into 2-cup portions, cool, and freeze. Yesterday morning I got my crockpot going with a simplified version of my Red Sauce with Meats.
Slow Cooker Red Sauce

This easy red sauce for pasta or pizza cooks quickly in the slow cooker. Make a big batch and store extras in the freezer.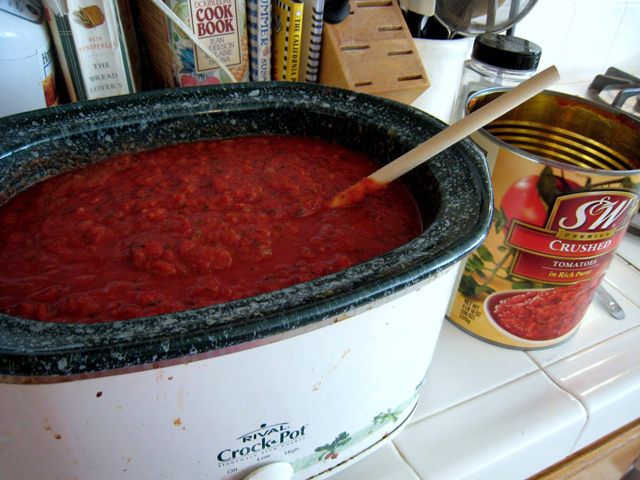 Preparation Time:5 minutes
Total time:240 minutes
more than 13 cups
Ingredients:
1/4 cup olive oil
2 large onions, diced
#10 can crushed tomatoes (a #10 can is an industrialized size can that holds 108 ounces)
1-2 cups water to achieve your preferred consistency
1 Tablespoon salt
1 Tablespoon garlic powder
1 Tablespoon parsley flakes
2 Tablespoons dried basil
1/2 teaspoon crushed red pepper flakes
Instructions:
1. In large skillet, heat olive oil and cook onion until softened. Spoon onions into crockpot.
2. Add crushed tomatoes, water, and spices. Cover and cook on low all day or on high for about four hours.
3. Adjust seasonings to taste. Serve over your favorite noodles or use in lasagna.
4. To freeze: cool sauce to room temperature. Divide into meal-sized portions. Chill completely before freezing.