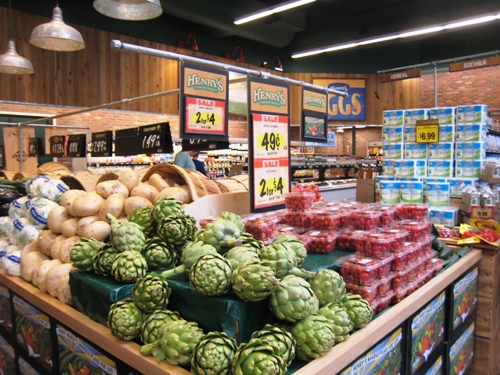 Six kids? Southern California cost of living? And a tight economy? They sound like incompatible circumstances, don't they? Yet, we're doing okay.
According to my records, our family spent $7700 on groceries last year, an average of $641 a month.That number includes diapers, paper goods, and toiletries.
We do have a separate "dining out" budget. Last year we spent $1800 on meals out, for a grand total of $9500 to eat. So, our total food costs average just under $800 a month for a family of 8.
Yes, I'm a numbers geek.
I also live in the state with the highest cost of living. This is important to note. According to the USDA Food Cost reports the national average for food costs in 2010 for a family of my size and ages was $1045.10 per month on the "thrifty plan," $2054.10 on the "liberal plan." That means I spent less than the national average, though I live in one of the two most expensive states in the US.
(The linked pdf is for June, which they call the national average number. I couldn't find a California-specific figure, but I'm guessing that it must be equal to or above the national average.)
Why am I telling you this?
You Can Eat Well, Spend Less
Earlier in our Eat Well, Spend Less series, I mentioned that grocery expenses are one of the things that we have most control of. We can't determine what the store charges, but we can decide how to cook and how to eat.
If our family, living in an expensive state, can spend less than the national average, you can, too. Really.
Here's how to save money on food, especially in Southern California:

1. Use coupons strategically.
Three years ago we were up to our eyeballs in debt when I discovered the wide world of couponing. After a few weeks, I was stunned at how much food I was able to acquire for much less than we were previously spending. Granted, some of it was highly processed and not the best food choices. But, I looked at it as a means to an end.
Once we paid off our debts, I was able to be more discerning in how I shopped.
I still use coupons, but I buy much fewer processed foods than I did in the past. Instead, I use my couponing to save me money on raw materials like oats, milk, yogurt, even couscous. I have found quite a few coupons that are for "real food."
And in other instances, I've saved a lot of money playing the drugstore game and getting most of our toiletries and paper goods for free or for very low prices.
In Southern California, one of the challenges to couponers is that the stores are much more restrictive than in other states. Even major nationwide chains like Safeway or Kroger have different policies at their affiliates in California. Some don't accept internet printables or they limit how many coupons of a type you can use. They are working to prevent fraud, but this also prevents one from stocking up when there's a really good deal.
Southern California stores also vary by county and city. I've noticed different policies in effect in different areas. Again, it's often the bad apple ruining it for the rest of us. But, there are still deals to be had.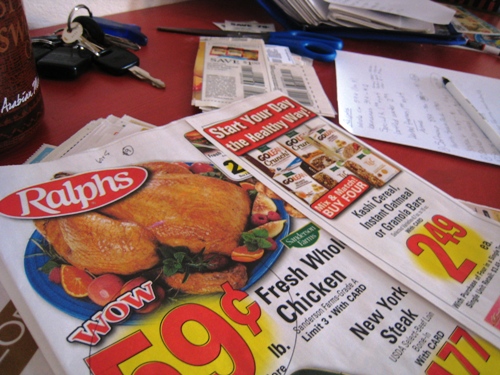 2. Stock up on the loss leaders.
I rarely buy something unless it's on sale. That is my normal mode of operation. I base our meals on what's on sale. When I see a good price, I buy as much of that item is reasonable to store and use within the next 6 to 8 weeks.
Often times, the store has already built in a limit to what I can buy. So, every time I see whole chickens for $0.59/lb I buy the limit and stash them in the deep freeze. Roast chicken is an easy, frugal meal that my family loves.
I do this for the bulk of the ingredients that I use on a regular basis. Sometimes, like when I'm testing a recipe, I have to veer from this and pay full pop — and that makes me twitchy.
One of the things I've noticed in following other frugal cooks, is that the "loss leader" prices vary from state to state. Ralphs, a Kroger affiliate, will host the same products on sale as Dillons or Kroger, but they consistently charge 50 cents more per item. But, we live in an expensive state, so this shouldn't surprise me.
See my most recent grocery shopping trips here.

3. Cook from scratch.
In my honeymoon days, I cooked from scratch and devoured food magazines as a hobby. I knew that homemade tasted better than anything commercially prepared. But, I was also willing to pay a high price for my ingredients.
Today, I still cook from scratch, but by using the previous two techniques, I can make the same recipes for half the cost. I also avoid expensive ingredients in order to save money.
I still buy some processed foods, but those are usually for reasons of convenience and portability. My kids love the little applesauce cups and I'm not going to take the time and hassle to portion out homemade for a picnic or field trip. I just buy unsweetened on sale and call it good.
A girl has to draw the line somewhere.
Find our favorite budget recipes here.
4. Buy fresh produce.
There are some perks to living in the Golden State: sunshine, warmer weather, and great produce prices. Since I share my grocery finds on a regular basis, I get feedback from you all. And it seems that we regularly have outstanding prices on produce here in California.
The mainstream grocery stores, like Albertsons, Ralphs, and Vons, usually have one or two loss leaders each week. But the smaller chains like Henry's and Sprouts have a whole barrel of bargains on a weekly basis. A peek at my recent finds:
limes $0.10
kiwis $0.20
apples $0.49
lettuce $0.88
cuties $1.97
swiss chard $2
green onions$0.25
cucumbers $0.49
zucchini $0.88/lb
blackberries $0.97
tomatoes $0.88/lb
cilantro $0.25
broccoli $0.97/lb
When we lived in Kansas we did not eat a wide variety of fresh fruit and vegetables. Canned or frozen was usually cheaper. Here is San Diego, the reverse is true. If I watch the sales, I usually can get an assortment of fresh produce for very little money.
However, I have not had great luck at farmers' markets. The prices are high and the salespeople unwelcoming. I feel quite lost. This was never the case when we lived farther north in California. It could be that times have changed or farmers' market is too trendy to be cheap here in San Diego.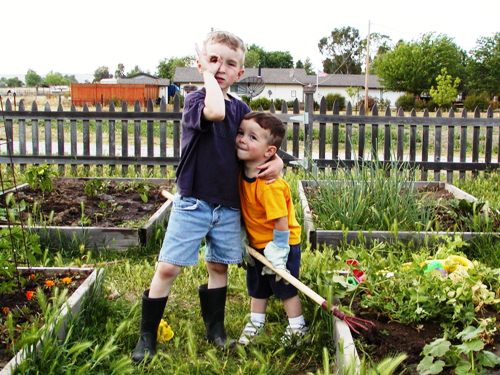 5. Grow your own.
That said, it's not difficult to grow your own in Southern California. Don't take last year's garden as proof, but once upon a time, I really did have a green thumb. See?
One of the caveats of living in an expensive state is that property is expensive and backyards — like our current one — are small. FishPapa is devising a new and improved container gardening system for me. So, I hope to be harvesting my own tomatoes when I'm not mooching off his co-worker and his extensive yard full of vegetables and fruit trees.
If you can't grow your own in So Cal, you probably know someone who does and is willing to share. My dad has blessed us with over 100 homegrown Meyer lemons this year from a backyard tree that is as old as I. And he says, it may be tapering off in its old age. Dad has always had a backyard garden bursting with every veggie imaginable. Some years, he has tomato plants that become perennial. They survive a mild winter and keep producing into the next growing season.
If you live in California, bloom where you're planted and enjoy an abundance of fresh fruits and vegetables.
These strategies work wherever you live. And they can help you to eat well and spend less.
What do YOU do to save money on groceries?
This is part of the Eat Well, Spend Less series.