This Roast Turkey with Herbed Stuffing and Pan Gravy will be a hit at your holiday table this year.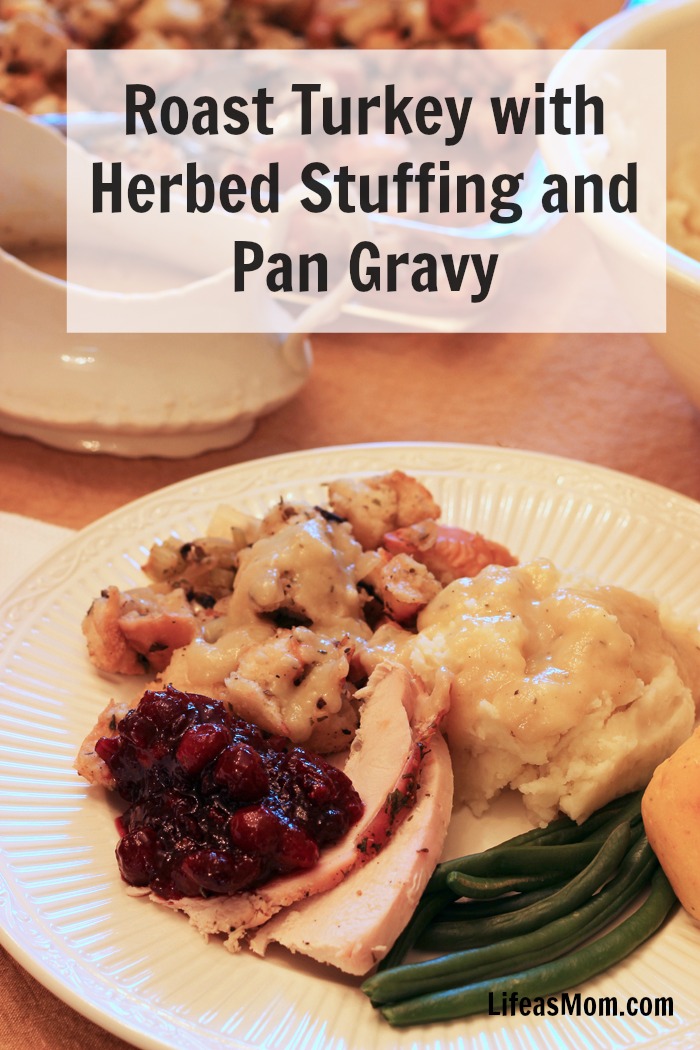 My latest email from epicurious says that there are eight days left until Thanksgiving. Unbelievable how quickly time passes. This year will be the first year in a long time that we will be spending the holiday with family. I'm looking forward to eating lots of yummy food, savoring a slice of Toffee Dream, taking a walk (and hopefully a nap!), having another slice of Toffee Dream, playing card games while my FishMen watch a football game, and did I mention Toffee Dream?
Anyway, food is such a BIG part of the Thanksgiving Holiday, I could plan the meal 100 different ways – it's so fun. But, we tend to have some traditionalists around here. Can't go too funky on them.
Obviously, turkey is a big part of the day, but for me the stuffing and gravy — well, I just gotta have them.
Here is the recipe that I use every year. My copy of Bon Appetit, November 1995, is very tattered and love-worn. It's theme was "Thanksgiving in the Heartland." I found a turkey and a stuffing recipe that weren't too froo-froo. Just straightforward good cooking. Unfortunately, it is not one of the recipes they have archived on their website, epicurious.
Due to rising concerns about food poisoning, most publications recommend that you no longer stuff the bird, but cook all the "dressing" in a 9×13 pan. This is what I do now. However, I am leaving the directions as is. And even though today's theme is "side dishes" I'm throwing in the turkey recipe for good measure.
Recipe: Roast Turkey with Herbed Stuffing and Pan Gravy
Ingredients
For Turkey:
1 20-pound turkey
7 cups Herbed Stuffing (see recipe below)
1/2 cup melted butter
1 tablespoon all-purpose flour
For Gravy:
Giblet broth reserved from Herbed Stuffing (see recipe below)
5 tablespoons all-purpose flour
1/2 teaspoon dried rosemary
Instructions
For TURKEY: Place oven rack in lowest position and preheat oven to 350. Set roasting rack in large roasting pan. Rinse turkey inside and out. Pat dry. Season main cavity lightly with salt and pepper. Spoon 7 cups stuffing into main cavity. Close cavity with skewers. Tuck wings under bird. Tie legs together loosely. Brush turkey with half of melted butter. Season with salt and pepper. Sprinkle flour inside oven bag. Place turkey inside bag; seal end of bag with nylon tie. Set bag on rack in roasting pan. Cut several small slits in top of bag.
Roast turkey 2 hours 45 minutes. Remove turkey from oven. Increase temperature to 400.
Cut turkey bag down center (let steam escape) and open to expose turkey. Brush turkey with remaining butter. Return to oven and roast until brown all over and thermometer inserted into thickest part of inner thigh registers 180 degrees F, about 15 minutes longer. (For safety, stuffing temperature should reach 160). Transfer turkey to platter. Tent loosely with foil to keep warm.
For GRAVY: Pour juices from roasting pan into large glass measuring cup. Spoon off fat from top; reserve 5 T. fat. Pour juices and giblet broth into heavy medium saucepan. Boil until reduced to 3 cups, about 15 minutes. Heat reserved 5 T. fat in heavy large saucepan over med. heat. Add flour; cook 3 minutes, stirring often. Whisk in reduced turkey juices. Add rosemary. Simmer until gravy thickens, stirring occasionally, about 5 minutes. Season with salt and pepper.
Recipe: Herbed Stuffing
Ingredients
For Giblet Broth:
6 cups chicken broth
neck, heart, and gizzard from 20-lb turkey
1 1/2 tablespoon dried thyme
1 tablespoon dried rosemary
For Stuffing:
1/2 cup butter
2 pounds onions, chopped
4 cups chopped celery (about 7 large ribs)
12 cups herb-seasoned cubed bread stuffing (about 1 1/2 10-ounce packages)
1 cup chopped fresh parsley
2 tablespoons dried tarragon
Instructions
For BROTH: Bring broth, neck, heart, gizzard, thyme and rosemary to boil in large saucepan. Reduce heat to medium; cover and simmer until giblets are very tender, about 1 hour. Transfer solids to plate, using slotted spoon. Cool briefly. Carefully remove all meat from turkey neck. Chop giblets and neck meat. Strain broth.
For STUFFING: Butter 9×13 baking dish. Melt butter in heavy large pot over med-high heat. Add chopped onion and celery and saute until tender and just beginning to brown, about 15 minutes. Transfer to large bowl. Add stuffing cubes, chopped parsley, tarragon and chopped giblets and neck meat to bowl and toss to blend. Mix in 1 2/3 cups giblet broth. Add more giblet broth if necessary to barely moisten stuffing. Season generously with pepper. Reserve 7 cups stuffing for main cavity of turkey. Mix 2/3 cup giblet broth into remaining stuffing and transfer to prepared baking dish. Reserve remaining giblet broth for gravy. (Can be made 1 day ahead. Cover 7 cups reserved stuffing, stuffing in dish, and remaining giblet broth separately and refrigerate.)
Bake stuffing in covered dish alongside turkey for 45 minutes. Uncover; bake until golden, about 15 minutes.
Bon Appetit!
Have you got a great sidedish? Share it with us! Leave your link here or post your recipe in the comments.