Reuse a vinegar bottle to create a reusable salad dressing cruet. Prevent wasted dressing by using a bottle with a shaker-type stopper.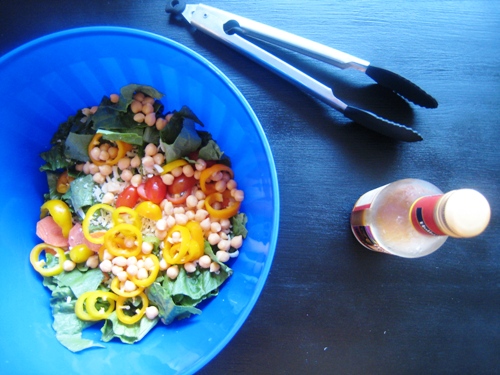 I have always been a huge fan of salads. I love the fresh, crunchy combination of flavors.
For the last dozen years or so, I've made it a habit to make my own salad dressing. A few creamy caesar bottles have made their way into the cart, but for the most part, our dressings are usually mixed on the spot.
However, I love the convenience of a ready-made dressing, especially on a busy night when I just want to get people fed. That's when I'm thankful to have made a bulk batch of dressing and stored it in the fridge.
While mason jars are great for this, I've found that one can easily pour too much dressing out of a mason jar and end up wasting all that tasty vinaigrette. The solution?
This: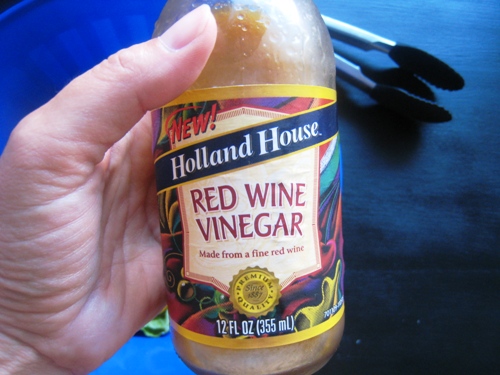 Since I make my own dressings, I use a lot of vinegar. When the bottle holds less than half of the original contents, I mix the next batch of dressing right in the bottle. I love the Holland House bottles because they have a little shaker/stopper in the top of the bottle. It's easily removable so that you can add seasonings and olive oil. But, then once you pop it back in, it helps control how much dressing you use.
Reusing a vinegar bottle helps you divert waste and provides you with a handy dandy salad dressing cruet.
How to make dressing in a vinegar bottle
Don't feel like you need to empty the bottle and measure the vinegar. Just eyeball it. Vinaigrette dressing is very forgiving. There's some debate about the ratio of oil to vinegar. Traditional culinary wisdom says 3 parts oil to 1 part vinegar. You can go up and down slightly on that scale according to your tastes.
So, take a vinegar bottle that is ⅓ full, add salt, pepper, and any herbs you'd like or even dry or Dijon mustard. Mix well. Add an equal amount of oil to what's in the bottle. Shake and taste. Add more oil if you'd like a richer, less tart flavor. Easy peasy.
Do YOU make your own dressing or buy the bottled variety?
Disclosure: Holland House has provided me with sample product as well as compensation for my time spent writing this post. All opinions are my own. You can read more about Holland House and other simple ways to dress up everyday foods on their Facebook page.
Related: Salad Dressings to Make Yourself