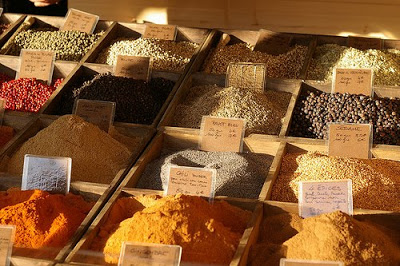 Variety is the spice of life.
— Cowper
Sugar and spice and everything nice….
— Nursery rhyme
Spice is a good thing. In ancient days, it was an important part of food preservation, worth its weight in gold. Today it is not only a great way to add a little zing to your dishes, but it's also an inexpensive pantry staple — if you shop well. Natural food co-ops and club warehouse stores are great places to find herbs and spices inexpensively, as are health food stores that sell them loosely in bulk. Buy just what you need for the near future or split a larger container with a number of friends for a fraction of the cost of a smaller bottle.
Why shouldn't you stockpile spices? Over time, spices and herbs can loose their potency. If you really want to buy a large quantity, freezing what you won't use right away is one way to keep the spice in your spice cupboard.
There are virtually too many spices and herbs for me to mention in this post or this week. So, instead, I thought it would be fun to hear what you use and how. My favorite herb is probably thyme. I use it in salad dressings and to season marinades, and grilled or roasted meats.
What's your favorite herb or spice and what do you use it on?
Want the dish on delicious ways to act your wage? Subscribe to GCE in a reader or via email.