Homemade red sauce is one of my freezer staples. Economical and easy to make, it's a great recipe for adding flavor to pastas, meat dishes, and casseroles.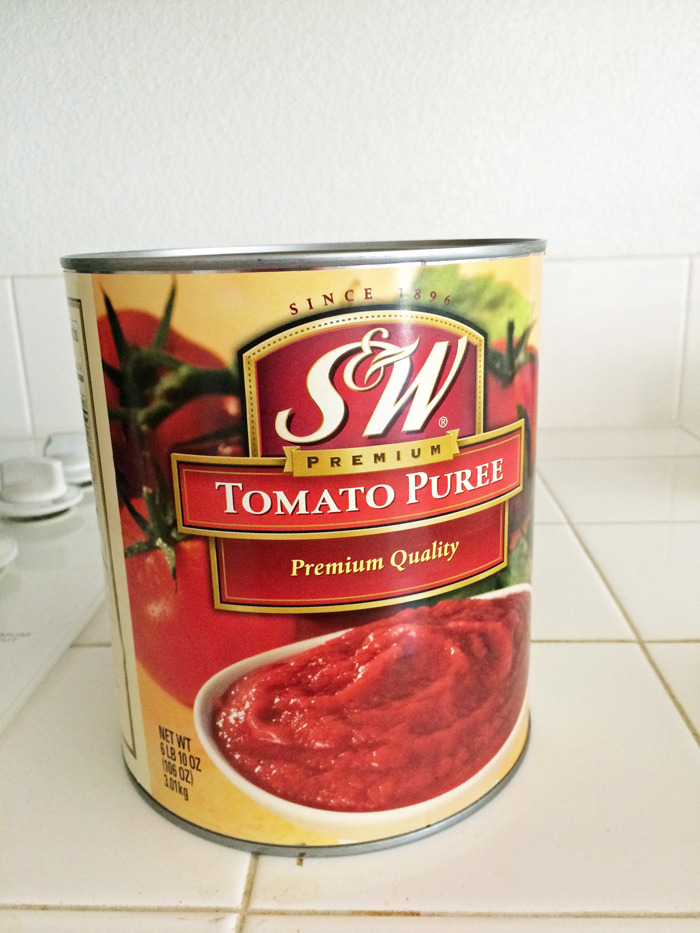 This can of tomato puree costs less than $3 at Costco. It's the equivalent of almost four of the large cans you can buy at the grocery store for about $1.75. Per ounce it's the better deal.
When combined with spices, onions, and maybe some sausage, it becomes something amazing. Seriously.
Making spaghetti sauce, or as I call it homemade red sauce, in bulk is a great way to save money and enjoy some pretty fantastic Italian flare. I started making sauce like this about 17 years ago when we lived in Paso Robles and just had one little babe.
Today with six kids, three of them taller than me and one already a man, it's still my preferred way of enjoying pasta, pizza, lasagna, and other Italian dishes.
Homemade Red Sauce with Meats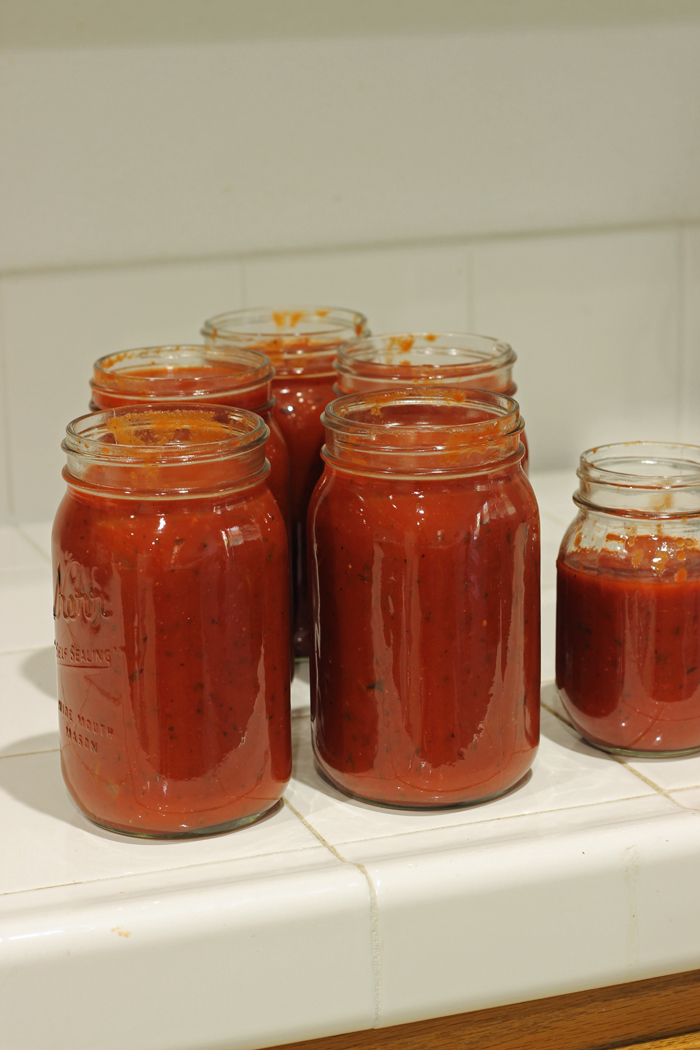 That large can slow cooked in the Crock-pot or on the stove top results in about 5 1/2 quarts of delicious sauce to use however you would use spaghetti sauce. We use it on pizza, in casseroles, on noodles. I figure it costs me about $1 a jar and it tastes so much better than anything you can buy in the store.
This supply of homemade red sauce lasts us about 5 weeks. I store it in plastic containers with lids or in mason jars in the freezer.
The trick to using mason jars for freezing is a little, well, tricky. Make sure you leave plenty of head space, freeze with the lids OFF. Make sure they have plenty of breathing room and don't touch the sides of the freezer. Once the sauce is frozen solid, you can gently put the lids on. I have had some jars break, so it's not completely fool proof. But it looks cool.
One of my favorite recipes for Homemade Red Sauce includes meat that you cook in the sauce. Instead of making a bolognese of ground meat, however, you simply cook sausages or meatballs in the sauce while it's simmering.
The juices of the meats combines with the homemade red sauce, resulting in a deliciously, rich flavor. A friend showed me that trick years ago and it is a winner. I pull the sausages back out of the sauce to store them in an airtight container and we slice and reheat to eat on pasta. Yum!