Roasting vegetables in the oven caramelizes their flavors. Blend them into soup with fresh herbs and you've got a lovely meal.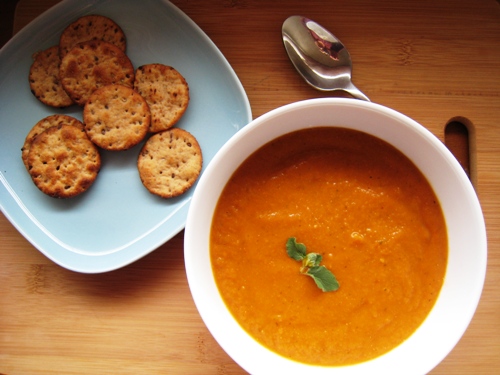 Years ago when my husband and I were visiting friends in France, they had to step out for a few hours, promising to be home for dinner. We encountered a little culture clash when six o'clock, our dinner time, rolled around and they weren't home. Somehow we forgot that French diner is quite different than ours.
I knew Michele had started a soup and stashed it in the refrigerator. When I went to investigate, I found broth and some very large chunks of vegetable floating in it. Hubs and I both raised our eyebrows and snacked on bread and cheese instead.
Later I came to find out that Michele was preparing a pureed soup, something that was absolutely foreign to me, one who had been raised on Chicken Noodle that came in a red and white can. A ha. More culture clashes.
Today, I love pureed soups. And since I purchased an immersion blender, I love making them! This soup is as easy as could be.
I often have a huge store of fresh vegetables and herbs from our produce box. I trim them and roast them with olive oil in a hot oven. Then they simmer on the stove for awhile.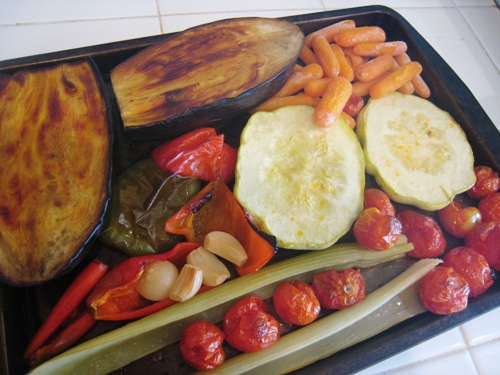 Then the stick blender does its work. Voila! A beautiful roasted vegetable soup, rich in flavor.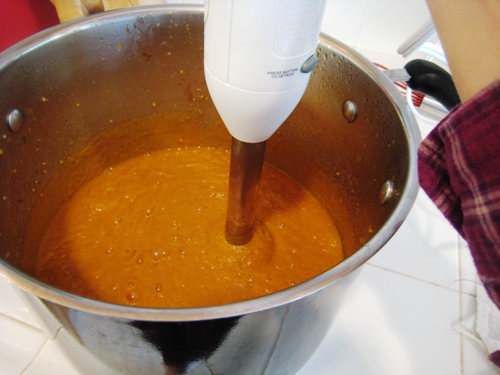 A chunk of good French cheese and a baguette would make it a perfect meal. If you'd like, you could also add some cooked shrimp on top, but you won't need to.
This is a perfect meal for the cold nights ahead.
Tools to make this recipe easy:
If you make a purchase from one of these Amazon affiliate links, I am paid a small amount in advertising fees. Thanks for your support. I really appreciate it.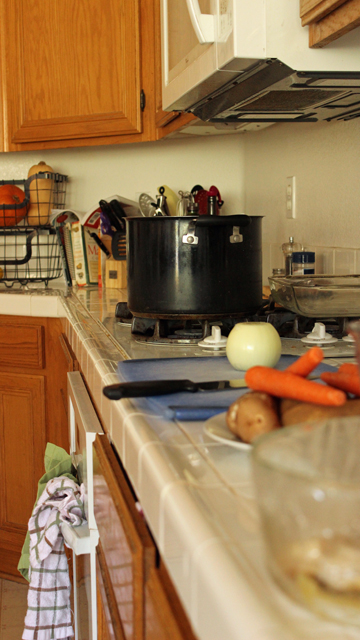 Other vegetable soups to love
I've come to love all kinds of blended soups since that cold night many years ago. These are some of my favorites:
Roasted Vegetable Soup with Fresh Oregano
Roasting vegetables in the oven caramelizes their flavors. Blend them into soup with fresh herbs and you've got a lovely meal.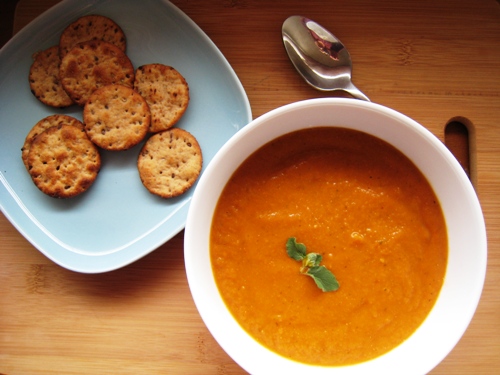 Preparation Time: 10 minutes
Cook time: 1 hour 30 minutes
Total time: 1 hour 40 minutes
4 servings
Ingredients:
1 eggplant, trimmed and split lengthwise

1 large patty pan squash, trimmed and split in half

2 ribs celery, trimmed

2 bell peppers, seeded and halved

1 cup baby carrots or 2 large carrots, peeled and cut into 2 inch chunks

1 cup cherry tomatoes or 2 medium tomatoes, halved

4 large cloves garlic, peeled

2 tablespoons olive oil

1 tablespoon chopped fresh oregano or 1 teaspoon dried oregano

1 bay leaf

4 to 6 cups chicken broth
Instructions:

Preheat the oven to 400 °. Place the vegetables on a rimmed baking sheet. Brush the vegetables with the oil.
Roast the vegetables for 45 minutes, until tender and spotted with brown.
Scoop the eggplant pulp from the skin and place it in a large stockpot. Add the other vegetables, oregano, and bay leaf.
Add 4 cups chicken broth and bring to a simmer. Simmer the mixture for about 45 minutes or until the vegetables are very tender.
Remove the bay leaf and discard. Use an immersion blender to blend the vegetables until smooth. (You can also blend the soup in a blender or in a food processor.) Thin with more stock, if desired. Season to taste with salt and pepper. Serve hot.
To freeze: cool the soup and store in meal- or individual-sized portions in the freezer, for up to 2 months. Reheat before serving.
What's your preference? Chunky or smooth when it comes to soup?