Make Pizza Night something to write home about with this easy recipe for Cheese Pizza with Homemade Sauce. Part of the secret is the blend of cheeses.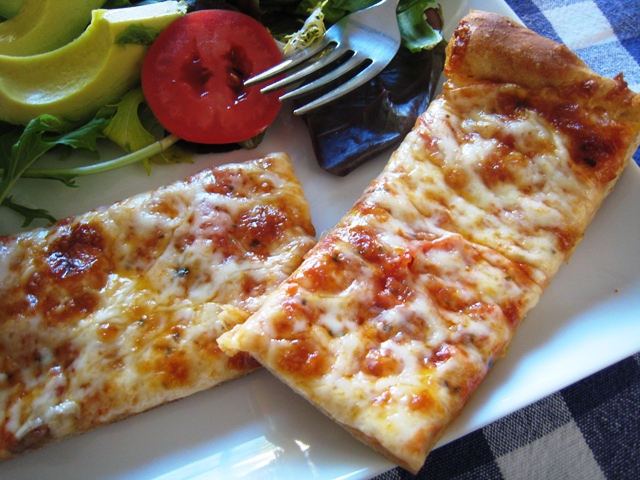 Pizza Night is a Highlight of Our Week
Usually I spend late Friday afternoons assembling the makings of homemade pizza which I bake in the oven. We enjoy it with Ranch dressing and veggies or a ChiChi's Italian Salad. Then after kitchen clean-up (or not), we watch a movie and enter into the weekend.
When I first tried my hand at homemade pizza, it was a terrible failure. I gave it a few tries and then gave up. But, my friend Jessika always served great homemade pizza that it inspired me to try it again. Twelve years later, it's a regular on our menu.
Most of the crew prefers simple pepperoni pizza while the more mature ones in our family opt for The Jalapeño Burn or Burrito Pizza. Still others go for this amazingly good cheese pizza.
At first glance, cheese pizza can seem kind of boring. But, with a mix of cheeses — we like mozzarella and monterey jack — and a homemade sauce, even the humble cheese pizza can be something special.
Make Your Own Sauce Ahead of Time
I usually have several pints or quarts of my crockpot red sauce ready to go in the freezer. It's a multi-purpose sauce that works for pizza, lasagna, and pasta. But, when I want to make things a little extra special, I mix up a bulk batch of this pizza sauce. Freeze what you don't use for next time.
Homemade Pizza Sauce
This delicious tomato sauce is great on pizza and pasta. It comes together in just minutes on the stovetop.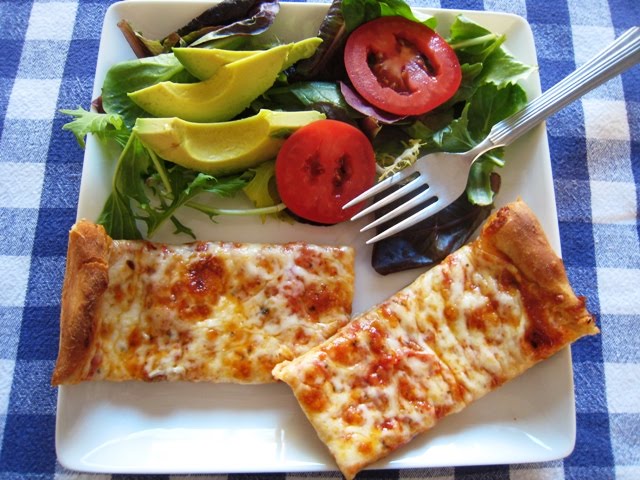 Preparation Time: 2 minutes
Cook time: 13 minutes
Total time: 15 minutes
about 4 cups sauce
Ingredients:
1/4 cup olive oil

2 teaspoons minced garlic

28 ounce can diced tomatoes OR 7 roma tomatoes, cored and diced

1 tablespoon basil

1/2 teaspoon oregano

1 teaspoon salt

1/4 teaspoon red pepper flakes

6 ounce can tomato paste
Instructions:

In stock pot, heat olive oil until shimmering. Stir in garlic and cook until just lightly browned. Add tomatoes, basil, oregano, salt, and red pepper flakes. Simmer until juices have started to evaporate slightly, about 10 minutes.
Blend in tomato paste and cook 3 minutes more. Cool slightly before using on pizza.
Can be made ahead. Cool, cover, and refrigerate or freeze for longer storage.
Once you've got your sauce mixed up and a batch of homemade pizza dough, you're ready to making a rocking cheese pizza. The idea for the mix of cheeses is one that the Pizza Man Jerry from ChiChi's in Santa Clarita told me about. It makes a huge difference to the taste of the pizza. Love this!
Tools I use for this recipe:
This post does include affiliate links. If you make a purchase from one of these Amazon links, I am paid a small amount in advertising fees. Your price is not changed, but your purchase helps keep this site available to provide free content to you and all your friends. Thanks for your support!
Easy Cheese Pizza with Homemade Pizza Sauce
Cheese pizza may sound simple but it can taste amazing with a blend of cheeses and this homemade sauce.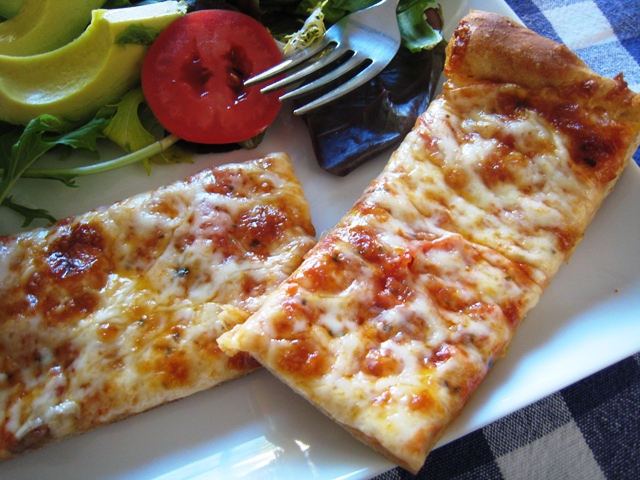 Preparation Time: 10 minutes
Cook time: 10 minutes
Total time: 20 minutes
4 pizzas
Ingredients:
one batch basic dough = makes four medium sized pizzas or three large

2 cups pizza sauce

(recipe above)

1/2 pound shredded mozzarella cheese

1/2 pound shredded monterey jack cheese
Instructions:

Preheat oven to 475°.
Prepare dough according to recipe directions. Grease baking pans. Divide dough into three or four portions and stretch to fit into pan. (Yes, a video is coming.)
Spread 1/2 to 2/3 cup of sauce onto each pizza round. Top with cheese.
Bake 10 – 12 minutes or until crust is crisp and cheese is gooey and golden.
How do YOU like your pizza?