Have a hankering for that delicious garlic yogurt sauce that comes with gyros? You can make your own Tzatziki easily at home with this simple recipe.
Serve it atop a Meal Prep Salad, on a Greek Pita Sandwich, or alongside Homebaked Pita Bread. Tangy, garlicky, and creamy, this sauce will have you coming back for more.
Jump to:
Take-out is tempting. That's all there is to it.
Someone else makes dinner for you — and even does the dishes! However, cooking at home is proven to save you money — and help with portion control and healthy eating! — so it's better to DIY at home, for less.
Fortunately, many of your take-out favorites are easy to make at home, like that yummy garlic yogurt sauce that comes with your gyro: Tzatziki.
Why Make This
It's fresh. Prepping the sauce yourself assures you that it's made with the freshest ingredients instead of sitting in a deli case for a little while too long.
It's quick! With just a handful of ingredients, this garlic yogurt sauce recipe will have you devouring a delicious meal in no time.
It's delicious. You can't go wrong with garlic, lemon, and dill. This iconic Greek combo is perfect in yogurt with finely chopped cucumber, for a tangy, creamy sauce to make your gyros and salads shine with flavor.
Ingredients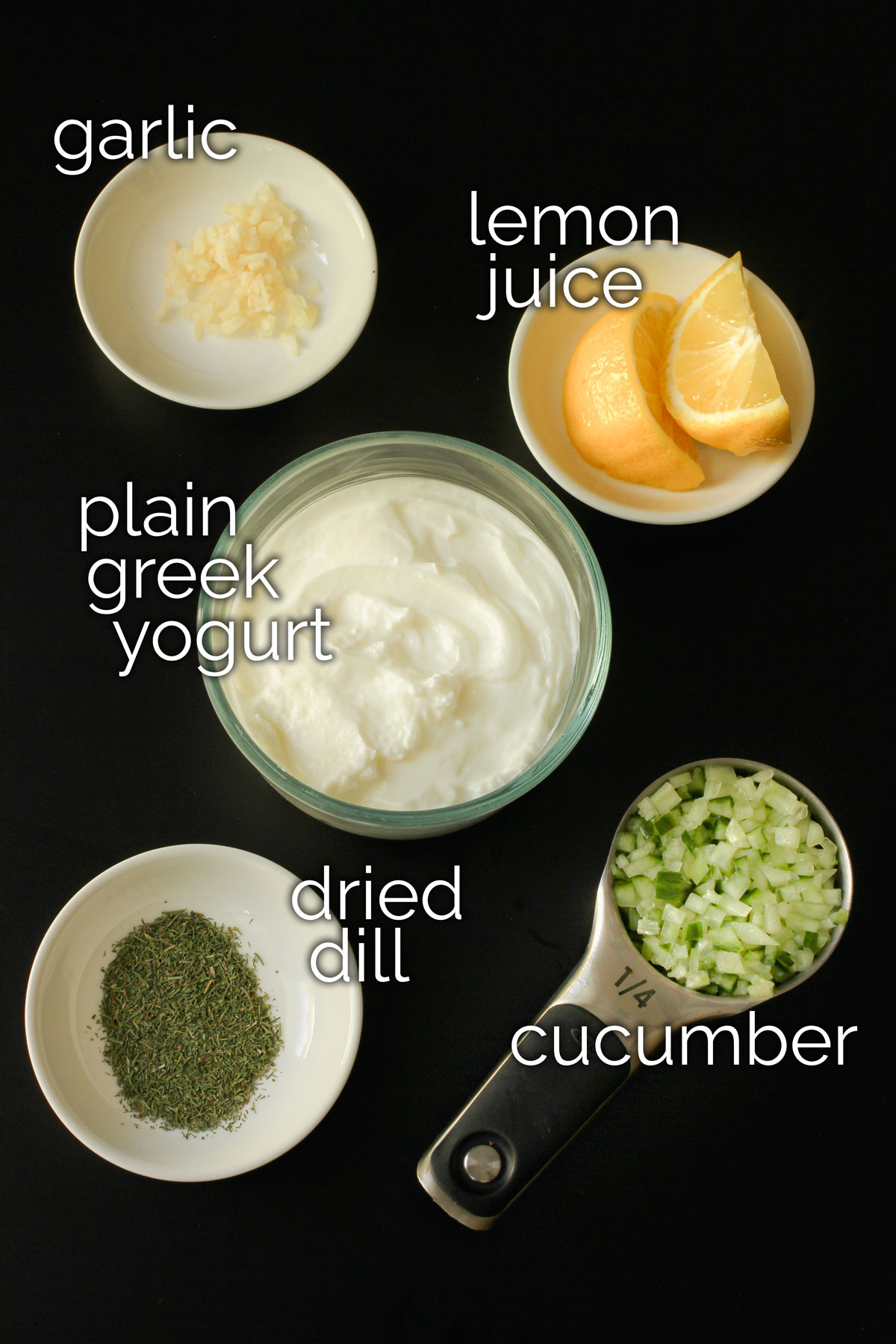 You need just five basic ingredients for this easy garlic yogurt sauce:
plain Greek yogurt – I am partial to Fage, but you can use whatever brand you like. If need be, you can use plain regular yogurt, just know that it won't be as thick as if you used Greek yogurt.
finely chopped cucumber – Traditional Tzatziki calls for drained, shredded cucumber. We're taking a shortcut to finely chop it. Use a Persian or English cucumber so you don't have to mess with the seeds.
dill – You can use fresh or dried dill, though the dried version will be more economical unless you grow your own.
lemon juice – Use fresh juice if you can. Remember you can freeze lemons (their juice as well as their zest), so if you don't think you'll use the whole lemon, freeze the extra for another batch of garlic yogurt sauce.
freshly chopped garlic – Use fresh garlic for best flavor. If you're really in a bind you can use garlic powder, but I say that grudgingly. This garlic yogurt sauce really benefits from the fresh garlic.
Step-by-Step Instructions
This recipe couldn't be easier to make!
Combine the yogurt, cucumber, dill, lemon juice, and garlic in a small bowl. Stir well to combine.
Store the sauce in an airtight container for up to 4 days.
FAQs
What is tzatziki?
Tzatziki is a Greek garlic yogurt sauce made from drained (Greek) yogurt, chopped or grated cucumber, vinegar or juice, garlic, olive oil, and dill or mint.
How do you pronounce tzatziki?
Pretend the t's are d's as in dzah-DZEE-kee.
Recipe Costs
Knowing how much it costs you to prepare a recipe can help you decide if it's the type of recipe to make regularly or one you might want to save for special occasions. Let's crunch some numbers and see how this recipe pencils out.
yogurt – $0.60
cucumber – $0.25
dried dill – $0.18
lemon juice – $0.10
garlic – $0.04
Shopped at a mid-range grocery store at non-sale prices, the ingredients for this homemade garlic yogurt sauce should run about $1.17 for about 6 ounces of sauce.
By comparison, commercial tzatziki ranges from $2 to $2.15 for the same amount. Homemade is cheaper and fresher!
Save Even More
Here are some of the strategies you can use to make this recipe more economical:
Stock up on ingredients when they are on sale. When I find regular kitchen staples on sale, I buy a lot. I'm currently using a price book to track prices and that's saving me money. For this recipe, keeping an eye on the price of Greek yogurt can help keep the price down. When I see a good deal on it, I buy a lot. It's just one way I save money on groceries without clipping a single coupon. 
Buy in bulk. I regularly buy spices and dried herbs in bulk, either from Costco, Amazon, or Vitacost. I fill a jar for my spice cupboard and then store the excess in the freezer to help preserve its shelf life.
Grow your own dill. Fresh dill is an expensive item at the store; dried is always more affordable, though still not the cheapest herb in the spice rack. Bridge the gap by growing your own dill. You can easily start it from seed in a pot in the backyard.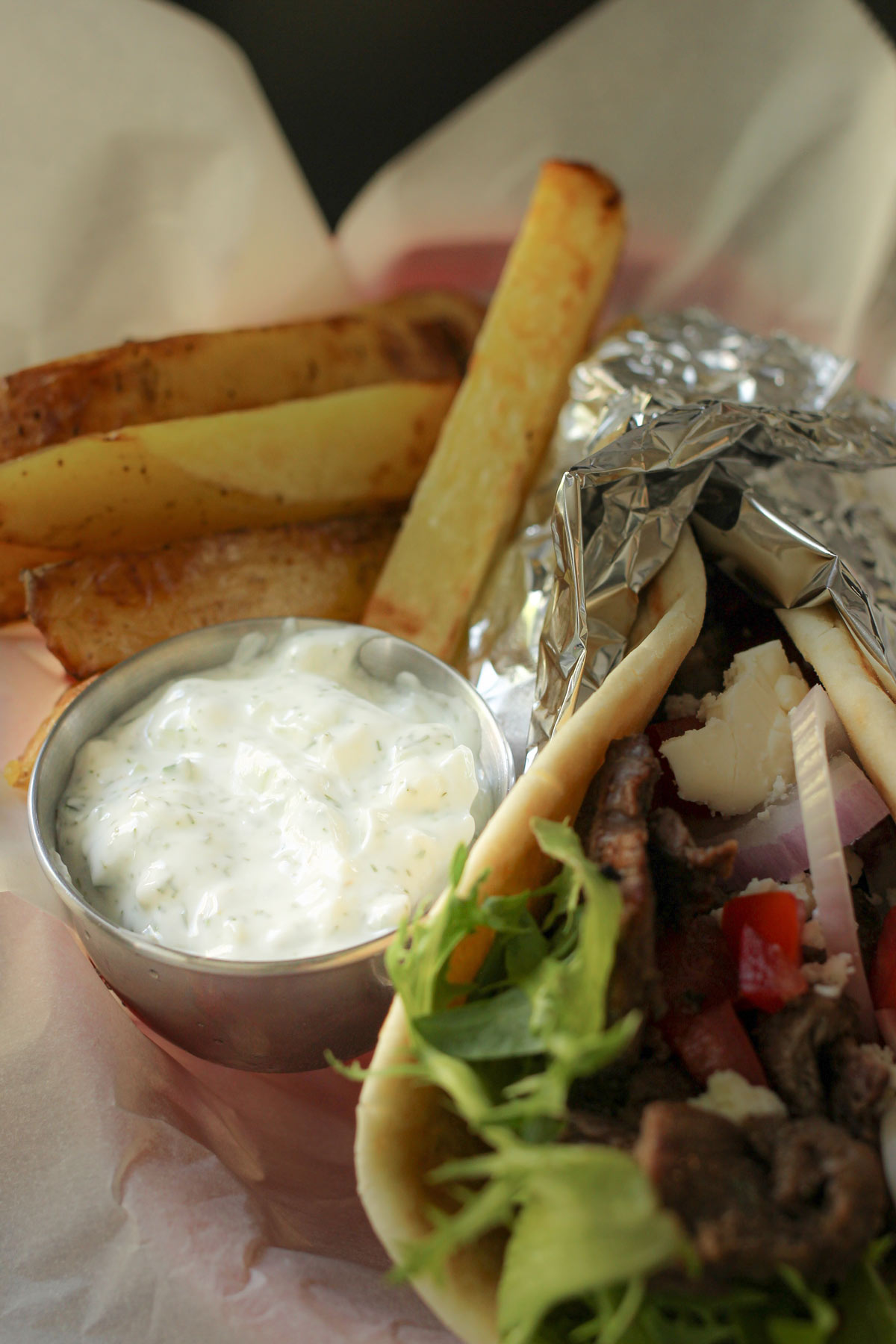 More Great Sauces You Can Make Yourself
Garlic Yogurt Sauce (Tzatziki)
Have a hankering for that delicious garlic yogurt sauce that comes with gyros? You can make your own tzatziki easily at home with this simple Recipe.
Ingredients
½

cup

plain Greek yogurt

such as whole fat Chobani

¼

cucumber

preferably English cucumber, seeded and finely chopped (about ¼ cup)

1

clove

garlic

finely minced

½

tablespoon

lemon juice

or lime juice

½

tsp

dried dill

or ½ tablespoon fresh
Instructions
In a small mixing bowl, combine the yogurt, cucumber, garlic, lemon juice, and dill. Stir well to combine.

Store in a covered dish in the refrigerator until ready to serve.
Notes
Uses: Serve this garlic yogurt sauce as a topping for salads, grilled chicken, or pita sandwiches. It can also be used as a dip for pita chips, veggies, or fries. 
Substitutions: Use fresh chopped dill instead of dried. Try roasted garlic for a fun twist.
Promptly store leftovers in an airtight container in the refrigerator, for up to 3 days. 
Nutritional information is approximate and based on ¼ the recipe.
Nutrition
Calories:
19
kcal
|
Carbohydrates:
2
g
|
Protein:
3
g
|
Fat:
1
g
|
Saturated Fat:
1
g
|
Polyunsaturated Fat:
1
g
|
Monounsaturated Fat:
1
g
|
Trans Fat:
1
g
|
Cholesterol:
1
mg
|
Sodium:
10
mg
|
Potassium:
70
mg
|
Fiber:
1
g
|
Sugar:
1
g
|
Vitamin A:
22
IU
|
Vitamin C:
2
mg
|
Calcium:
34
mg
|
Iron:
1
mg
This post was originally published on October 11, 2018. It has been updated for content and clarity.