Looking for a delicious, fall-inspired meal? Check out this recipe from Kathy Strahs of Panini Happy:
This post does include Amazon affiliate links. If you make a purchase through those links, I am paid a small amount in way of advertising fees.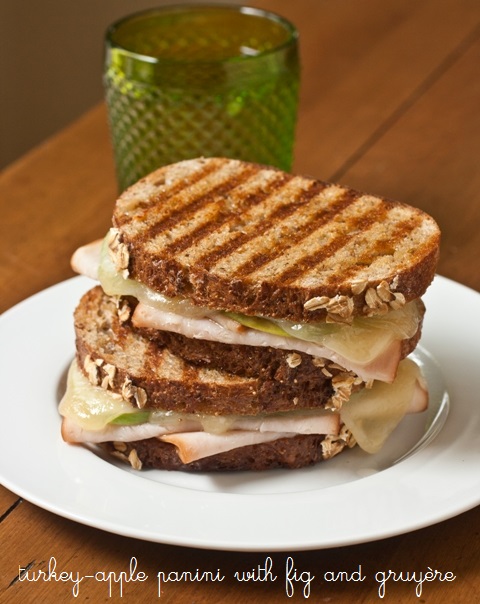 Around this time every year, way before I've even ordered my Thanksgiving turkey or decided on my menu for the big feast, I start brainstorming new ideas for leftover turkey sandwiches. This is what happens when you write a blog about your panini press.
Over the six years that I've been grilling and sharing panini press recipes on Panini Happy, I have come up with a number of delicious ways to use up the holiday bird, from Turkey Monte Cristo Panini to Turkey Jalapeño Melt Panini. This time around, I'm narrowing my sights on the Thanksgiving vegetable sides – expect roasted Brussels sprouts and sweet potatoes to make sandwich appearances this year!
You can make the savory and sweet Turkey-Apple Panini with Fig and Gruyère I'm sharing today right after Thanksgiving, using your carved turkey leftovers, or at any time of the year with deli-sliced turkey.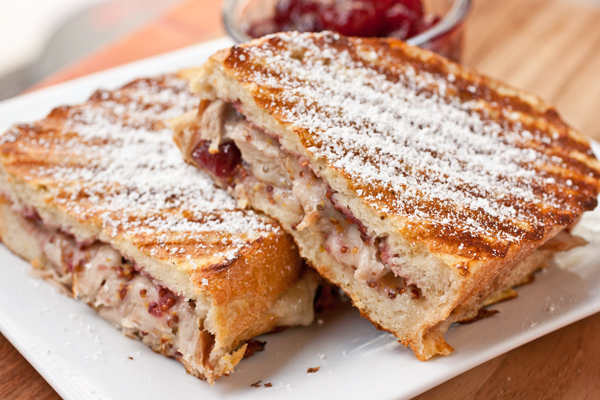 Turkey Monte Cristo Panini
Turkey-Apple Panini with Fig and Gruyère
Looking for a delicious, fall-inspired meal? Check out this recipe for a turkey-apple panini with fig and gruyere.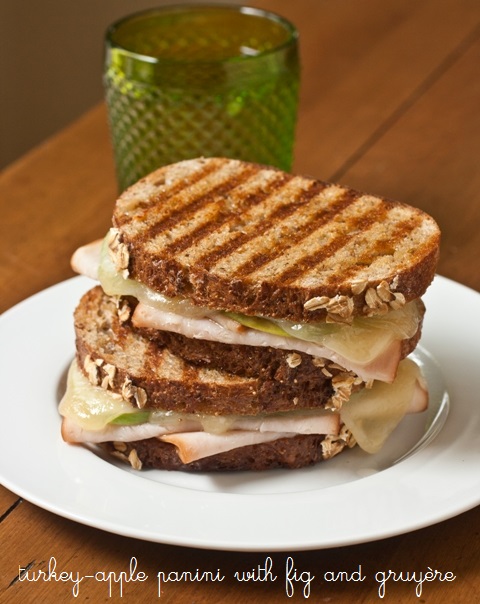 Preparation Time:5 minutes
Cook time:5 minutes
Total time:10 minutes
4 servings
Ingredients:
4 tablespoons (1/2 stick) butter, at room temperature

8 slices rustic whole-grain bread, sliced from a dense bakery loaf

1/2 cup fig preserves

8 ounces carved or deli-sliced roast turkey

1 Granny Smith apple, cored and thinly sliced

8 ounces Gruyère cheese, thinly sliced
Instructions:

Heat the panini press to medium-high heat.
For each sandwich: Spread butter on two slices of bread to flavor the outside of the sandwich. Flip over both slices and spread 1 tablespoon fig preserves on the other side of each. Top one slice with turkey, apples, and cheese. Close the sandwich with the other slice of bread, buttered side up.
Grill two panini at a time, with the lid closed, until the cheese is melted and the bread is toasted, 4 to 5 minutes.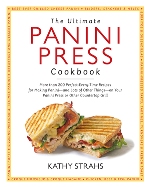 Kathy Strahs is the author of The Ultimate Panini Press Cookbook and the popular blog, PaniniHappy.com, which Babble.com has named as one of the Top 100 Mom Food Blogs for the past four years. She has perfected the art of the grilled cheese and taken it to new heights.
Keep up with what Kathy's cooking on Facebook, Twitter, Instagram, and Pinterest.
Ready to fall for fun?

This post is part of the DIY on a Dime: Falling for Fun series. Check it out for all kinds of budget-friendly, family fun ideas to celebrate one of the most beautiful seasons of the year.