Indulge your patriotic spirit this week with these AMAZING, Red, White, and Blue Scones. It's a big batch, one you'll be thankful for. Pack a basketful along with your coffee to go watch the parade.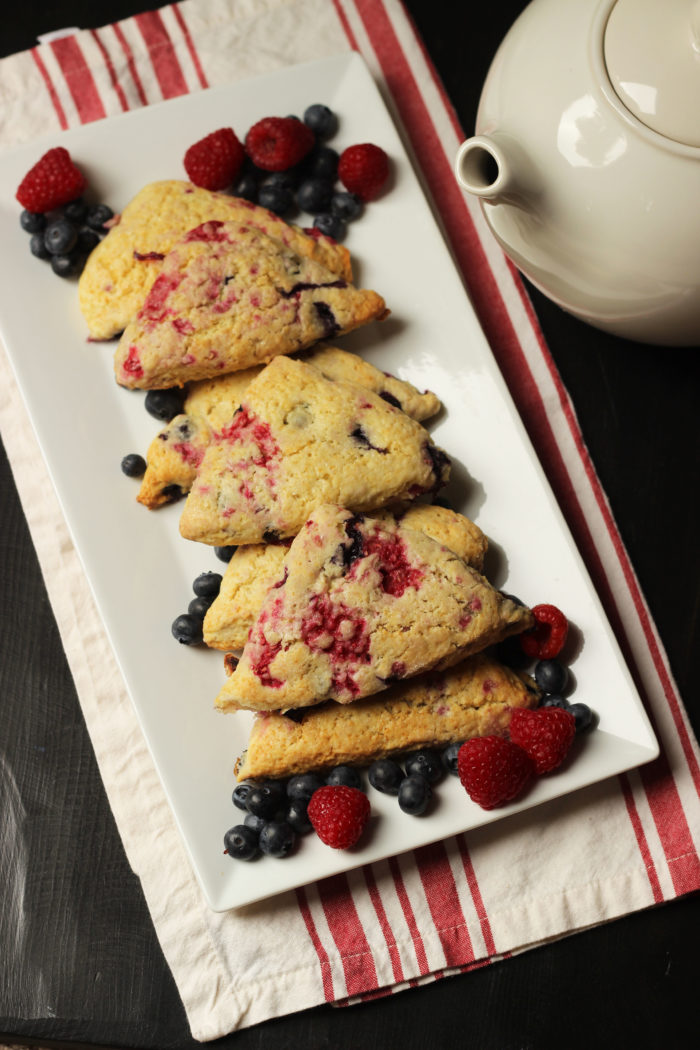 I'm not sure if it's the school teacher genes in my DNA or what, but I get kinda giddy about color coding. Primary colors make me smile. I've even owned a snowman-embroidered cardigan in my time. And planning food to match a holiday? I'm all over that. How can you celebrate the Fourth of July without some red, white, and blue food? I mean, seriously.
Longtime readers will remember the Red, White, and Blue Cake Pop fiasco of yesteryear. Yes, well. Let's say it was one of my more ambitious, though ill-conceived, moments. Not one to be discouraged, I rallied, and discovered an even better Red, White, and Blue food to serve on patriotic holidays.
Red, White, and Blue Scones
Oh my! These are good. And they are incredibly freezer-friendly. And they are also incredibly rich. But, oh my! These are good. Talk about Old Glory!
This recipe makes a huge quantity of scones that will just melt in your mouth. Bake them and enjoy right away. Bake and freeze. Or mix and form the batter and then flash freeze them for instant morning happiness. Either way, you will be super duper happy you made them, holiday or no.
Note: The raspberries probably will squash a little bit and make a bit of a mess. That's okay. They will be delicious. I promise. Just pretend you're Jaime Oliver. That man always makes a mess when he cooks.
How to make this good and cheap:
Here are some of the strategies you can use to make this recipe more economical: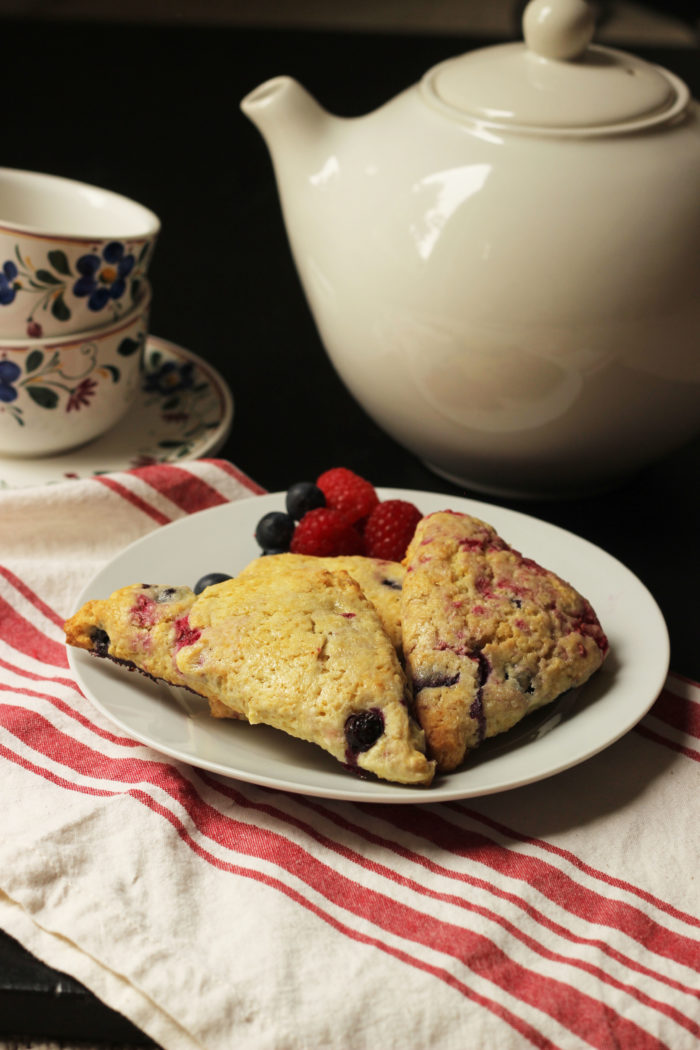 How I make this recipe easy:
One of the great things about scones is that you can freeze them before or after baking. If you freeze them prior to baking, you don't thaw them, just slide the frozen scones into the hot oven and add a few minutes to the baking time. If you bake them first and then cool and freeze, you can very easily thaw them overnight on the counter so they're ready when you are.
This recipe really couldn't be easier than it is, but having the right kitchen tools can really make your time in the kitchen more enjoyable. Over time, I've honed my collection so that they are perfect for my needs.
Here are the tools that I use for this recipe:
Red, White & Blue Scones
These amazing, melt-in-your-mouth scones are chock full of berries, red and blue to help you celebrate any patriotic occasion.
Ingredients
5

cup

unbleached, all-purpose flour

3/4

cup

granulated sugar

plus extra for sprinkling

2

tsp

baking powder

1

tsp

baking soda

1

cup

butter

, cut into cubes

2

cup

half and half

plus extra for brushing

1

cup

raspberries

1

cup

blueberries
Instructions
In a large mixing bowl combine the flour, sugar, baking powder, and baking soda. Cut in the butter with a pastry blender. Or use the food processor in batches to cut in the butter quickly. Gently mix in the half and half, just until mixed. Fold in the berries.

On a lightly floured surface, pat dough into a 2 inch thick rectangle. Cut into 16-20 squares or triangles, depending on how big you want them. Place on a parchment- or silpat-covered tray, keeping the scones about 2 inches apart. These will spread a fair amount.

If baking right away, brush them with the extra half and half and sprinkle with the sugar. Bake for 15 to 18 minutes in preheated 400° oven. Cool slightly before serving.
Notes
If preparing ahead of time, flash freeze the scones on a lined tray. Once they are frozen solid, transfer them to a ziptop freezer bag. Bake according to directions in step 3, increasing baking time if necessary. (Baked scones can also be frozen in a ziptop freezer bag.)
Nutrition
Calories:
302
kcal
|
Carbohydrates:
55
g
|
Protein:
8
g
|
Fat:
6
g
|
Saturated Fat:
3
g
|
Cholesterol:
15
mg
|
Sodium:
110
mg
|
Potassium:
196
mg
|
Fiber:
2
g
|
Sugar:
14
g
|
Vitamin A:
149
IU
|
Vitamin C:
4
mg
|
Calcium:
82
mg
|
Iron:
1
mg