Curious about freezer cooking? Consider purchasing my cookbook, Not Your Mother's Make-Ahead and Freeze Cookbook from Amazon, Barnes and Noble, or your local bookstore. It's chock full with over 200 freezer-friendly recipes, planning pages, shopping lists, cooking plans, and basic and advanced how-to's to making freezer cooking work for any home, family, and lifestyle.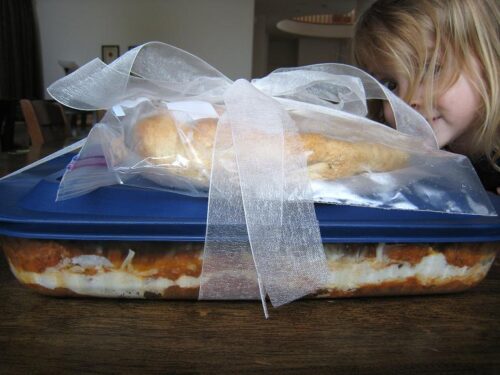 Every 4-6 weeks or so, I take time out of my schedule to prepare several meals for the freezer. It's like a little gift to myself, to make dinnertime a little easier in the coming weeks.
I've been freezer cooking for a long time. But, over the last year I've discovered lots of new things to make our meals even tastier.I've tested new recipes and tried out new techniques.
While some foodies may snub their noses at it or are reluctant to give freezer cooking the complete stamp of approval, I've found it to be a happy compromise between a busy life, a tight budget, and a desire for good, homecooked food.
Is this your month?
According to last week's LifeasMOM readers' survey, over 50 percent of respondents do freezer cooking in some capacity. But, amongst the others, many of you expressed the desire to get started with make ahead meals. There's apprehension, intimidation, and plain old, "not sure where to start."
If you haven't ever tested the freezer cooking waters, now's the time. Here are some ideas to get you started:
Want to Jump Right In?
But, if you're one of those people who hates to read directions and is eager to jump right in, come back tomorrow afternoon for a Quick Start Guide to Freezer Cooking.
Are you on board?