Herbed butter is probably the easiest, most versatile thing of the "froofy foods" that you could make. Also called a compound butter, it's basically softened butter mixed with chopped fresh herbs and seasonings. It can be stored in the freezer and then thawed quickly whenever you need a simple, yet special touch to add to food. It's great as a spread for garlic bread. Slice a few coins and place atop grilled fish, chicken, or steak. The melted butter and herbs create an instant sauce. You can also use it to season a roast chicken. There is no end to the delicious ways to use seasoned butter.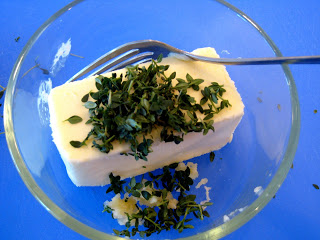 Here's how to make it:
Place one stick of softened butter in a mixing bowl. With a fork or plastic spatula, stir in 1-3 cloves of garlic and 1-2 Tablespoons fresh herbs, finely chopped. You can use basil, oregano, thyme, parsley, chives, or whatever suits your fancy. Season to taste with salt and pepper. Experiment with different combinations until you find the mixture you love. You can even add lemon zest, parmesan or bleu cheese.
To store: Place dollops on a sheet of waxed paper — or reuse the butter wrapper. Roll up like a coin roll, tucking in the paper ends. Place in a ziptop bag, label, and freeze.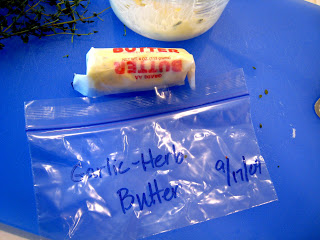 When ready to serve, slice "coins" off frozen butter roll to serve with grilled meats or allow to thaw before spreading on bread to toast or to use as a flavor base for gravy or roast chicken.