Get a free meal plan full of affordable, delicious dinners you can prepare in 30-minutes or less!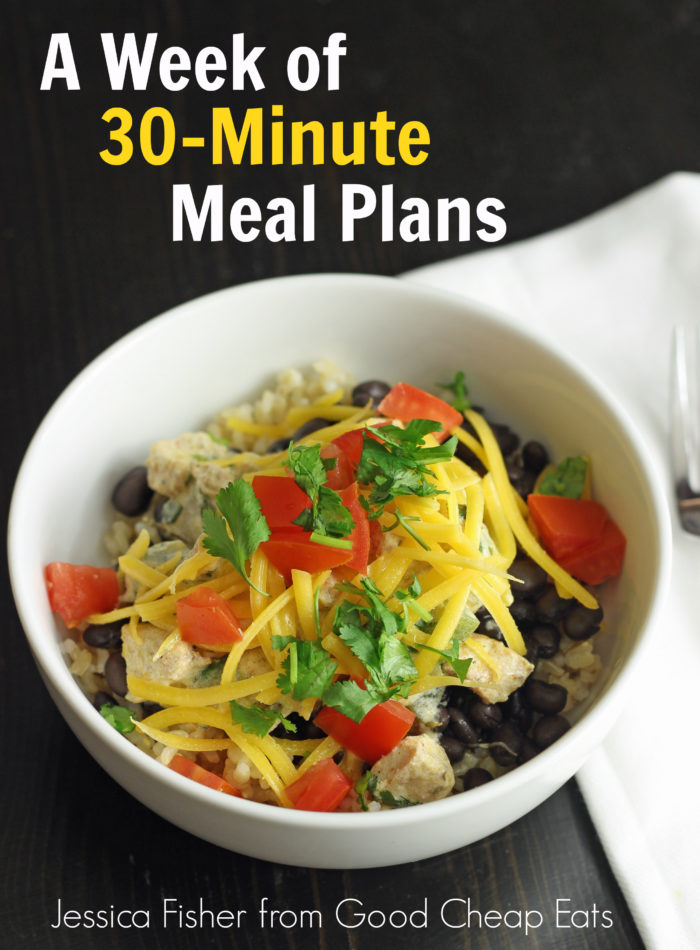 Wondering what's for dinner? Feel overwhelmed when you go to the grocery store? Perplexed as to how to eat well without spending too much of your hard earned money?
A meal plan can be your answer to all three questions.
As you know for the last year or so, I've put together deluxe meal plans that provide my readers with everything they need to eat for a month: recipes, grocery lists, prep tips, and tricks to make good eating quick, easy, and affordable. These meal plans are available for purchase in my estore. You can find this month's deluxe plan here.
For those of you who want to check out the deluxe plan before committing, I've created a free meal plan to cover one week (as opposed to the whole month). 
This free meal plan provides all the goodies you need to eat well for a week. Bonus: all the meals can be made in 30 minutes or less! Alrighty!
To get the free meal plan, simply subscribe to my newsletter here.
This resource is no longer available, but there's something new and fun in store. Subscribe here.
The newsletter is a weekly email, written from me to you, especially designed to help you eat well, act your wage, and enjoy the good life. It includes bonus content, free printable resources, monthly giveaways, seasonal recipe ideas, and great solutions for eating well on a budget. No coupons required.
(You can unsubscribe at any time. My feelings won't be hurt.)