Use a cookie sheet for a pan lid.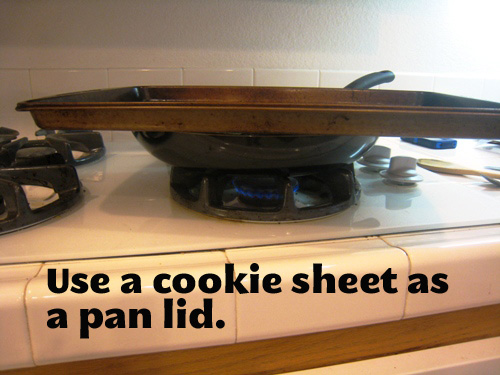 Sometimes it takes me awhile to figure things out. For years I've been meaning to invest in a large skillet WITH a lid. I've had large skillets. And I've had small skillets with lids. But, I've never had a large skillet with a lid.
Until now.
It didn't cost me a penny. In fact, turns out I always had a pan lid for my large skillet. I have always had numerous cookie sheets. Why did I never think to use one to cover my pan before?
Instead, I've often wasted aluminum foil to get a makeshift seal. No longer! Now I'm using cookie sheets.
Please note: cookie sheets get hot. Use a hot pad. Condensation may build up on the bottom of the cookie sheet as well, so please take care before you drip hot water on your bare feet. Just saying.

Today I'm guest hosting for Kitchen Tip Tuesday while Tammy visits family. Feel free to leave the link to your favorite Kitchen Tip below. As a courtesy, please link back to this post in your post as well.