One of the beauties of a pantry challenge is that it compels you to try things that you might not normally try as well as make the most of what you have. I love this tutorial from Amanda which will help you produce a beautiful home baked loaf in no time.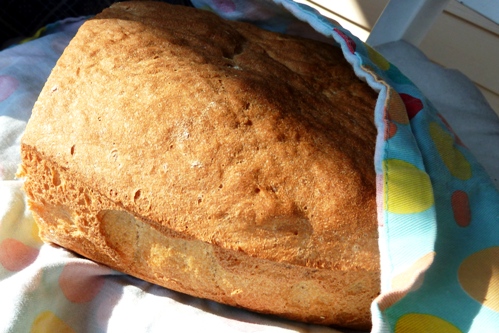 I'm really into baking bread and bread products. Look at the list of ingredients on a package of store bought bread. There are about 50 bazillion things in it. When you bake bread at home, you control what goes in it, and it's way way way more delicious than the bread you can buy in a plastic bag.
Here's the recipe:
Home Baked Bread
4 c white whole wheat flour
approx. 1.5 c very warm water (start with one cup and add until it's doughy)
2 Tablespoons sugar
1 teaspoon salt
2 Tablespoon olive oil
2 teaspoon yeast
Mix the dry ingredients, including yeast.
Add the oil and water.
Knead for 10-12 minutes.
Let rise in a warm, moist place for 30 minutes.
Punch down the dough, form into rolls or divide for loaves. (Or just bake one big loaf, which is what I usually do.)
Preheat the oven to 350.
Place the dough into baking dish and let rise for another 30-60 minutes, until nice and puffy and humongous.
Bake for about 30 minutes, until golden brown and firm to the touch. Be careful not to bake too long or the loaf will get tough.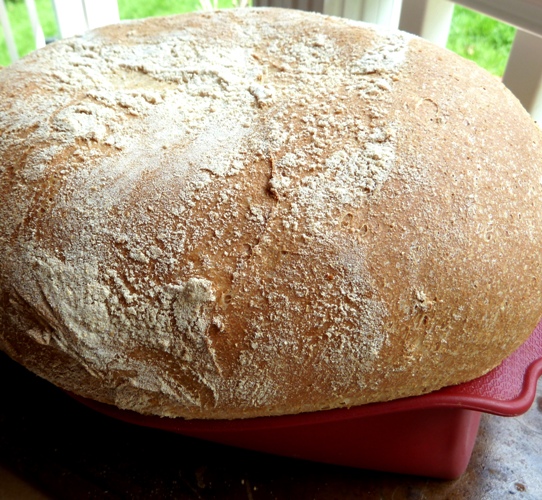 So that's that, right? Well, basically. But it still took me a million tries to get a fluffy, light, entirely whole grain loaf.
Here are some tips I've picked up as I've baked:
-Use White Whole Wheat Flour. This isn't a refined flour. It's simply an albino form of the wheat plant. The whole grain, essential oils, fiber, everything, is included, it's just a lighter flour that bakes up lighter than regular whole wheat or spelt.
– Go ahead and use a little extra yeast if you find that your dough isn't rising to spectacular heights. I read the instructions on the yeast container and then put an extra 1/2 t when I use whole grain flours, which is always.
– The absolute key to a fluffy, not dense loaf of whole grain bread is the knead! Knead that sucker for a full ten minutes, or even a little longer. Make sure the dough is compact and very elastic. Dough that hasn't been kneaded properly will result in a heavy, dense bread, which everybody hates.
-Allow your whole grain dough to favor wetness, rather than dryness. Keep it a little more on the sticky side, rather than the dry side. Not like… sticky enough that it's gross and runny and getting stuck to everything… but make it so that it sticks to your fingers a little bit after the knead. The water will turn into steam inside of the dough and help the yeast make little air pockets that fluff up the bread.
-When allowing your dough to rise, place it in a bowl next to a boiled tea kettle with its lid removed and cover both with a towel. (I'm talking about a previously boiled kettle. There's no heating involved at this point!) That way your dough will have a warm, super moist place to rise.
That's how I bake a totally whole grain loaf that's yummy and fluffy and perfect every time! Give baking your own bread a try. I bet you'll find that a freshbaked, totally natural loaf of whole grain bread will convert your entire family, and you can say goodbye to the long list of unpronounceable ingredients that are found in store bought breads!

— Amanda is a Pittsburgh mommy of two amazing girls. She is married to the world's sexiest accountant and they're all sure to live happily ever after. She can be found baking or biking, depending on the weather. Visit Amanda at Last Mom On Earth.
Are you intimidated to bake your own bread? How come?