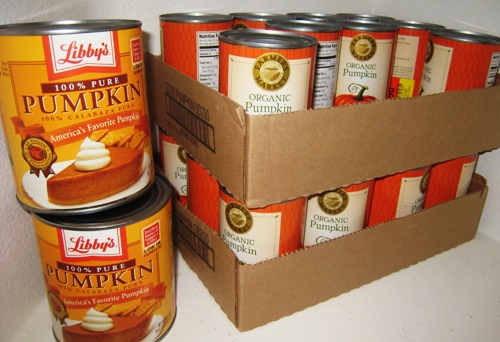 About this time every year I hear whispers of a pumpkin shortage. And sure enough I go to the store and the shelves are empty. This year I haven't yet heard the rumors. And by the look of my pantry, there's no pumpkin shortage at my house!
These babies were on clearance last Christmas for 50 cents a can. So, I stocked up, especially since they're dated 2013. And since they're in the pantry, just waiting to be cooked up into 24 kinds of deliciousness, I've been happy to oblige. Early in the month, I created Pumpkin Spice Scones. Love those!
And last week I made Pumpkin Chocolate Chip Muffins. Yum! Not only do these muffins bake up quickly (even speedily if you've got the mix already made), but they also freeze beautifully.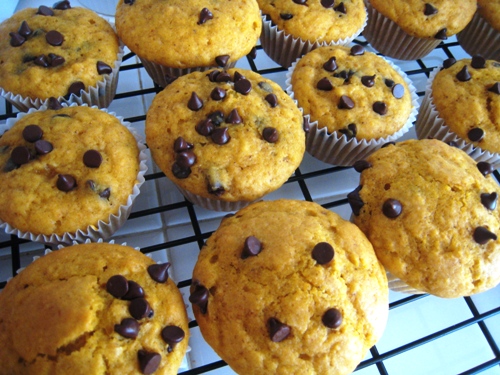 Recipe: Pumpkin Chocolate Chip Muffins
Ingredients
1/2 cup canola oil
1 1/2 cups buttermilk
2 eggs
1 cup canned pumpkin
1 bag Mix and Match Muffin Mix (the dry team)
1/2 teaspoon ground cinnamon
1/2 teaspoon ground nutmeg
1/2 teaspoon ground ginger
1/4 teaspoon ground cloves
1/2 cup mini chocolate chips
extra chocolate chips for sprinkling
Instructions
Preheat the oven to 350°.
Line 2 12-cup muffin cups with muffin papers.
In a large mixing bowl combine the oil, buttermilk, eggs, and pumpkin. Whisk until well blended.
Add the muffin mix and the spices. Stir gently to combine.
Fold in the chocolate chips.
Divide the batter amongst all 24 cups.
Sprinkle additional chocolate chips over the tops of the muffins.
Bake the muffins for 25 to 30 minutes or until a tester comes out clean.
Cool the baked muffins on a wire rack.
Preparation time: 15 minute(s)
Cooking time: 30 minute(s)
Number of servings (yield): 12
Is canned pumpkin a staple at YOUR house?
For more chocolate recipes, visit Ultimate Recipe Swap.