Save time by making several casseroles at one time to freeze for another date. It doesn't take much longer, but the rewards are huge!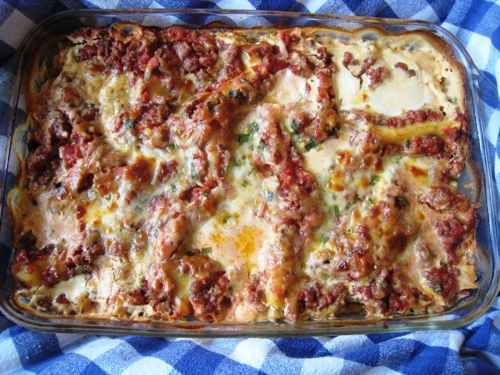 Casseroles get a bad rap. I don't know why. I suppose because some mothers somewhere made them really icky. And, well, there's the "I-don't-want-my-foods-to-touch-each-other" thing. But, really?
Who can resist a well-built lasagna? And Lawnmower Taco? My kids are all over that. They now inhale the entire pan before hubs and I can even dish up.
The best time-saving trick is to make several copies of the same casserole at one time and freeze them. It doesn't take much more time to make three lasagnes than it does to make one. And you'll have an easy meal to pull out on a busy weeknight or to gift to friends.
This is one of the easiest ways to fill the freezer with make-ahead meals. Casseroles are one-dish dinners in many ways. Just add a side salad and dinner is served!
Favorite Casseroles to Make and Freeze:
Chicken Divan with Cheddar Crust*
Creamy Chicken Enchiladas*
Spinach and Feta Manicotti*
No good freezer cookbook would be without a few good casseroles. Those with an asterisk (*) are in my book.
31 Days of Freezer Cooking
For more ideas about how to make freezer cooking work for you, follow along with us here in October as I post 31 Days of Freezer Cooking. You can see past posts here.
For even more Freezer Cooking how-to's you can also buy my book, Not Your Mother's Make-Ahead and Freeze Cookbook.
Don't want to miss a post in this series? Subscribe to 31 Days of Freezer Cooking by RSS oremail.