We are on the hunt for the ultimate cheeseburger. Come along!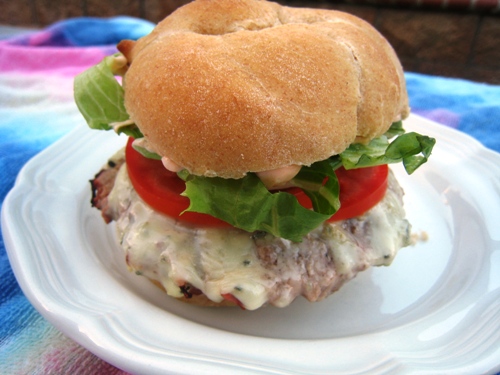 I have been on a cheeseburger KICK lately. In fact, last week I ate three. Oh yes, yes, I did. And I have it on the menu for tomorrow's Fourth of July feast.
It all started when I hear about Sargento's "America's Ultimate Cheeseburger" contest. Then I browsed the menus of some local burger joints in search of a good date night place to try. And, well, the power of suggestion was just too much!
On date night, I ordered a cheeseburger with sharp cheddar. The first bite swept me away.
Let me explain.
The difference is in the cheese.
The cheese was really good quality cheese — and it made all the difference in the world. Seriously. I love me some In-n-Out Burger, but their cheese is just plain ol', plain American cheese.
A burger with good quality cheese takes the humble burger to a whole new level. Believe me.
I compared the following night when I had Girl Night Out. That's the night of the week when I leave my home by myself. Hubby holds down the fort and flies solo so I can have girl time. By myself. See? Singular girl. No s.
I am an introvert. So I don't mind sitting in Starbucks by myself, head phones on, working away.
But, first I grabbed a cheeseburger at INO. And it just wasn't the same. Their cheese is just so-so. It acts more like a vehicle for the grilled onions. Which is not necessarily a bad thing, but it doesn't really shout, "Cheese!"
The next night, our debut hotel staycation night, we went back to the first place for cheeseburgers again. Hubby and my eldest son followed my stellar example and ordered the sharp cheddar. Mmmmm.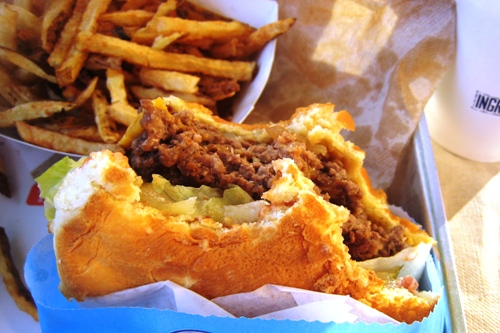 Make the Ultimate Cheeseburger at home.
So, now I'm on a mission to make the ultimate cheeseburger at home. It's great to go out, but with our crew, it's easier — and more economical — to eat at home. Rather than just one burger, my kids can have a couple. And we can experiment with all kinds of flavor combinations.
You can guess that they are up for the challenge, starting with tomorrow's cookout. But, we're also going to be doing some taste testing in our neck of the woods. I'm pleased to be partnering with Sargento Cheese on the quest for making the ultimate cheeseburger at home.
About America's Ultimate Cheeseburger Contest

To celebrate America's love affair with this summertime classic, Sargento has challenged chefs at iconic burger joints from coast to coast to create "America's Ultimate Cheeseburger".

Cities and burger joints that were challenged include:

• Brooklyn, NY: 67 Burger "Pastrami Spiced Swiss Burger"
• Miami, FL: The Filling Station "The Filling Station Cheeseburger"
• Chicago, IL: Butcher & the Burger "Drill Sargento Burger"
• Milwaukee, WI: Sobelman's "Bacon Double Cheeseburger"
• San Diego, CA: Crazee Burger "Crazee Cheeseburger"

For the contest, each restaurant drew on local culinary flair to create their city or regions ultimate cheeseburger recipe featuring at least one variety of Sargento all natural, never processed cheese. The grilling gurus now leave it up to America's discerning palate to crown the nation's preeminent juicy cookout creation!

Support your local restaurant by visiting the "America's Ultimate Cheeseburger" tab on the Sargento Facebook page to cast your vote! Fans can also join in on the cheeseburger love by submitting their own cheeseburger recipe.
Now, at this point, I must confess to being a homer. The San Diego entry from Crazee Burger is clearly the tastiest looking of the bunch! See for yourself!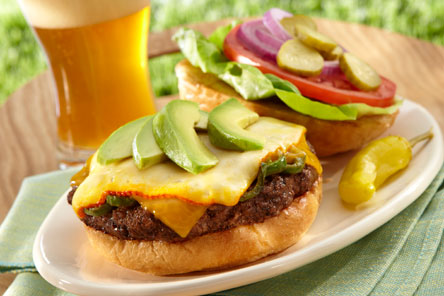 Recipe: Crazee Burger's Recipe for "Crazee Cheeseburger"
Ingredients
8 oz. hoppy beer
1/4 tsp. brown sugar
8 oz. prime buffalo ground meat pattie
1 gourmet bakery bun, toasted
1 slice of Sargento® Deli Style Sliced Sharp Cheddar Cheese
1 slice of Sargento® Deli Style Sliced Muenster Cheese
1 slice fresh garden tomato
1 slice red onion
1 leaf butter lettuce
5 slices of kosher dill pickle
1/2 avocado, sliced
1 jalapeno pepper
Burger Seasoning: pinch garlic, pinch sea salt, pinch paprika, pinch pepper
Instructions
In a shallow dish mix beer with brown sugar. Place pattie in beer mixture and marinate in refrigerator for about 1 hour. Remove and place on grill.
Combine seasoning ingredients, sprinkle evenly over pattie and cook to desired doneness. Meanwhile, sauté jalapeno in olive oil, cooking until soft; slice and discard stem and seeds.
While still on grill, place jalapeno directly on top of burger followed by cheeses. Allow time to melt cheeses.
Place burger on bottom of bun. Top with avocado. On bun top, place lettuce, tomato, onion and pickle. Serve burger open-faced.
Preparation time: 10 minute(s)
Cooking time: 10 minute(s)
Number of servings (yield): 1
You can hop on over to Sargento's "America's Ultimate Cheeseburger" contest to vote for your favorite burger and to submit your own cheeseburger ideas. I'll be sharing our family's ultimate cheeseburger recipe later this month as well as a review of Crazee Burger. Their menu is, indeed, crazy!
We've all watched an episode of Diners, Drive-ins and Dives featuring the restaurant, and the boys are getting a little adventurous in their burger choices. Alligator, anyone? I'll be sure to let you know how it goes!
What's YOUR favorite cheese on a burger?
Disclosure: I received products and compensation from Sargento Foods Inc. and The Motherhood as part of my participation in this campaign. All thoughts and opinions expressed in this post are my own.