Snickerdoodle bars are easy to make and taste just as good as the traditional balls rolled in sugar.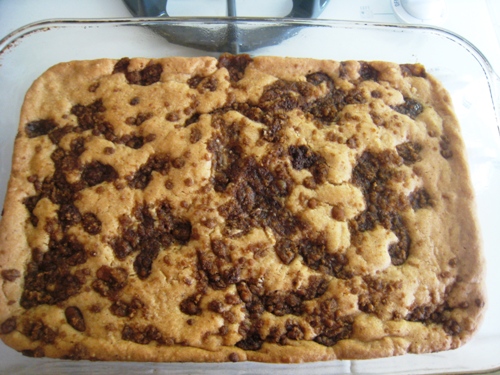 A few weeks ago I shared a recipe for a Cinnamon Streusel Coffeecake that our family loves and has enjoyed on many occasions. Unfortunately, when I first published the post I was unaware of not one, but TWO typographical errors. In typing from my notes, my eyes skimmed over the baking powder and the milk. Yikes!
Early on the first day, savvy readers pointed out that something must be wrong. Where was the leavening? I was able to correct the missing baking powder within a few hours of publication. Whew. (Many thanks and apologies to those gracious folks who followed my error-filled recipe with a good attitude! It goes down in the annals of history as The Day FishMama Tanked Everyone's Breakfast.)
However, it wasn't until a day or two later that I made the coffeecake, this time using a printout from the site instead of my notes. Something wasn't quite right. The batter wasn't light and fluffy. What's going on here?
I had already spread it in the pan when I realized my error. There was no milk. Uh oh. Chalk it up to one big fail for the week.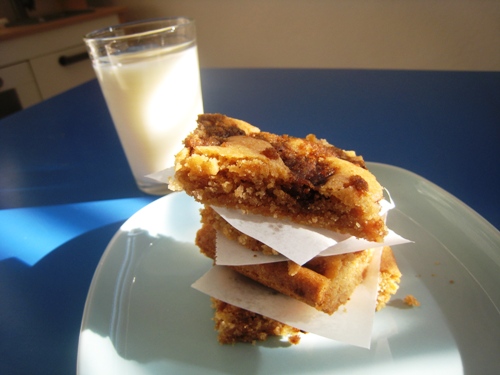 However, all was not lost. Once the thing was baked and sliced into squares, I realized that it was a fabulous cookie! In fact, it tastes like one big snickerdoodle without all the hassle of rolling those dough balls in cinnamon sugar! It's a sweet cookie that disappeared in a flash.
So there you have it. A very happy accident. One we'll be making quite often from now on.
Recipe: Snickerdoodle Bars
Ingredients
3/4 cup sugar
3/4 cup oil
1 egg
1 teaspoon vanilla extract
1 1/2 cups unbleached, all-purpose flour
2 teaspoons baking powder
1 teaspoon ground cinnamon
1 teaspoon ground nutmeg
1/2 teaspoon salt
Topping:
1/2 cup brown sugar
2 tablespoons unbleached, all-purpose flour
2 teaspoons ground cinnamon
2 tablespoons melted butter
Instructions
Preheat the oven to 350 °. Grease a 9×13 baking pan.
In a large mixing bowl, combine the sugar and oil. Mix in the egg and vanilla until smooth.
Add the flour, baking powder, cinnamon, nutmeg, and salt. Blend just until mixed. Spread into the prepared pan. The dough will be fairly thick.
In a small bowl, combine the topping ingredients and sprinkle them over the batter.
Bake for 20 to 25 minutes or until crisp.
Preparation time: 10 minute(s)
Cooking time: 25 minute(s)
Number of servings (yield): 16