Last night I let my sweet tooth reign, indulging in White Chocolate-Walnut Cookies and Whole Grain Cinnamon Rolls. Yes, yes, I did. The cravings must come from seeing all these great recipes my friends make!
Here are a few sweets you might want to try in the near future. The very, near future. And don't forget to visit LifeasMOM on Thursday to share your favorite dessert recipe. As long as it's sweet, it's allowed.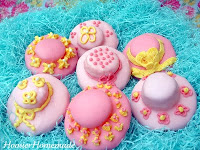 Easter Bonnet Cookies from Hoosier Homemade – How cute are these? Oh my word. Love Liz's creativity. Get your Easter Bonnets ready, people! These would also be really cute for a little girl's tea party as well.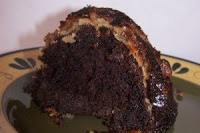 Chocolate Oatmeal Cake from Getting Freedom – That chocolate cake just screams for a girls' night, I think. Ooey gooey goodness. And it has oats in it, so it must be kinda good for us, right? Kinda?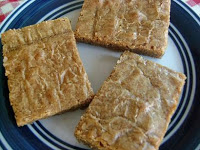 Easy Butterscotch Bars from Heavenly Homemakers – This recipe calls for only five ingredients, one of which is sucanat. They look decadent and maybe have a hint of even being healthy for you!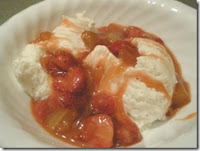 Strawberry Rhubarb Topping from The Gluten-Free Homemaker – The season for these two main ingredients is quickly approaching. Use this as a topping for ice cream or for drizzling on cake or biscuits.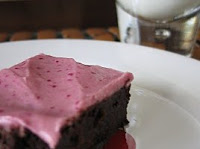 Best Double Chocolate Brownie with Beet Pink Frosting from Food with Kid Appeal – Call me weird, but as I was typing the title of Jenna's recipe, it got me thinking of The Go-Go's, an 80's girl rock band. They had a song, "We got the beet." Only I think it was spelled differently. And with its bright pink frosting, I think this brownie would appeal to them.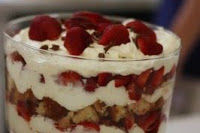 Strawberry Cheesecake Trifle from Balancing Beauty and Bedlam – Strawberries and cream cheese are both in season, at least in my neck of the wood. Looks pretty yummy from where I am. Think we're gonna have to try this one.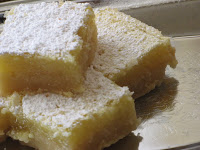 Lemon Bars from The Finer Things in Life – I am a huge fan of lemon, so I must confess, if I was at this dessert table, I would park myself right here. So yummy and so easy.
Want the dish on delicious ways to act your wage? Subscribe to GCE in a reader or via email.