Boxed rice mixes are a thing of the past, especially when you know how to make a healthier, cheaper, and tastier seasoned rice pilaf yourself. Try this homemade rice-a-roni recipe today.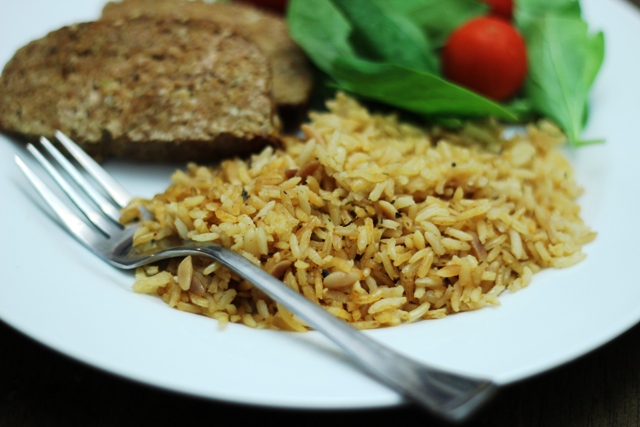 Growing up, I really loved the boxed rice and pasta pilaf known as "the San Francisco treat". Rice-a-Roni was a staple in our home, my dad stocking up on boxes and boxes of chicken and beef flavor when they went on sale. Without fail, it served as a side dish to our skillet pork chops or baked chicken.
Sometime, in my newlywed years, I learned how to make Rice Pilaf. It was a game changer. Who knew that the boxed rice mixes were really simple pilafs in disguise? And that you could make it yourself?! Madison Avenue guarded this well-kept secret from us unsuspecting children of the 80s whose moms worked and whose home economics funding got cut.
What a revelation!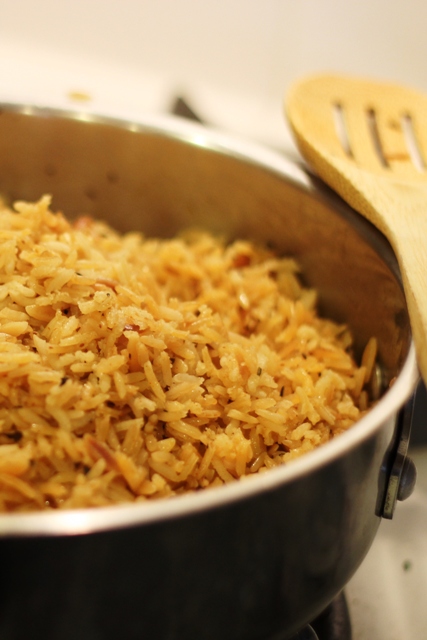 Making seasoned rice pilaf yourself.
I've been making Simple Rice Pilaf for years. Adapting it toward the rice and 'roni style involved upping the seasonings and throwing in some orzo.
That was easy.
Making it cheaper.
I used white rice for this recipe which I buy for 50 cents a pound in the ginormous bags. The homemade chicken broth was "free". The seasonings, orzo, and butter, were in pretty minimal amounts. I'd say we made three times the amount of a boxed variety for about half the price.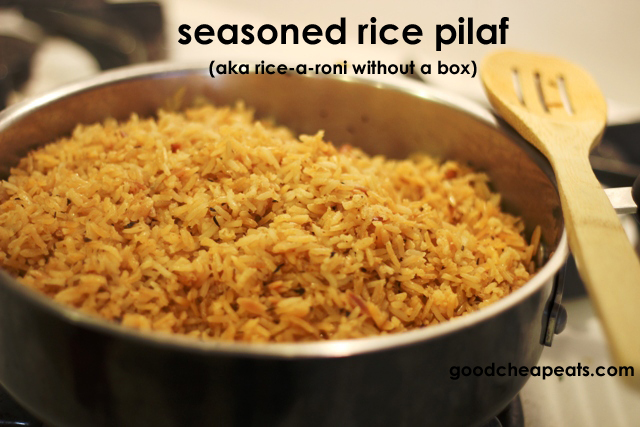 Recipe: Seasoned Rice Pilaf
Ingredients
1/4 cup butter
2 cups uncooked white, long-grain rice
1/4 cup uncooked orzo pasta
1 teaspoon paprika
1/2 teaspoon dried thyme
1/2 teaspoon dried basil
2 1/2 cups chicken broth
2 cups water
Instructions
In a large skillet with a lid, melt the butter over medium heat. Add the rice and orzo.
Saute until rice the becomes opaque and the orzo starts to brown lightly.
Stir in the spices.
Add the chicken broth and water and bring to a slight boil. Cover and reduce the heat. Cook for 20 minutes, covered, until liquid is absorbed. Fluff with a fork, season with salt and pepper, and serve.
Cooking time: 25 minute(s)
Number of servings (yield): 8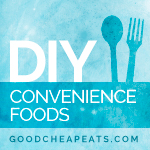 This is part of the DIY Convenience Foods series.
Don't want to miss a post in this series? Subscribe to 31 Days of DIY Convenience food here. Get updates via email here.