Greek flavors like feta and spinach combine with mushrooms for a fabulous taste treat.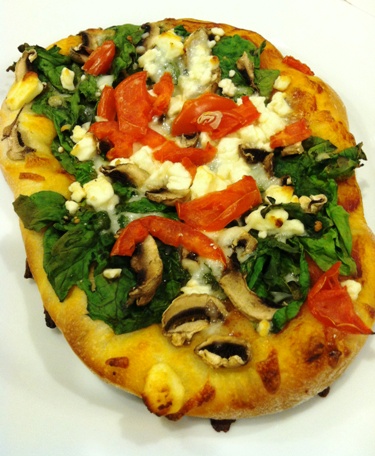 I think if it weren't for steak, I could easily become a vegetarian. I almost always choose a meatless item at a restaurant. And my meals at home certainly drift that way.
Especially when it comes to pizza.
This pizza, redolent with Greek flavors was a fabulous taste treat. One that I will be repeating many times over in the future.
At our house, I make one batch of pizza dough, divide it into eight portions, and make everyone his favorite flavor combination. This is one of mine: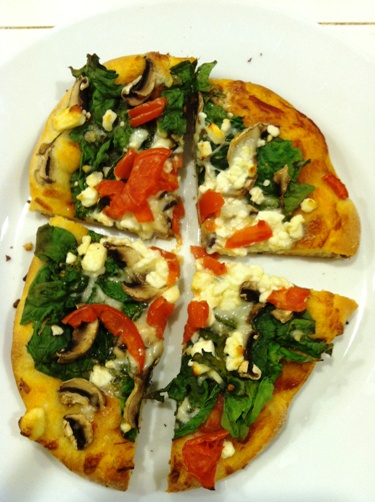 Recipe: Greek Pizza
Ingredients
1/8 batch pizza dough
2 tablespoons tomato sauce
sprinkles of basil and garlic powder
1 handful spinach
1/2 cup sliced mushrooms
1/4 cup feta cheese crumbles
1/4 cup shredded mozzarella cheese
1/2 tomato, chopped
Instructions
Preheat the oven to 500 °. Spray baking sheets with nonstick cooking spray and sprinkle with corn meal to prevent sticking or line with parchment paper.
Flatten dough into a thin round and place on the cooking sheet.
Spread tomato sauce and sprinkle with basil and garlic powder to taste.
Layer spinach leaves over sauce.
Sprinkle mushrooms, feta cheese, mozzarella, and tomatoes over spinach in layers.
Bake for 8 to 10 minutes or until the crust is crisp and the cheese melted and lightly browned.
Preparation time: 5 minute(s)
Cooking time: 10 minute(s)
Number of servings (yield): 1
For the carnivores among you, you could easily add grilled chicken or steak. Either way, it's a fabulous meal and perfect for Meatless Mondays or your next Pizza Night.
What's your favorite pizza topping?