Whole grain crust, pesto, sauteed onions and peppers, chicken, and a measured amount of cheese form a solid pizza base. Avocado and fresh tomato finish it off in this "better pizza".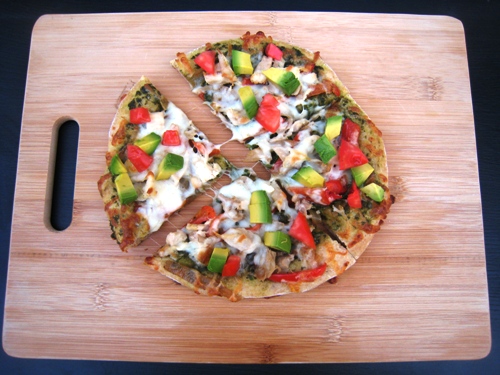 One of my children requests Costco pizza on a weekly basis. And on a weekly basis, I say no.
Though it's been our "go-to" pizza for almost two decades, our (hubs and mine) recent adventure in calorie counting has struck Costco pizza from the list. With one slice topping 500 calories, it's just not worth it to us. Especially when I can make a personal-size pizza with whole wheat crust for fewer calories. Not only is my version less fattening but it tastes better and contains much more nutrition.
In our calorie education hubs and I learned to measure out toppings, like cheese or chicken. We realized that we were just as satisfied with an ounce of cheese as we were with several handfuls. Who knew?
Not only is measuring a great way to reduce calories, but it's also a fair means to using less and thereby saving money.
When Hodgson Mill told me about their Build a Better Pizza Contest, I figured I'd throw my hat into the ring. This better pizza includes a whole grain crust, pesto sauce, chicken, and lots of fresh vegetables. We love adding avocado to a pizza after it's been cooked. Gives it a nice dose of healthy fat and a boost in flavor.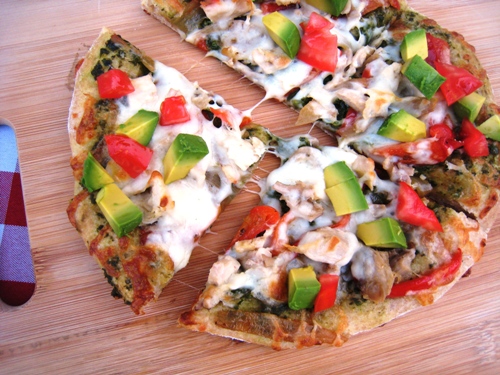 Recipe: Chicken Pesto Pizza with Vegetables and Avocado
Dough Ingredients:
3/4 cup warm water
2 tablespoons olive oil
1 tablespoon sugar
1 cup unbleached all-purpose flour
1 cup whole wheat flour
1/2 tablespoon salt
1/2 tablespoon yeast
cornmeal for sprinkling
Topping Ingredients:
1 Tablespoon oil
1 onion, sliced
1 medium bell pepper, julienned
1/2 cup pesto
1 cup chopped, cooked chicken
4 ounces shredded mozzarella cheese
1 medium tomato, diced
1 avocado, peeled, pitted, and chopped
Instructions
Place the dough ingredients in the bread pan of a bread machine in the order instructed by the manufacturer. Set to dough cycle and walk away. Alternatively, in a large mixing bowl combine the water, oil, sugar, and yeast in a large mixing bowl. Stir to combine and allow to proof for five minutes. Stir in the flours and salt until a stiff dough forms. Turn out onto a lightly floured surface and knead for about five minutes until a smooth dough ball is formed. Place in a greased bowl and allow to rise until doubled in bulk, one to two hours.
Prepare the toppings. In a skillet, heat the oil until shimmering. Add the onion and pepper, and saute over medium high heat, stirring frequently, for about 5 to 10 minutes or until the vegetables are tender. Remove from heat.
Preheat the oven to 500. Sprinkle baking pans with cornmeal. Divide the dough into four equal pieces. Stretch each piece of dough into four  flat rounds and place on the prepared pans.
Divide the pesto evenly over the four rounds, spreading to the edges. Layer on the toppings: sauteed vegetables, chicken, and cheese.
Bake for 10 to 12 minutes or until the dough is crisp and the cheese is melted. Remove from the oven and slice.
Top pizzas with fresh tomato and avocado.
Stay tuned for details on how to
vote for this pizza
in
Hodgson Mill's Build a Better Pizza Contest
.
Disclosure: Hodgson Mill sent me a few bags of flour and cornmeal to test my recipe. I'm particularly glad to find a brand of cornmeal that is free of GMO's. Yeah! All opinions are my own.