Spring has arrived! And with it come a variety of spring vegetables to toss into the soup pot.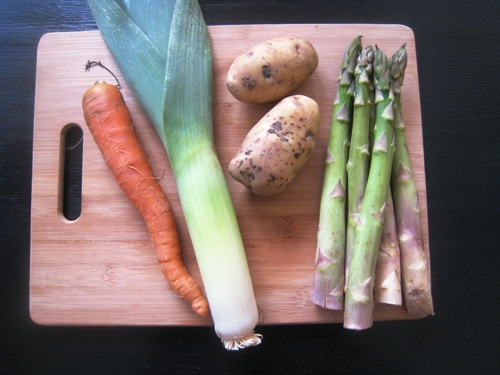 Getting a weekly produce box has really grown on me. It's also grown me as a cook. I've been compelled to try vegetables and fruits that I might never have purchased at the store. The culinary world is bigger than I once thought it was.
Oh, in my newlywed years I read Bon Appetit faithfully each month and tested all kinds of great recipes. But, it wasn't until the last couple years that I started experimenting on my own. Having a box of strange vegetables thrust on me each week has prompted me to learn and grow. Pea tendrils and leeks are some of my very favorite new friends.
This soup isn't all that unusual, leeks, potatoes, carrots, and asparagus all play a role. Do some peeling and chopping. Give them a warm bath in a pot of chicken broth. Add some seasonings. Whiz by with the immersion blender. Voila! You have a beautiful soup bursting with the flavors of spring.
It's delicious on its own as a starter, or to accompany soup and salad as a main meal. Bon appetit!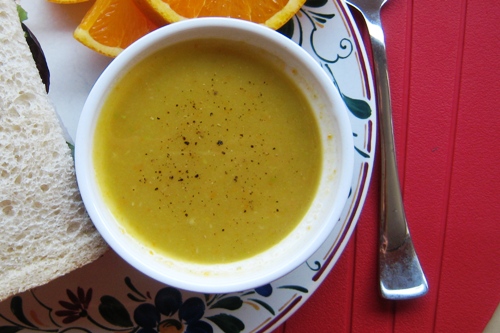 Recipe: Spring Vegetable Soup
Ingredients
2 tablespoons olive oil or salted butter
1 cup leeks, thinly sliced
1 teaspoon crushed garlic
1 large potato, chopped (about 1 cup)
1 large carrot, chopped (about 1 cup)
1/4 pound asparagus spears (about 5) cut into 1/2-inch pieces
4 to 6 cups chicken broth
sea salt and freshly ground pepper to taste
Instructions
In a large heavy pot over medium-high heat, heat the oil or melt the butter. Reduce to low and cook the leeks and garlic until the leeks are tender, about 5 minutes.
Add the potatoes, carrot, asparagus and 4 cups of the chicken broth. Bring to a boil. Reduce the heat and simmer, uncovered, for 20 minutes or until the vegetables are tender.
Using an immersion blender, blend the soup until smooth. Alternatively, you can blend the soup in batches in a food processor.
Add more chicken broth, if desired, to achieve your preferred consistency.
Season to taste with salt and pepper.
Preparation time: 10 minute(s)
Cooking time: 20 minute(s)
Number of servings (yield): 4