I hated pumpkin pie until I had this one. Now, I will eat no other. This is the best pumpkin pie EVER.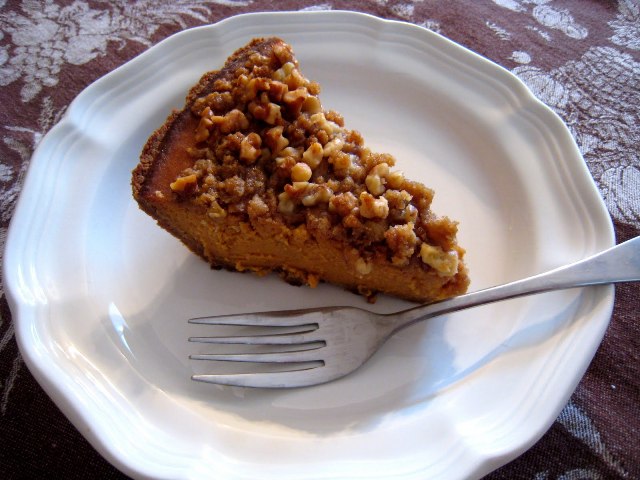 This recipe is by far the holiday family favorite at our house. Gramma Marilyn made it for our Thanksgiving Dinner ten years ago, and it is a regular on our table every year without fail.
Previously, I had never been a fan of pumpkin pie. Too slimy. But, this pie has a graham cracker crust and a crunchy, sweet, nutty top, which offset the smooth custard and make for a great combination.
The ingredients usually go on sale every fall and aside from the egg and butter, they are all pantry stable, so you can stock up and always have what you need for a fantastic pie. We like to serve it with freshly whipped cream. Oh my!
Recipe: Streusel-Topped Pumpkin Pie
Ingredients
15 oz. can solid pack pumpkin
14 oz. can sweetened, condensed milk
1 egg
1 1/4 teaspoon cinnamon, divided usage
1/2 teaspoon ground ginger
1/2 teaspoon ground nutmeg
1/2 teaspoon salt
1 graham cracker pie crust
1/4 cup firmly packed brown sugar
2 Tablespoons flour
2 Tablespoons cold butter
3/4 cups preferred nuts, chopped
Instructions
Preheat oven to 425°.
In large mixing bowl, beat pumpkin, sweetened condensed milk, egg, 3/4 teaspoon cinnamon, ginger, nutmeg, and salt. Pour into graham cracker pie crust. Bake 15 minutes.
Meanwhile, combine brown sugar, flour, and remaining 1/2 teaspoon cinnamon. Cut in butter until crumbly. Stir in nuts.
Remove pie from oven. Reduce oven temperature to 350°. Sprinkle streusel mixture over pie.
Bake 40 minutes or until set. Cool.
Serve with whipped cream, definitely. This is delicious warm, at room temperature, or chilled. Store in the refrigerator.