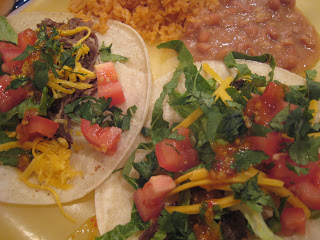 These are so simple and easy. They're a regular staple around here.
corn tortillas
Shredded Beef Filling
grated cheddar or jack cheese
shredded lettuce
chopped tomatoes
chopped cilantro
fresh salsa
Wrap tortillas in foil packets, about four per packet and heat in warm oven. Assemble meat, cheese, and other ingredients in small bowls to allow diners to assemble their own tacos. Serve with rice and beans.
What it costs:
corn tortillas $.60/dozen
beef $1.69/#
cheddar $1.25/8 oz.
lettuce $0.25
cilantro $0.25
tomatoes $0.25
salsa $0.50
TOTAL: $4.79 for one dozen hefty beef tacos