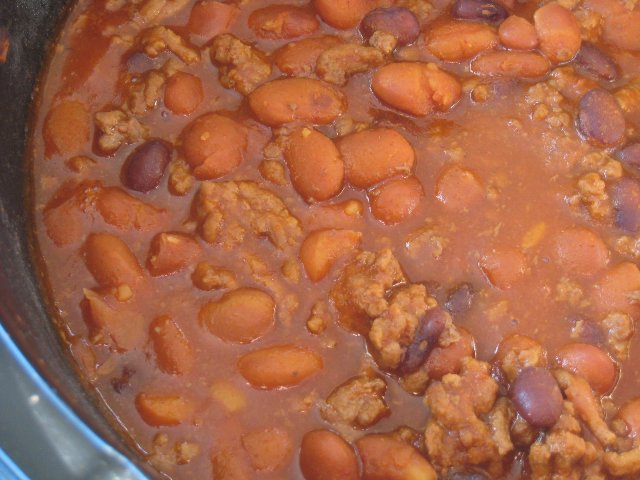 When I'm going to feed a crowd, this is one of our favorite recipes. It's hearty and filling and easy to serve. Just dish up bowls of red, offer a selection of toppings, and a basket of bread and butter, and you're good to go.
If you'd like, you can make this in the crockpot. After you saute the onions and garlic, simply combine all the ingredients in a large crockpot. This is so make ahead, you can cool and freeze it and enjoy it another time.
Recipe: Chihuahua Chili
Ingredients
1/4 cup oil
2 onions, chopped
3 Tablespoons chopped garlic
2 cups tomato sauce
1 cup enchilada sauce (we like Las Palmas)
12 ounce bottle of beer (possibly Chihuahua, hence the name; If you'd like, you can omit the beer. Just add water or broth if the chili is too thick without the beer.)
2 29-ounce cans pinto beans, drained
2 15-ounce cans black beans, drained
1 pound ground beef, browned and drained
1 Tablespoon chili powder
1 Tablespoon cumin
Toppings: sour cream, grated cheddar cheese, chopped cilantro
Instructions
In large pot, heat oil. Saute onion until translucent, about 3 to 4 minutes. Add garlic and saute 2 minutes more. Add tomatoes, enchilada sauce, beer, beans, cumin and chili powder. Bring to boil. Simmer, partially covered, until slightly thickened and flavors have mingled, about 1 hour on the stovetop. (You can cook this all day in the crockpot.)
Serve with toppings.
If freezing, divide into dinner portions suitable for your family. Cool, label and freeze. To serve: Defrost and reheat. Serve with cheddar cheese, sour cream and chopped cilantro. Shepherd's bread with butter is a great accompaniment.