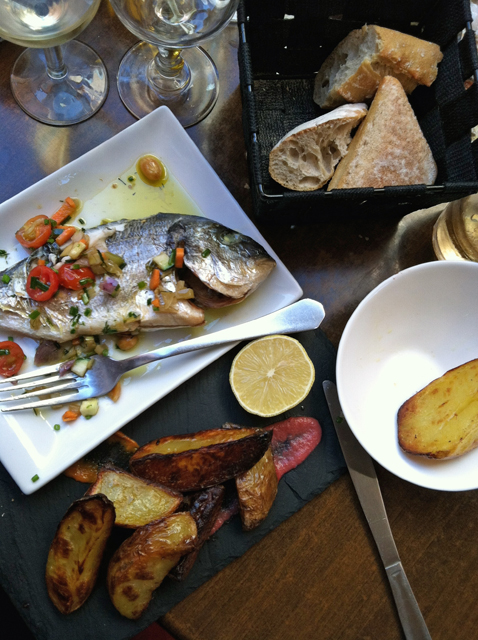 One of the things that we did to prepare our kids for a month in France was a practice I call, "French Fridays". Instead of serving regular Friday night pizza, I switch up the menu to serve our dinner more in the French style.
To do so, the girls enjoy setting a nicer table. I serve the meal in courses. The guys have to slow down and pace themselves when it comes to eating.
All this preparation served us well in France. Not only were they more familiar with the rhythm of a French meal, but they also came to prefer this style of eating. In fact, on our last Friday in France, FishChick almost popped a gasket when I didn't serve our meal in courses. It was French Friday, after all.
For my part, I lost six pounds eating the French way, so I have no complaints.
A typical menu includes:
an aperitif (a drink and a few finger foods)
an entree (an appetizer, such as charcuterie, tapas, or a salad of some type)
a main dish or plat principal (typically meat or fish and a vegetable)
salade (usually a green salad with a simple vinaigrette)
cheese plate
dessert
I was thinking of writing a series about the French style of eating, but I realized that there are others better equipped than I to lay it all out for you. So, I defer to them. While I learned to eat a la Francaise by living there, not all of us have that opportunity. Those of us stateside must rely on French restaurants (not completely reliable in the US) and books.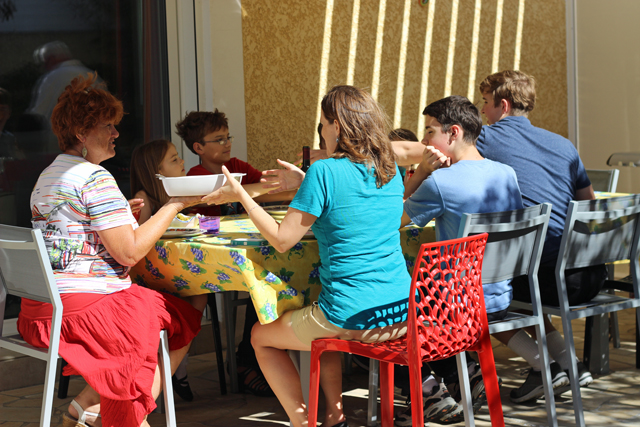 Here are four books that I've enjoyed reading that I think do a great job portraying the French manner of eating.
A Year in Provence by Peter Mayle – I'm dating myself mentioning this book first. It was a hit when it came out — 20+ years ago. Francophiles flocked to read it. I enjoyed it.
French Women Don't Get Fat by Mireille Guiliano – I don't love the title, but the style of eating recommended is just my style. I've found that when I follow the French Lady's advice, I enjoy great food without feeling like I'm on a diet — and without gaining weight.
French Kids Eat Everything by Karen LeBillon – I read this book a few years ago and it revolutionized the way I looked at vegetables and whether or not my kids needed to eat them. They do.
The Bonne Femme Cookbook by Wini Moranville – Wini and I have, in some ways, lived parallel lives. Both exchange students to France who grew up to write cookbooks for the Harvard Common Press. Also, we both have ties to the same itty bitty village in southern France. I love this book! I've been waiting for a time when I have a break from recipe development and testing so that I can dig in and make everything in this book. So far the recipes we've tried have been fantastic.
These are all fabulous books and I would not hesitate to buy them for the French fans in your life.
Are YOU ready for French Friday?