Feed a crowd easily with this Easy Chocolate Cake studded with almonds and scented with cinnamon. It comes together quicker than a mix cake and tastes amazing!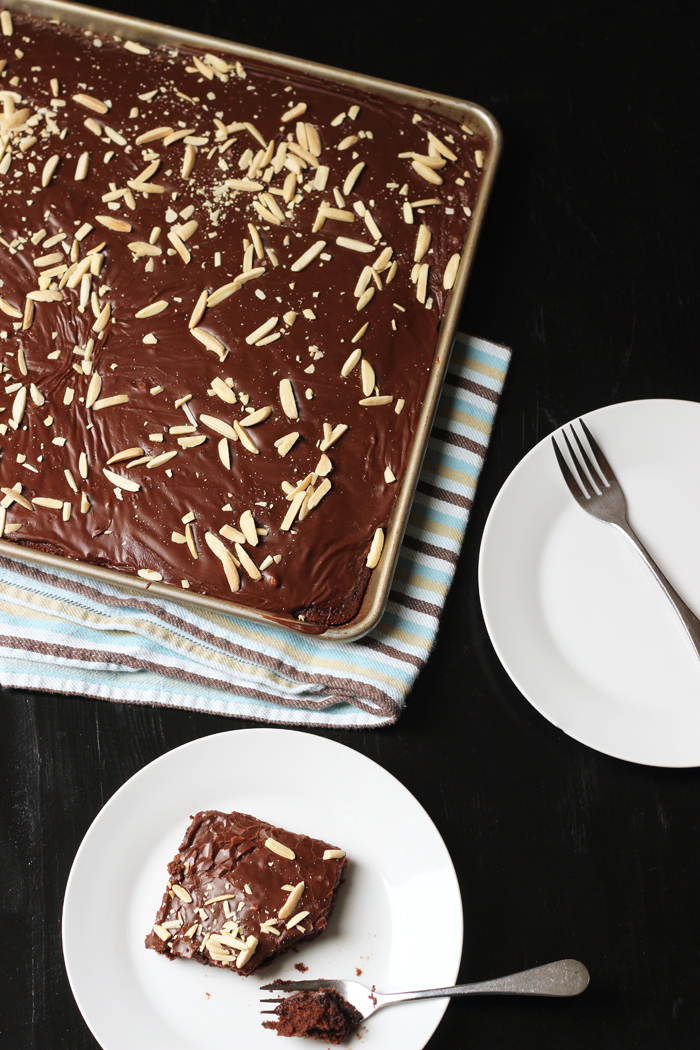 You want to know how to be the hit of the party at your next potluck event? Take this cake. Seriously. It takes less than half an hour to make — from start to frosted. It's full of chocolate, almond, cinnamon-y flavor. It's smacks of fudge and decadence, but because the cake itself is pretty thin, you won't easily overindulge.
I baked this cake for a group of moms and kids recently. It is a huge cake, filling my biggest sheet pan. I came home with an empty pan — a clean, empty pan because my friend Rachel is cool like that.
Pro tip: moms should eat their cake BEFORE they call the children inside to get theirs. Just in case you didn't know that. Remember that! 😉
I first met this recipe when I edited a fundraising cookbook for a pregnancy help center in Santa Barbara. The recipe contributor called it 29-minute Cake. It really is fast. I haven't actually timed myself making it, but it's on my list of quick desserts. I mean, the cake itself bakes in 10 to 11 minutes. Brilliant.
Another bonus? You don't have to cool the cake before you frost it. In fact, the icing is hot and you pour it onto the hot cake, spread it fast so it doesn't clump — it cools quickly — and then walk away.
Or just dig in. It's so good, you'll won't want to wait.
I've embellished the original recipe with almond extract and toasted, slivered almonds. I also slipped in some ground cinnamon because I love the cinnamon and chocolate combination.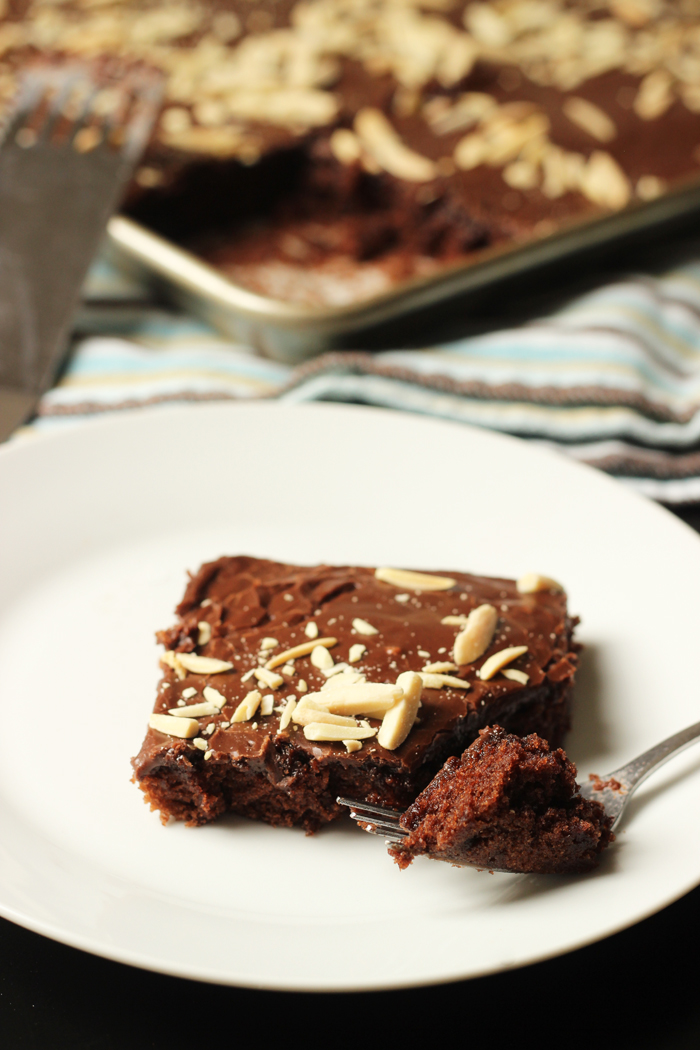 How to make this good and cheap:
Here are some of the strategies you can use to make this recipe more economical:
How I make this recipe easy:
This Easy Chocolate Cake recipe really couldn't be easier than it is, but having the right kitchen tools can really make your time in the kitchen more enjoyable. Over time, I've honed my collection so that they are perfect for my needs.
Here are the tools that I use for this recipe:
Easy Chocolate Cake with Almonds and Cinnamon
Feed a crowd easily with this Easy Chocolate Cake studded with almonds and scented with cinnamon. It comes together quicker than a mix cake and tastes amazing!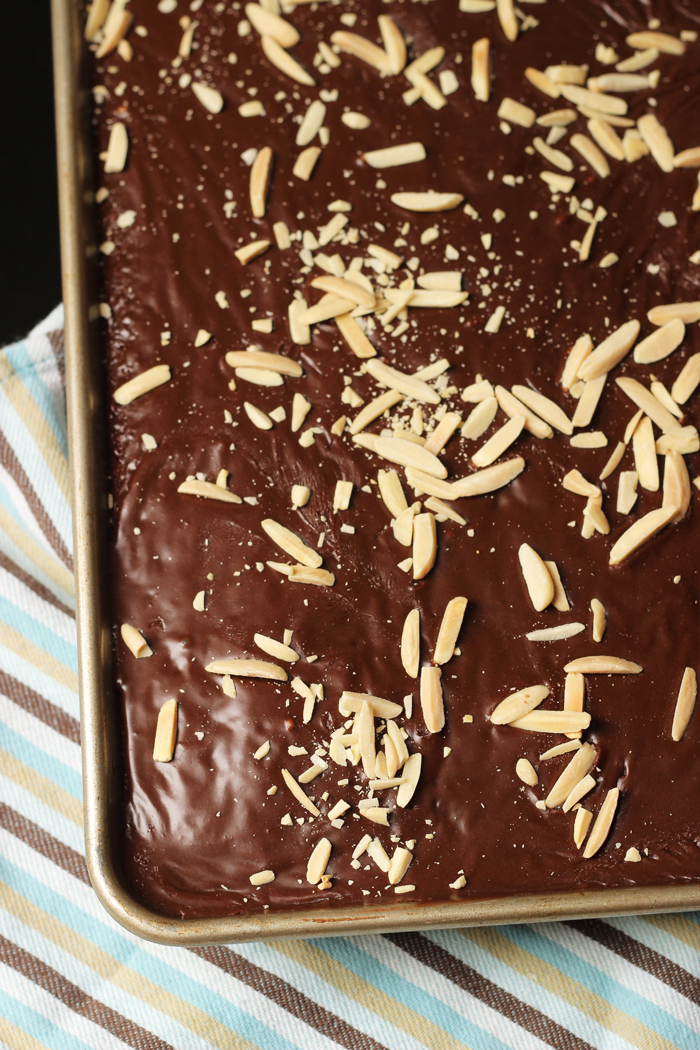 Preparation Time:10 minutes
Cook time:15 minutes
Total time:25 minutes
12 to 16 servings
Ingredients:
2 cups unbleached, all-purpose flour

2 cups sugar

1 teaspoon baking soda

1/2 teaspoon ground cinnamon

3 sticks butter, divided usage

1 cup water

8 tablespoons cocoa powder, divided usage

2 eggs, beaten

1/2 cup buttermilk

1 teaspoon vanilla extract

5 tablespoons milk

1 teaspoon almond extract

4 cups powdered sugar

1/2 cup slivered, toasted almonds
Instructions:

Preheat the oven to 400 degrees. Line a 11×17-inch sheet pan with parchment paper and spray the edges with non-stick cooking spray.
In a large mixing bowl, combine the flour, sugar, baking soda, and cinnamon. Whisk to blend.
In a medium saucepan place 2 sticks (1 cup) butter, water and 4 tablespoons cocoa powder. Bring to a boil, stirring.
Pour the hot cocoa mixture into the bowl with the flour mixture, and blend well with a hand mixer. Add the eggs, buttermilk, and vanilla extract. Beat well. The batter will be thin. Pour the batter into the prepared pan. Bake 10 to 12 minutes or until cooked through. Place on a rack in the pan.
Meanwhile, in the same sauce pan, melt the remaining stick (1/2 cup) butter. Add the remaining 4 tablespoon cocoa powder and the milk. Bring just to a boil. Pour into a mixing bowl with the almond extract and powdered sugar. Beat with a hand mixer until smooth. Keep beating until the cake comes out of the oven.
Immediately spread the hot icing on the hot cake. The icing will harden quickly. Sprinkle the almonds over the icing and allow it to set.