Mix up this quick and easy coconut pie. It only takes about fifteen minutes. You will wow your guests!
I love to create recipes that surprise people. Typically it happens when they have some preconceived notion about how something's supposed to taste, probably based on past experience. They don't like what they had, and they figure that flavor or experience translates to all things in that genre.
For instance when I met my husband, he did not like quiche or Lemon Meringue Pie, two of my favorite things in the whole wide world. I made them anyway because I love them and eventually he tried them. He found out that his first experience was not universal. He won't eat just any Lemon Meringue Pie. He says he only likes mine. Ha!
(And quiche has to be really hot.)
This pie is like that. I've had more people than I can count say that they don't like coconut or that they specifically don't like coconut pies. Then they try this and their minds are blown.
True confession: I love to blow people's minds.
This pie was originally featured in my first cookbook, Not Your Mother's Make-Ahead and Freeze Cookbook. This week when I made it, the price of shortbread was through the roof. Probably best to make this at Christmas to save some coin — or use a different kind of cookie.
The cookie is not just the base of the crust; it makes up a significant part of the filling, so you need to use a cookie that you really like. I don't think graham crackers would do it. I used Trader Joe's Speculoos cookies (like Biscoff). They are a crunchy cinnamon cookie that we love plain and often use in desserts. I imagine you could use all kinds of cookies, just as long as they crumble easily. Biscotti would be too hard and crunchy.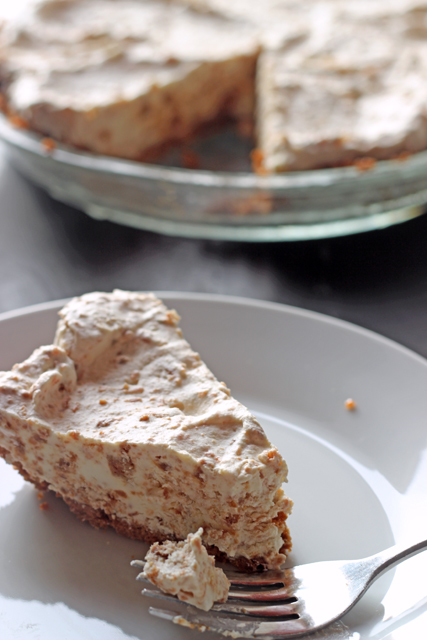 Another bonus to this dessert is that it's not overly sweet. There's a little powdered sugar in the whipped cream and whatever is in the cookies, but it's not a cloying dessert. In fact, I insist that you use unsweetened coconut. The sweetened kind is just too sweet. Bob's Red Mill sells unsweetened. You can buy it at your local health food store. I found mine at Sprouts.
One of the best parts of this dessert is that it is freezer-friendly. Make it today and freeze it for next week. If you've got fresh sliced strawberries to serve with this, it will be even more amazing than it already is. 😉
Coconut Crunch Pie
Mix up this quick and easy coconut crunch pie. It only takes about fifteen minutes. You will wow your guests!
Ingredients
1/2

cup

shredded coconut

3

cup

shortbread cookie crumbs

you can use another style cookie if you like

1/4

cup

butter

melted (1/2 stick)

1 1/2 

cup

whipping cream

1/3 

cup

powdered sugar
Instructions
Preheat the oven to 350°F. Spread the shredded coconut on a rimmed baking sheet and toast for 5 to 10 minutes, stirring frequently. Remove from the oven and cool completely

In a small bowl, combine 2 cups cookie crumbs and melted butter. Pat the crumb mixture into an 8-inch pie plate. Chill in the freezer.

In a large bowl (or the bowl of a stand mixer) whip the cream and the confectioner's sugar until soft peaks form. Fold in the remaining crushed cookies and coconut.

Spoon the whipped cream mixture into the cookie crust. Freeze until firm.

Wrap the frozen pie with foil and place in the freezer. Store frozen for up to a month.

To serve, unwrap the pie. Let it stand at room temperature for about 10 minutes before slicing and serving.
Notes
Nutritional values are approximate and are based on 1/8 of the recipe. Refrigerate leftovers promptly and use within 4 days.
Nutrition
Calories:
278
kcal
|
Carbohydrates:
10
g
|
Protein:
2
g
|
Fat:
27
g
|
Saturated Fat:
17
g
|
Cholesterol:
77
mg
|
Sodium:
36
mg
|
Potassium:
65
mg
|
Fiber:
1
g
|
Sugar:
6
g
|
Vitamin A:
833
IU
|
Vitamin C:
1
mg
|
Calcium:
32
mg
|
Iron:
1
mg

For more freezer-friendly recipes, check out my cookbook, Not Your Mother's Make-Ahead and Freeze Cookbook.