A crunchy chocolate chip cookie with coconut and walnuts added in for good measure makes a fabulous afternoon pick-me-up.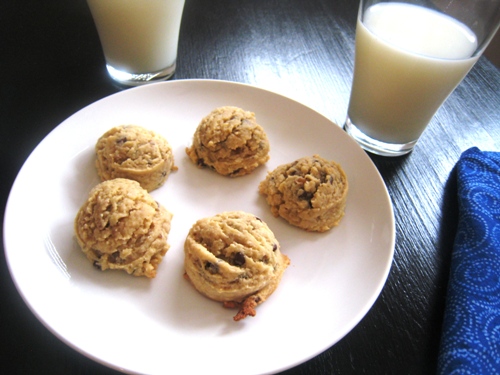 I cooked up a storm last week. As one of my solutions to my current grocery shopping challenges, I did some extensive freezer cooking. Not only did I tackle breakfast, lunch, and dinner, but I also baked up a mess o' snacks. From carrot bread to cookies, we're covered for some munching.
These cookies broke a lot of rules with the addition of walnuts. My youngest is allergic to many different nuts, so we keep her away from all nuts. I baked these after she went to bed and then was hyper vigilant about the cross-contamination issue. The anxiety was huge, so I won't be doing that again anytime soon.
But, my boys absolutely love it that there's a batch of cookies in the freezer with their names on it.
These cookies are dense and crunchy and pretty much hold their shape when baked. I used a quick-release cookie scoop which gives them that scoop o' ice cream appearance. You could flatten them with the bottom of a glass if you prefer or do that criss-cross thing with the fork.
Anyway you scoop it, they are delicious.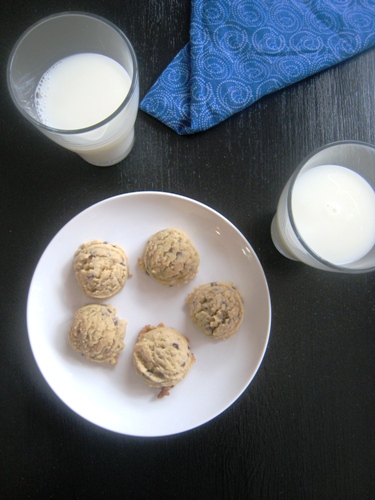 Recipe: Chocolate Chip Cookies with Coconut and Walnuts
Summary: Makes 36 cookies
Ingredients
3/4 cup butter, softened
1 cup dark brown sugar
2 eggs
1 teaspoon vanilla
3 cups flour
1 1/2 teaspoons baking powder
1/2 teaspoon salt
1/2 to 1 cup mini chocolate chips
1/2 cup unsweetened, shredded coconut
1/2 cup chopped walnuts
Instructions
Preheat the oven to 350°. Line several baking sheets with parchment or silpat mats.
In a large mixing bowl cream together the butter and sugar. Add the eggs and vanilla and beat until combined.
Stir in the flour, baking powder, and salt until well combined. Stir in the chocolate chips, coconut, and walnuts.
Drop the dough by rounded spoonfuls onto the prepared sheets. Bake for 10 minutes. Cool completely on a rack.
Store in an airtight container. Cookies may be frozen for longer storage.
Preparation time: 10 minute(s)
Cooking time: 30 minute(s)
Number of servings (yield): 12