Shredded beef tacos are a deliciously simple way to make taco night terrific. The tender beef cooks in the slow cooker while you assemble fresh toppings.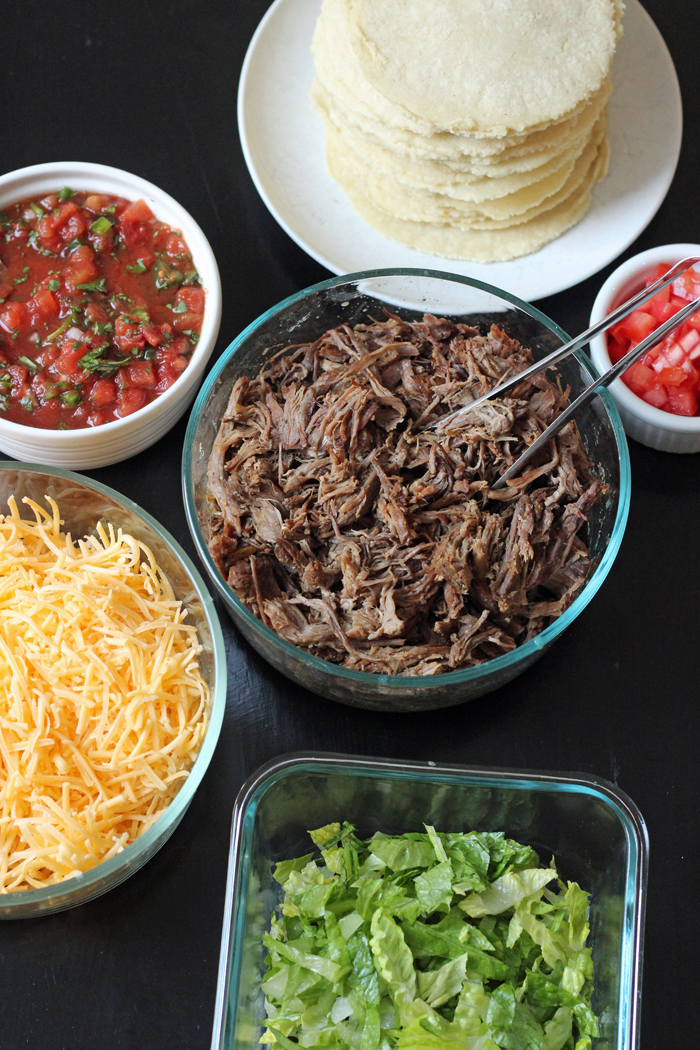 If you've got a favorite Mexican food restaurant, chances are you've experienced great tacos. If your favorite Mexican food restaurant is one of the better ones, you know the delight that comes with biting into a taco made with tender shredded beef folded into a homemade corn tortilla. And you've probably paid a pretty penny for such deliciousness.
Believe it or not, you can make your own shredded beef tacos for a fraction of the price at home — and eat your fill.
Here's what it costs me these days to make this recipe:
corn tortillas $.60/dozen, homemade
beef $3.99/#
cheddar $1.50/8 oz.
lettuce $0.50
cilantro $0.25
tomatoes $0.25
salsa $0.50
TOTAL: $7.59 for one dozen hefty beef tacos; 63 cents each!
I'm pretty sure that a taco plate with beans and rice for ONE person costs about 7 or 8 bucks, so clearly making these babies at home is worth your while. Not only are they easy and cheap, but they are super duper delicious!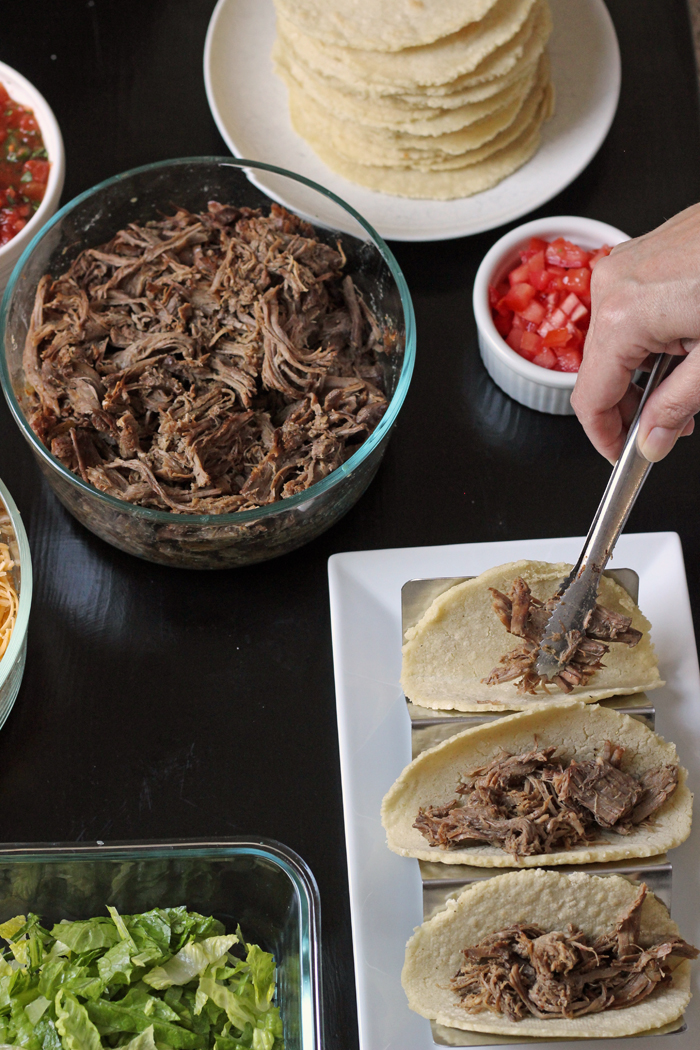 How to make this good and cheap:
Here are some of the strategies you can use to make this recipe more economical:
Meal plan around what's on sale. Don't decide to make this when chuck roast is $7/pound  and you have none in the freezer. Wait until the price is right.
Stock up on ingredients when they are on sale

. For instance, when I see a great price on chuck roast as I mentioned before, I buy a lot. 

Make it yourself. Not only are homemade corn tortillas tastier than commercial tortillas, they're cheaper, too! Homemade salsa is better than the can and a better deal as well.
Price match. I track my prices so that I know the best prices on the items we use the most. That means I buy my cheese and lettuce at Costco because they're super cheap there; my beef at Ralphs or ALDI on sale, etc.
Tools I use to make this recipe easy:
This is a pretty straight-forward dish. You don't need any fancy equipment. However, having some good basic kitchen tools can really make your time in the kitchen more enjoyable. Over time, I've honed my collection so that they are perfect for my needs. Here are the tools that I like to use in this recipe.
This post contains affiliate links. When you make a purchase through those links, I am paid a small amount in advertising fees. Thanks for your support. I really appreciate it.
Shredded Beef Tacos
Shredded beef tacos are a deliciously simple way to make taco night terrific. The tender beef cooks in the slow cooker while you assemble fresh toppings.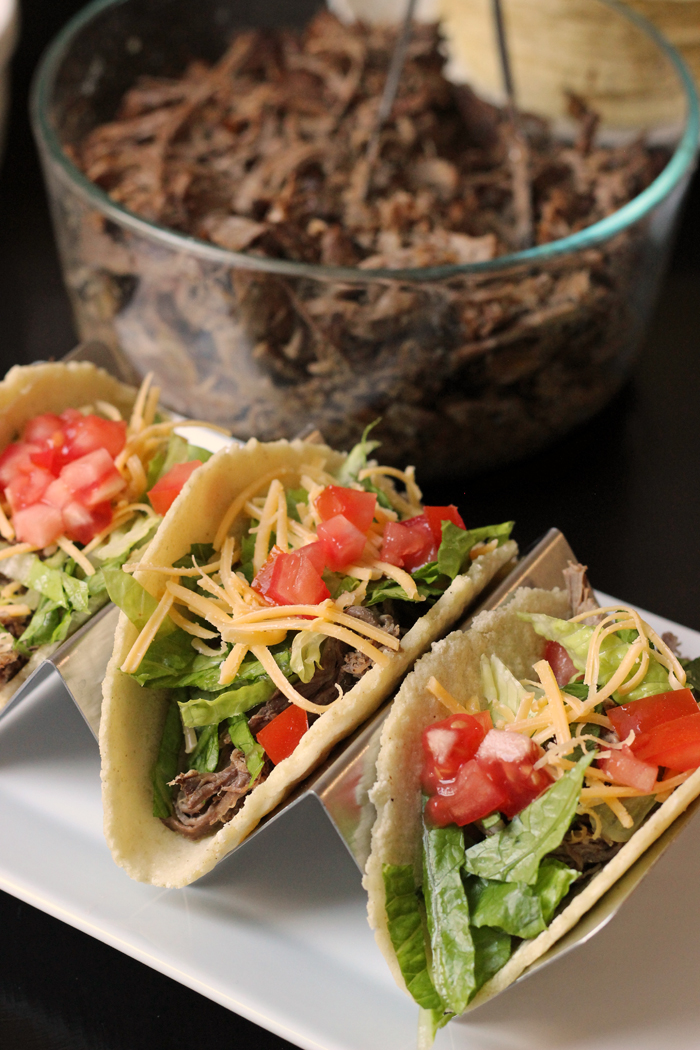 Preparation Time: 20 minutes
Cook time: 4 hours
Total time: 4 hours 20 minutes
8 to 12 servings
Ingredients:
12 to 24 corn tortillas, preferably homemade
one batch Shredded Beef Filling

3 cups shredded cheddar or jack cheese

3 cups shredded lettuce

1 cup chopped tomatoes

chopped fresh cilantro, optional

fresh salsa for serving
Instructions:

If using homemade corn tortillas, cook the tortillas close to serving time so that they are still warm. If using commercial tortillas, wrap them in foil packets, about four per packet and heat in a warm oven.
Assemble meat, cheese, and other ingredients in small bowls to allow diners to assemble their own tacos.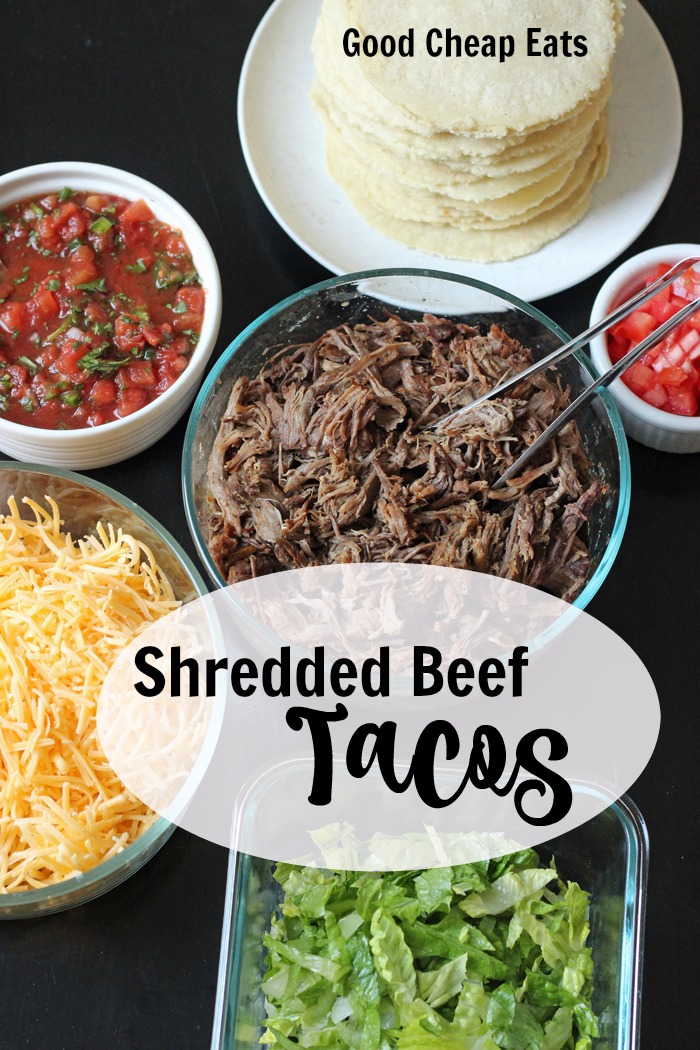 Are you looking for more good cheap eats?
Originally posted June 15, 2009. Updated April 1, 2017.