Looking for a simple yet flavorful way to cook pork? Combine a homemade rub with a cheap cut of pork and cook it slowly in the slow cooker for a fantastic main protein or filling for sandwiches, lettuce wraps, and tacos.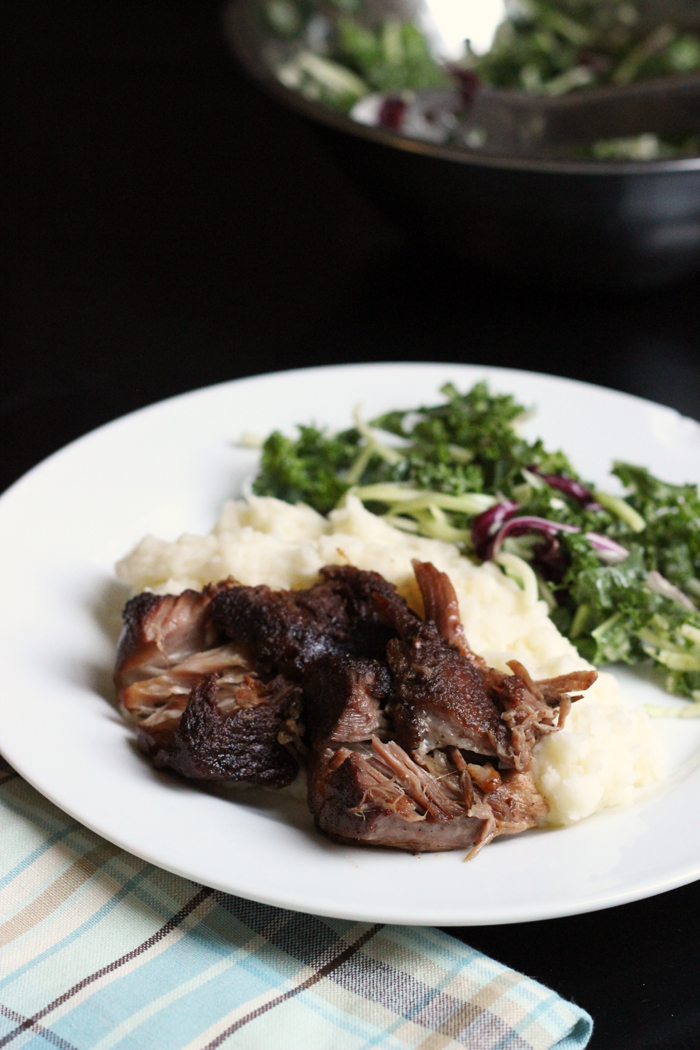 I think I read somewhere that today is National Last Day of School Day. I think that's pretty funny, actually. When I was growing up in Southern California with cousins in Minnesota, I knew the disparity among last days of school. Though they had had snow days to make up, my Midwestern cousins still got out by mid-May while we were hitting the books until mid-June. Clearly, there was no official last day of school.
Nonetheless, summer vacations are rolling out all over the country. Now my friends is the time to shift our meal planning to fun food that is easy to make and prime for the season.
Some of my pre-requisites for such are as follows:
can be made in advance so you can go play at the beach, park, or lake
uses the slow cooker or grill so as not to heat up the kitchen
is versatile so that it can be mixed and matched; leftovers can take a new identity the next day without any awkwardness
invite you to custom the fixings with all kinds of yummy sauces and toppings
won't break the budget
fits a variety of diets so everyone can enjoy it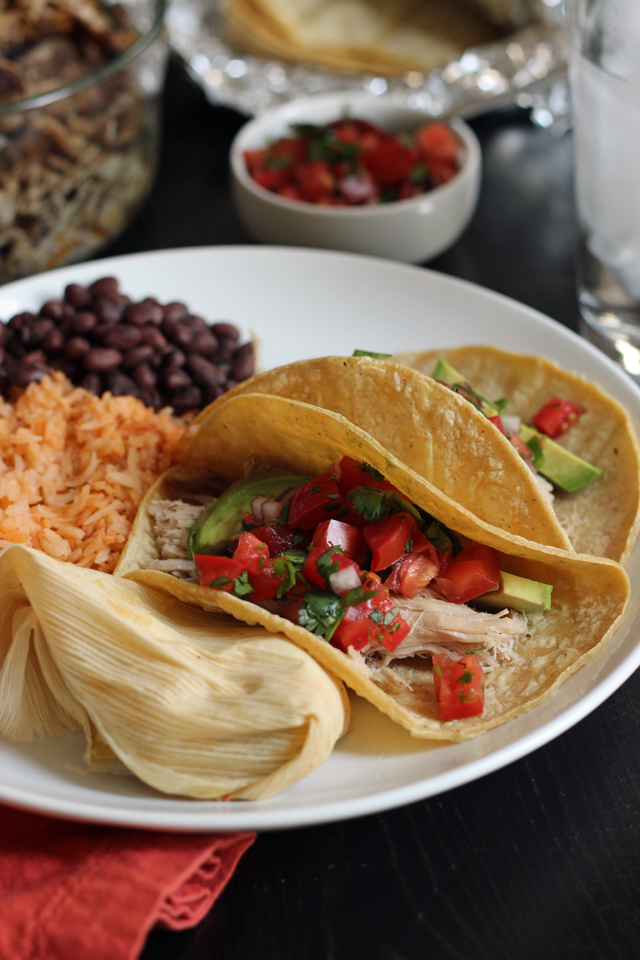 This pulled pork fits all those requirements and then some.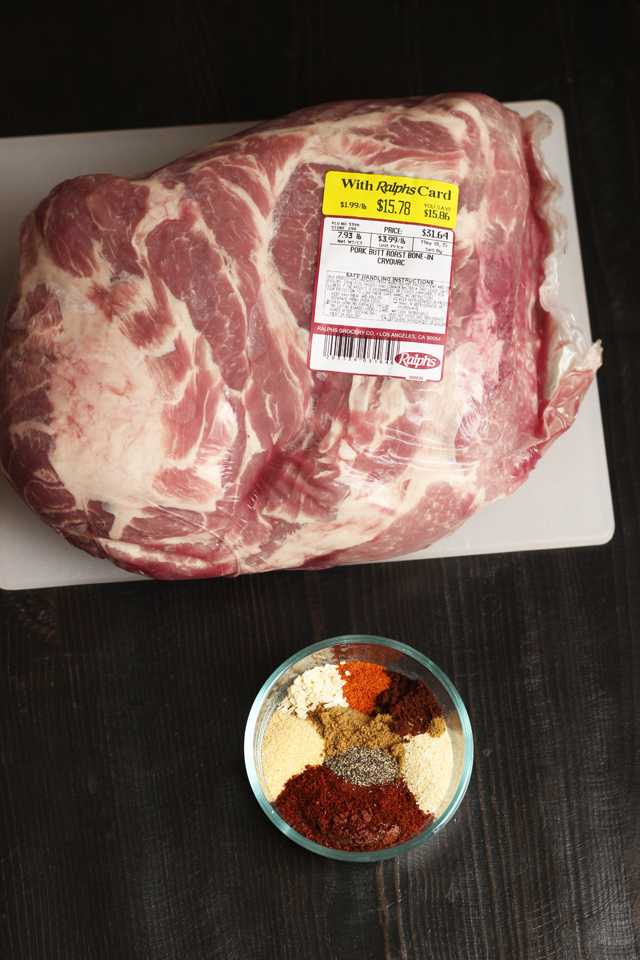 Pork butt and pork shoulder roasts are perfect for summer time. Seems crazy that I'm saying roast and summer in the same sentence, but it's true. Roasts cook up super well in the slow-cooker which is an ideal tool to use in the summer time. Not only do they save you from heating up the oven, but they can also sit for awhile cooking dinner while you finish galavanting around town.
I look for sales on pork butt or pork shoulder roasts. Recently, they were 50% off at Ralphs. The roasts were huge, making for two meals for our family. I love cooking once and feeding my family twice! This recipe is a great one for bulk cooking. If you don't want pork twice in one week, just freeze the second half.
(Good to note: we're a family of 8, so this same size roast would feed a "normal" family 4 times. We never were trying to be normal….)
This custom rub smells so good. I purposely made the spices to go with BBQ as well as Mexican flavors, so the possibilities of how to serve the final product are truly endless. Use the savory pulled pork in tacos, burritos, taquitos, chimichangas, lettuce wraps, salads, and sandwiches.
All the ingredients are gluten-free, making this a great recipe for the Whole 30, paleo, and other gf diets. Just be sure to check your chili powder package. Sometimes they add funky stuff.
Best Ever Slow Cooker Pulled Pork
Looking for a simple yet flavorful way to cook pork? Combine a homemade rub with a cheap cut of pork and cook it slowly in the slow cooker for a fantastic filling for sandwiches, lettuce wraps, and tacos.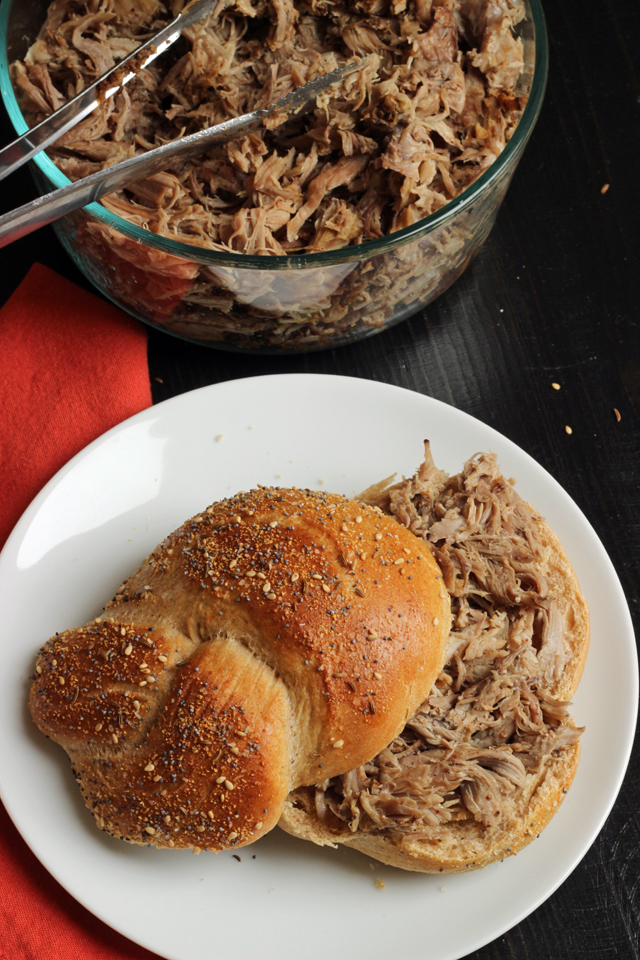 Preparation Time: 10 minutes
Cook time: 6 hours
Total time: 6 hours 10 minutes
16 servings
Ingredients:
8 pound bone-in pork butt or shoulder roast

1 tablespoon sea salt

1 tablespoon garlic powder

1 tablespoon onion powder

1 tablespoon onion flakes

1 tablespoon chili powder

1 teaspoon black pepper

1 teaspoon cumin

1/2 teaspoon ground cloves

1/4 teaspoon cayenne pepper, or more to taste
Instructions:

Remove the roast from the packaging and place in the bottom of a large slow cooker.
In a small bowl combine the salt, garlic powder, onion powder, onion flakes, chili powder, black pepper, cumin, cloves, and cayenne pepper. Spread this all over the roast, turning the meat to coat all sides.
Cook in the slow cooker for 6 hours on high or 8 to 10 hours on low. The meat will be so tender that it will easily shred with tongs or two forks. Remove the bones and fat, and shred the meat.
Serve the meat as a filling for tacos, sandwiches, lettuce wraps, burritos, salads, or taquitos.
To freeze: cool the meat and divide it into meal-size portions in plastic containers with lids or in ziptop freezer bags. Chill completely before storing in the freezer. To serve: reheat in the microwave or in a pan on the stovetop with a bit of water, if necessary.