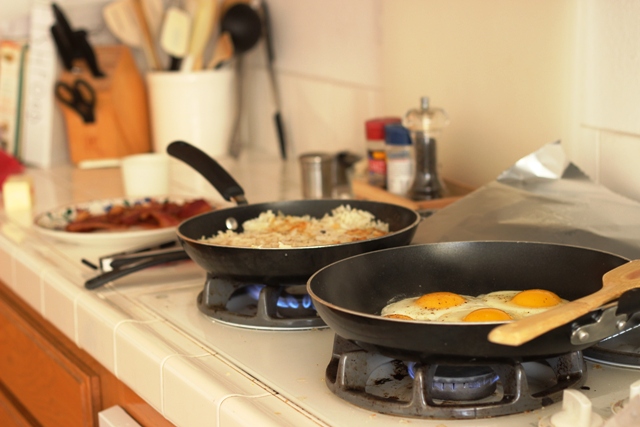 It's Sunday afternoon. As I type, home fries are cooking on the stove for a "breakfast-for-lunch" midday meal. I've spent several hours inputting financial data into the computer, something I'm loathe to do. So, here's for an easy, albeit late, lunch.
Yesterday was full of grocery shopping, hockey game, granola making, and pizza night. I forgot the leftover pizza in the fridge. That could have meant an easier lunch. C'est la vie.
That's life. Especially when you don't have your meal plan squared away. Ahem.
In my defense, I've been dreaming of tonight's dinner: an all-you-can-eat taco and enchilada bar. I found this rocking homemade enchilada sauce recipe, and I can't wait to make it again. I sorted and soaked beans for Healthier Refried Beans last night. They're cooking in the slow cooker as we speak.
The rest of the week? Well, I've got a vague list in my head; there's lots of recipe development on my horizon. I'm a little behind schedule on book #4, so I need to step it up. The grocery total yesterday afternoon was pretty high so I could make sure I had what I needed. Oy!
Anywho, here's the vague list written down so maybe I won't be making eggs for every meal of the week.
Breakfasts
all baked goods are made with honey or maple instead of the sugar in the recipe

Lunches

Dinners
I can't get into great detail about our dinners this week since a lot will be experiments. I never know what we're going to have until we sit down!
But, I have a basic formula for our week's evening meals that revolves around our afternoon and evening activities.
Date night – Hubs and I go out and the kids have quesadillas and fruit.
Hockey practice/Ballet – I'm gone during dinner so I make something in the slow cooker. This week we'll be gone all day at Legoland, so it will be really important to get the crock going.
Karate night – I'm gone during dinner, but I do a recipe experiment that's make-ahead and leave it for the fam to eat.
Saturday – This is our new pizza night since we have hockey late on Friday.
The three other nights of the week – lots of experiments. 🙂
How to Meal Plan

If you're looking for instruction in guidance in making your own meal plans, you've come to the right place. Meal planning is a sure-fire strategy to help you serve meals in a timely manner, avoid extra trips to the grocery store, and save money by using up what you have.

Meal Planning 101 covers everything you need to know in order to plan and execute successful meal plans that help you eat well and stay under budget. Be sure to scroll through the archives because we've addressed quite a few meal planning basics as well as common challenges and stumbling blocks to meal plans that work.
Got YOUR meal plan on?