Planning out the meals for the week can help you stay organized and well-fed. This week I discovered color coding to help me know what meals we can make with what we have and what meals will need to be shopped for.

I made the executive decision to end my Pantry Challenge on the 28th, using the groceries reported here and including the orange juice, cheese, chips, and bread that I bought for last night's dinner ($17.50). That brings my total for Pantry Challenge spending to $468. Hubs birthday is on Tuesday and that's when this week's sales end. And, honestly we're ready.
Everyone fell ill over the weekend, so we're ready for some comfort foods.
I'll be taking advantage of other sales before the end of the month, but we'll be eating from those Pantry Challenge groceries until then. So, officially 4 weeks of pantry challenge spending and using what we have was $468 which is a huge success. My January spending will be higher due to taking advantage of those sales.
That said, the challenge was a success, I think. The savings is allowing me to build up the stockpile and take advantage of sales without going over budget ($800/month for 8 people) which might have happened if I had shopped based on what we wanted rather than what we had.
Moral of the story: Want what you have.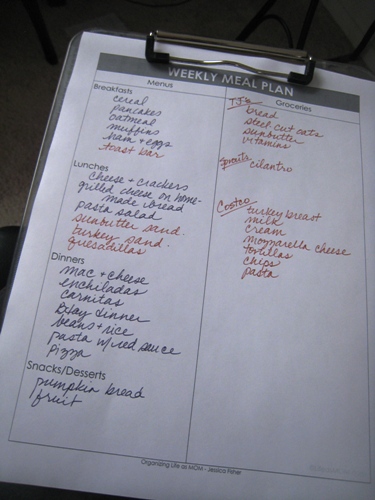 This Week's Meal Plan
Here's a picture of our week's meal plan, I put in purple the things we already had and the brown notes are things that will require some grocery shopping, sometime this week.
On color coding:

I actually like the color coding and may continue it, though I will go find colors that I like. Purple and brown are not my faves.

Anyway, the color coding is a nice technique because at a glance you know which meals you can make without having to go to the store. If you don't make it to the store when you think you will, you still have choices. Nice Pantry Challenge technique if I do say so myself!
I'm going to continue doing 3×7 meal plans since it really does help us limit waste and be more organized.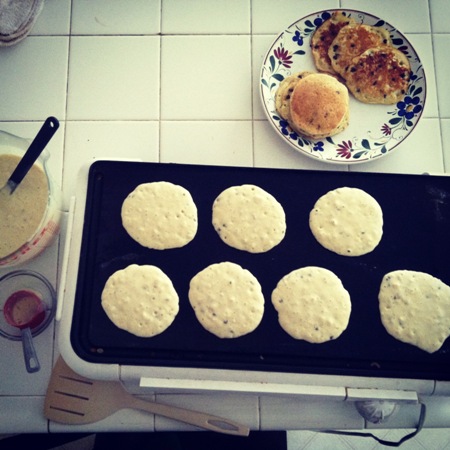 Breakfasts
served with milk and fresh fruit

Lunches
served with fresh vegetables and fruit
Cheese and Crackers
Grilled Cheese on Homemade Bread
Pasta Salad
Sunbutter Sandwiches
Turkey Sandwiches
Quesadillas
Leftovers, if any

Dinners
served with seasonal vegetables
Birthday Dinner for hubby – we're splurging for his 50th birthday
Pasta with Red Sauce
Need help with Meal Planning?
In the coming weeks I've be continuing Meal Planning 101. If you've missed earlier parts of the series, you can see those here:
I also guest posted on Pantry Challenge Meal Planning a lot over the last week. Check out these posts:
How to Build a Pantry that Works for YOU :: Food Your Way
Shop Your Kitchen to Plan Your Meals :: I'm an Organizing Junkie
Save Money with a Pantry Challenge :: 5 Dollar Dinners
Need even more meal planning inspiration? Check out Menu Plan Monday.