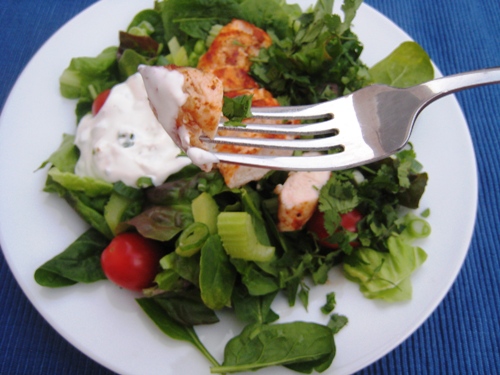 Buffalo wings are a wonderful party snack, but there isn't a whole lot of substance to them. As good as they are, they do not make a meal. Really. They don't.
I've taken it upon myself to take good flavors and put them to meal type uses. My favorite canvas? Pizza or salad. In light of my new mission to put all good things on a pizza or in a salad, I've got a new creation for you: Buffalo Chicken Salad.
I took typical buffalo wing seasonings and doused them on boneless, skinless chicken breast. Toss that on a bed of greens with grape tomatoes, chopped celery, and blue cheese dressing? Yum! And throw on a good handful of cilantro, just for kicks. Yum-O!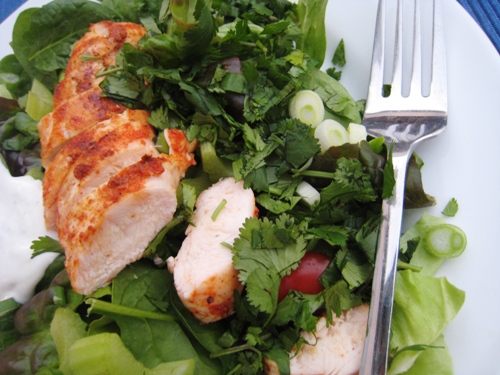 Looking for more bright ideas to get dinner on the table? My latest cookbook is here! And it's designed just for you to make dinner quickly, easily, and affordably.
You can beat the clock without breaking the bank. And you'll eat well too.
Ingredients
1 pounds boneless, skinless chicken breast tenders
1 Tablespoon Tabasco sauce
2 Tablespoons melted butter or ghee, cooled
1/2 Tablespoon garlic powder
1 teaspoon smoked paprika
1/2 teaspoon sea salt
1/8 teaspoon cayenne pepper
mixed greens, spinach or torn romaine lettuce
2 ribs celery, chopped
grape tomatoes
Blue Cheese Dressing, omit for whole 30
chopped green onion
chopped cilantro
Instructions
Place the chicken breast tenders in a medium bowl. Drizzle the Tabasco sauce and butter over the tenders. Toss to coat. In a small bowl, combine the garlic powder, paprika, sea salt, and cayenne pepper. Sprinkle 1 to 2 Tablespoons over the chicken tenders, tossing to coat. Allow flavors to blend for 15 minutes before cooking on a hot grill. Allow cooked chicken to rest while you assemble the salad.
Layer mixed greens, grape tomatoes and chopped celery on each serving plate. Drizzle dressing over each salad. Garnish with green onion and cilantro. Top the salad with sliced chicken.
Have you got a favorite flavor you'd love to see on a pizza or a salad?