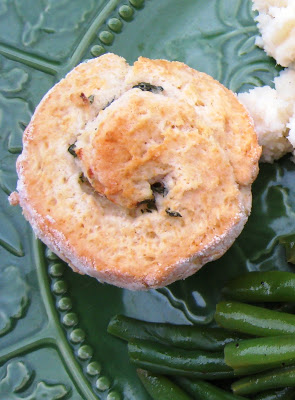 I love to have bread as a side dish. These biscuits take a little extra work, but they really dress up the plate.
Recipe: Garlic-Parmesan Swirl Biscuits
Ingredients
Garlic Butter:
1/4 cup butter, softened
3 cloves garlic, crushed
2 Tablespoons grated Parmesan cheese
1/4 teaspoon parsley flakes
Biscuit Dough:
2 cups flour
1 teaspoon salt
1 Tablespoon baking powder
1/3 cup butter
3/4 cup milk
Instructions
Preheat oven to 425°. Grease a 12-cup muffin tin.
In small bowl, combine softened butter, garlic, Parmesan, and parsley. Set aside.
In large mixing bowl, combine flour, salt, and baking powder. Cut in butter until coarse crumbs are formed. Stir in milk until combined. Turn out onto floured surface. Knead a few times and flatten into a 9 x 12 square. Spread garlic butter over surface of dough. Roll up dough from long edge and pinch to seal.
Cut rolled dough into 12 pieces, each one-inch wide. Place each spiral in a prepared muffin cut and bake for 15 minutes or until done.
Don't forget to visit
Ultimate Recipe Swap
tomorrow. This week's theme?
Anything goes
!
Want the dish on delicious ways to act your wage?
Subscribe to GCE in a reader
or
via email
.