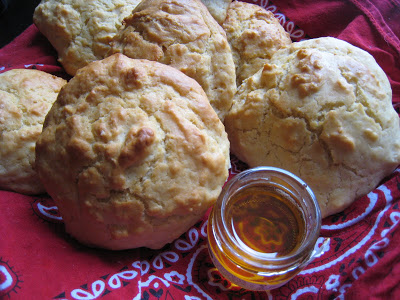 My kids love biscuits. Last night they ate a full dozen before I could get dinner on the table! And homemade are so yummy! And so much tastier and healthier than the kind the Doughboy makes — even if you get them for a quarter a can.
While it's nice to make the fluffy cut-out kind, drop biscuits are much easier and hold much less room for error. This recipe is a great one to make into a mix. Simply combine the dry ingredients in a ziptop bag, mark with wet ingredients to add and baking instructions and you're ready to whip up a batch at a moment's notice.
Recipe: Drop Biscuits
Ingredients
1 cup unbleached flour
1 cup whole wheat pastry flour
1 Tablespoon baking powder
1/2 teaspoon salt
3 Tablespoons light olive oil
1 egg
3/4 cup milk
Instructions
Preheat oven to 450°.
In a large mixing bowl combine flours, baking powder, and salt.
In another bowl, combine oil, egg, and milk.
Fold wet mixture into dry and drop by scant 1/4 cup fulls onto cookie sheet.
Bake for 10 – 15 minutes or until golden brown.
You can also freeze the biscuits, baked or unbaked. Flash freeze and store in an airtight container in the freezer. If baking from frozen, increase baking time 5 minutes. Alternatively, bake and cool the biscuits and store them in an airtight container in the freezer.
Want the dish on delicious ways to act your wage? Subscribe to GCE in a reader or via email.