Make your own salsa. It's cheaper and tastier than the commercial varieties.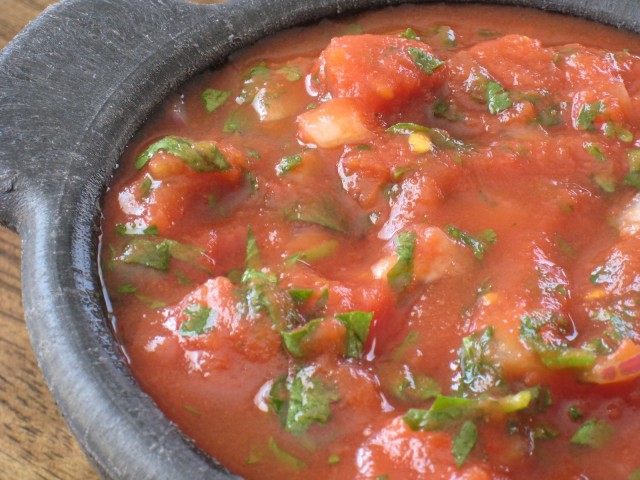 Since we eat so much Mexican food at our house, we eat a lot of salsa. When we first married, I paid $4 for a 16-ounce container of salsa fresca every week. It was refrigerated and I thought it was. the. best.
Ha!
Once I realized that I could make twice as much for half the price, I quit buying it. On the occasions where I'm lazy or in a hurry and I've bought the old varieties, we've been sorely disappointed. Why buy it when you can make it better and cheaper?
This is the recipe I prepare weekly, using canned tomatoes. Later in the summer when fresh garden tomatoes are in abundance, I'll share another version. This one is almost as good and more readily available. The amount of heat will depend on which chili you use (serrano will be hotter, crushed red pepper will be mild.)
Recipe: Homemade Salsa
Ingredients
28 ounce can diced tomatoes
1/2 bunch fresh cilantro, rinsed well
1/2 sweet onion, chopped
1 serrano or jalapeno chili, stem removed, finely chopped OR 1/4 teaspoon crushed red pepper
1 Tablespoon lemon or lime juice
salt and pepper
Instructions
In large bowl, combine all ingredients.
Serve with tortilla chips or other Mexican dishes.
Cost breakdown:
canned tomatoes, generally available for $1
cilantro $0.15
onion $0.25
serrano $0.01 (really!)
lemon juice $0.10
Total cost for 4 cups of salsa: $1.51
Making your own is a great way to save money on a good eat.