Bake someone happy with these delicious chocolate chip cookies scented with orange zest.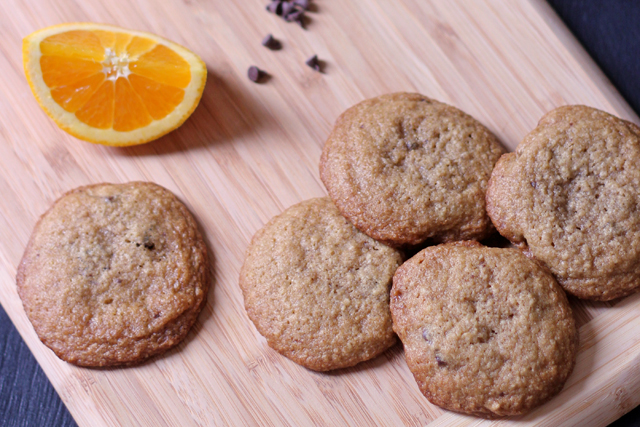 Years ago I dove head-first into the world of couponing. We were deep in debt. Coupon deals were just starting to become more prevalent. The recession was strong. And I became a coupon junky. Our grocery budget was $400/month to feed 7 1/2 of us. (I was pregnant with our sixth child.)
It was a crazy couple years, but trimming back our budget to the bare minimum and snatching up ever free deal I could find really did help us make ends meet, pay off our debts, and build up some savings.
At the same time, we delved into the world of processed foods. Deeply. If a box of sugar cereal was a quarter (or free), I grabbed it. If I could get a box of cookies for 50 cents, I did, regardless of the ingredients list. These were fun foods that helped my kids get over the seeming drudgery of another meal of rice and beans.
We ate rice and beans three times a week, at the minimum.
Since those days, the coupon craze has calmed down and we moved to another state where store coupon policies are much stricter and less lucrative. At the same time, I decided to do a little food research and came to the conclusion that processed foods were not things that I wanted to fill my cart with.
Oh sure, I buy a box of something every week, but it's surrounded by whole ingredients instead, foods that I know are better for my family. But that doesn't mean we spare no expense on groceries.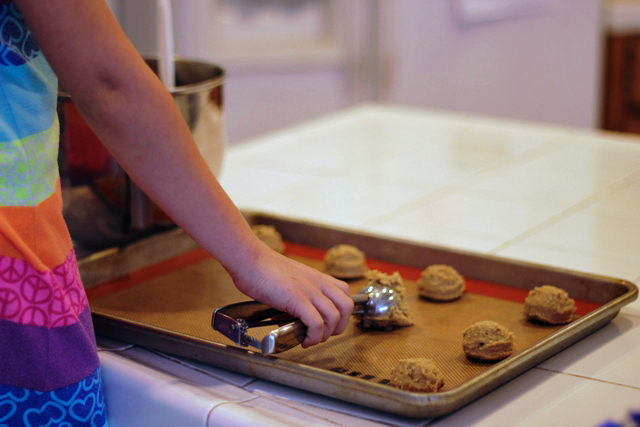 One of the biggest ways to help my kids eat a healthier diet than we did many moons ago as well as keep the family budget in check is to bake things ourselves. Several of my kids are now of an age where they can do the baking instead of me! That is amazing.
In fact, now that we have a paperback copy of my newest book, Good Cheap Eats, I get such a thrill at passing the book off to one of the kids or my husband and walking away to do something else. Can I get a yes and amen?!
By baking our own cookies, cakes, and breads, we save money at the same time as eat healthier. The kids and I enjoy the baking process, so it's no problem to DIY. And when you employ your freezer, you can bake a batch (or ten) and stash extras (baked or unbaked) in the freezer for a later date. Double win when you've got cookies in the freezer.
You can make cookies as convenient as picking up a box off the shelf.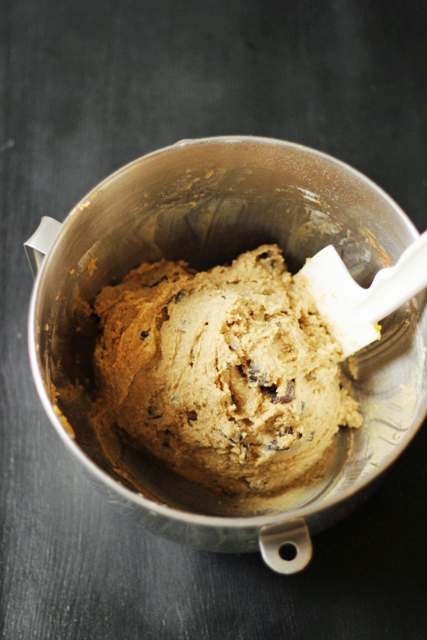 Have I convinced you to go to the kitchen yet? How about this…. if you buy pasteurized eggs (the brand name I get is Safe Eggs), you can eat all the raw cookie dough you want, without fear of getting sick.
These cookies are favorites at our house. They are full of flavor thanks to the chocolate, cinnamon, and orange zest. I buy chocolate chips on sale or chop up candy from the holiday clearance shelf in order to curb the costs. If you can find mini chips at a discount, I've found that you can get buy with less chocolate since the tiny chips provide for a wider distribution of chocolatey flavor. However, if you're rich in chocolate chips, feel free to use two cups instead of one.
If you find oat flour on sale, grab it, otherwise, follow the recipe instructions to grind oats at home. I find that the bulk bins at my local health food store often has the best price on rolled oats.
I usually make these when oranges are in season since I can buy the fruit at a discount and use the zest, basically for free. When I play my cards right, I freeze excess zest so that we can use it all year long. Feel free to buy dried zest in the spice aisle (check the clearance shelf for discontinued spices!) or try other combinations, such as ground ginger and lemon zest or dried cherries and lime zest (with or without the chocolate chips). This recipe allows you lots of flexibility.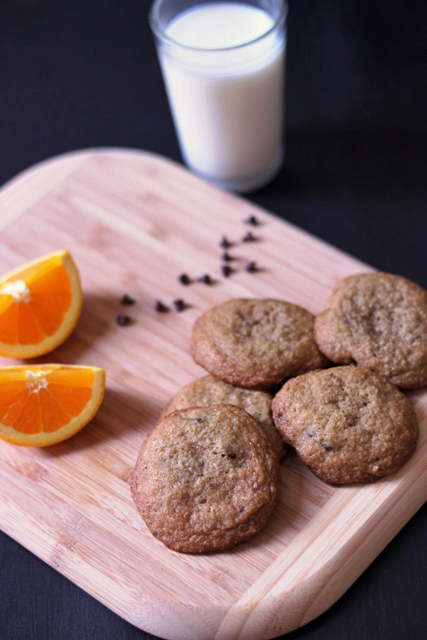 Orange-Chocolate Chip Cookies
Ingredients
1

cup

butter

(2 sticks)

1

cup

dark brown sugar

1/2

cup

granulated sugar

2

egg

1

tsp

vanilla extract

1 1/2

cup

unbleached, all-purpose flour

1 1/2

cup

rolled oats

1

tsp

baking soda

1

tsp

salt

1/2

tsp

ground cinnamon

1

orange

, zested

1

cup

mini chocolate chips
Instructions
Preheat the oven to 375°F. Line two baking sheets with parchment paper or silicone baking mats.

In a large bowl, cream together the butter and sugars. Add the eggs and vanilla and beat until well combined.

Grind the oats in a blender or food processor until powdered. Add to the butter-sugar mixture along with the flour, baking soda, salt, cinnamon, and orange zest, stirring to combine. Fold in the chocolate chips.

Scoop the dough into rounded tablespoons and place 2 inches apart on the prepared baking sheets.

Bake until set, 8 to 10 minutes. Cool on a rack.

Make Ahead: Layer the cookies in an airtight container and store at room temperature for up to 1 week or in the freezer for up to 1 month.
Notes
Nutritional values are approximate and are based on 1 cookie - recipe makes about 36 cookies. Use within 4 days.
Nutrition
Calories:
140
kcal
|
Carbohydrates:
19
g
|
Protein:
2
g
|
Fat:
7
g
|
Saturated Fat:
4
g
|
Cholesterol:
23
mg
|
Sodium:
149
mg
|
Potassium:
31
mg
|
Fiber:
1
g
|
Sugar:
12
g
|
Vitamin A:
183
IU
|
Vitamin C:
1
mg
|
Calcium:
17
mg
|
Iron:
1
mg
There are over 200 recipes packed away in my new book, Good Cheap Eats, including this one. You can preorder it now and Amazon (if that's where you buy it) will guarantee you the lowest pre-release price between now and shipping time. I appreciate your support.