My in laws were here last week, ready to act the part of taste testers for The Cookbook. Bless her heart, my mother-in-law said that it felt like a spa weekend since she ate so much.
I pointed out that there were no massages or pedicures in sight, but she was satisfied, nonetheless.
It can be really fun to cook for other people, especially when you're not worried about impressing them. I know my in-laws love me, even if I fed them something from a box.
Making Company Meals Fun
But, sharing a delicious meal with friends and family is so much more fun, especially when you make "a company dinner."
The term is probably a throw back to the Donna Reed days, when hubs might bring home his boss or an important client for dinner. The lady of the house felt the pressure to impress.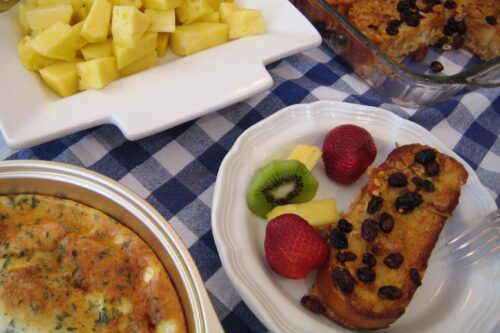 Hopefully, you don't feel that same pressure, but whether you do or not, these tips will help make your company dinner stupendous:
1. Cook what you know.
Don't try out a new and complicated recipe — unless you're writing a cookbook and need guinea pigs. Instead, stick with the familiar, something that you know how to make easily, quickly and without a lot of stress.
2. Inquire about food allergies or aversions.
No doubt you've crossed paths with someone who couldn't or wouldn't eat a certain food. Whether the avoidance is health related or not, respect your guest enough not to serve something that could endanger them or make them feel uncomfortable. Remember: you're having them over to enjoy their company.
3. Appeal to a wide range of tastes.
That said, recognize that you can't please everybody all the time. But, if you have enough side dishes, your guests — and pickier children — will have an out. They'll be able to enjoy the things that match their tastes and not worry about going hungry if there's something they don't love.
4. Make ahead as you are able.
Not all dishes can be made ahead, but many components can be prepped in advance. Do what you can in the morning before your guests arrive. Salads, breads, vegetables, marinades, and salad dressings are good things for you to get ready before hand.
5. Relax.
Your guests won't have as good a time if you are upset or stressed. Do your best to relax and enjoy good times together. Recognize that it might not all go according to plan. That is okay. Be prepared to laugh at yourself.
Here are a few of my favorite meals to enjoy with family and friends: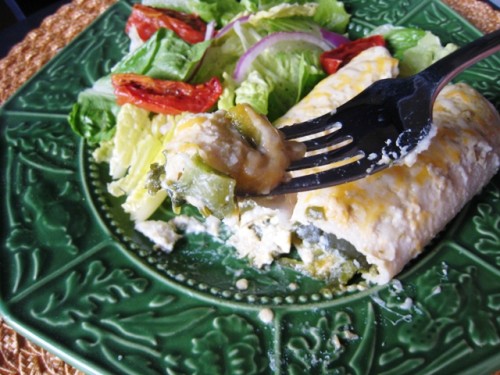 Poblano Chile Enchiladas
FishPapa and I love these Poblano Chile Enchiladas. It's often an at-home anniversary dinner. And since our kids aren't crazy about them, that means we get to eat the whole pan. Serve them with beans, Mexican rice, and a side salad.
You can roast the peppers, make the tortillas, and assemble the enchiladas in advance. The salad and dressing can also be prepared ahead of time.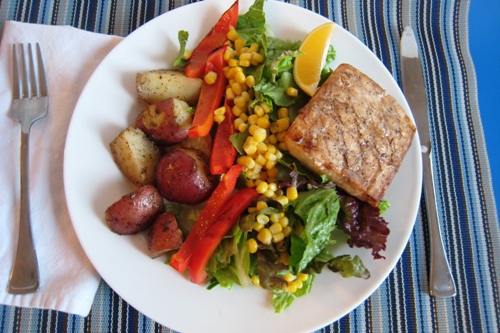 Soy Grilled Fish with Grilled Peppers & Lemon Roasted Potatoes
We've enjoyed this simple way of fish preparation quite a bit this year. I'm amazed at how easy it is. Simple drizzle soy sauce and grind black pepper over your fish and cook until flaky.
Yes, that easy.
Last week we grilled peppers alongside the fish and served them both with Lemon Roasted Potatoes, and a salad of corn and lettuce. Top it all off with Yogurt Dill Dressing.
The potatoes take some time to cook, but the fish and peppers cook quickly. The salad components can be prepared well in advance.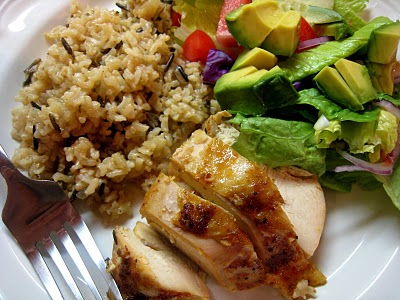 Chicken and Wild Rice Bake
Marinated chicken bakes in the oven on a bed of wild and brown rice pilaf while you chat with your guests. This Chicken and Wild Rice Bake is actually a freezer meal that you can make in advance and just assemble and set to bake before your guests arrive. Serve it with a side salad.
Company dinners don't need to be fussy. They need to be fun! If you've got good food waiting as well as a happy heart, you've got it made!
What do YOU serve for a company dinner?