Want to eat a little more healthy? Enjoy this hearty Chicken Strip Salad full of vegetables and topped with blue cheese and pumpkin seeds.
This post is sponsored by SuperSeedz. I have received sample product as well as compensation for my time. All opinions are my own.
Summer is salad season. And with good reason. Salads are cool, fresh, and very make-ahead. Not to mention, good for you!
Salads are also simple fare. You don't need to get super complicated in order to present a fancy-schmancy salad. I typically start with a bed of greens, a hearty protein, two or three veggies, and then a couple bonus toppings like croutons, cheese, nuts, or seeds.
This Chicken Strip Salad follows that formula, so simple, but amazingly packed with flavor. The trick is to balance the different textures and flavors so not to lean too far into spicy, crunchy, sweet, tart, etc. This Chicken Strip Salad is a veritable party in your mouth, a good party where everyone gets along and has a great time.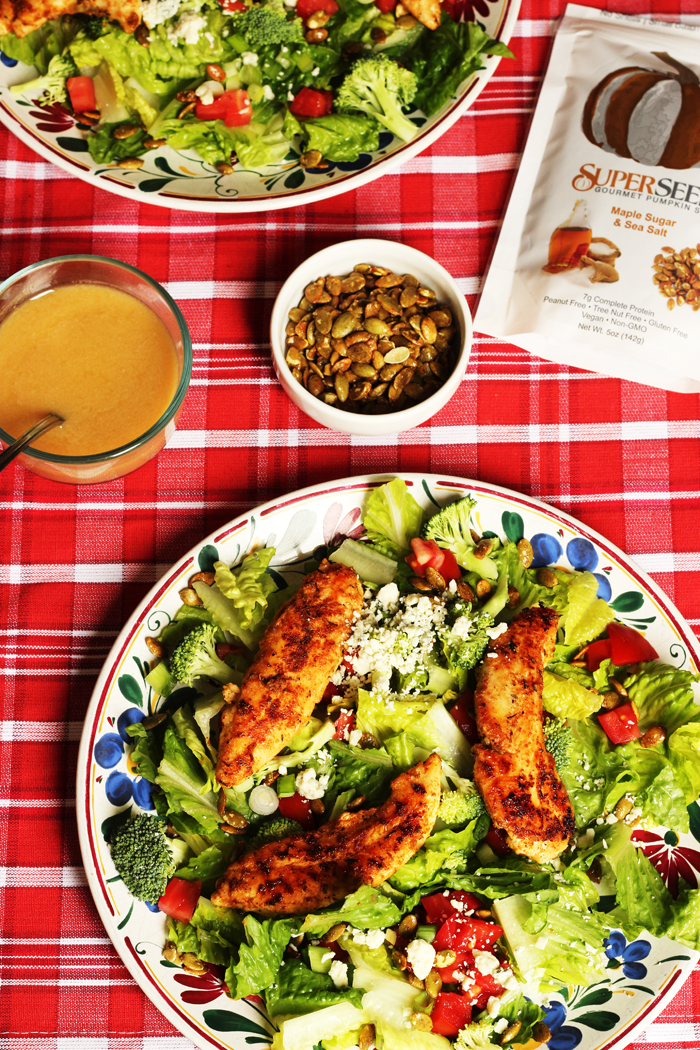 A simple bed of romaine with some green onions, tomatoes, and broccoli offer a base for hearty Cajun-spiced chicken strips. Be generous with the spice mix. In doing so, the spices and herbs form a nice crust on the chicken, similar to fried chicken, but without the extra fat and breading that you might not need or want.
This simple chicken strip salad gets extra pizzazz from salty blue cheese and sweet Maple Sugar and Sea Salt SuperSeedz Gourmet Pumpkin Seeds. Top it all off with a drizzle of Dijon Vinaigrette and you are set for a main dish salad that is out of this world. The sweet, the salty, the tangy — they play really nicely here, making your next salad something to look forward to.
I know these seeds would go super well in my Pear and Blue Cheese Salad as well.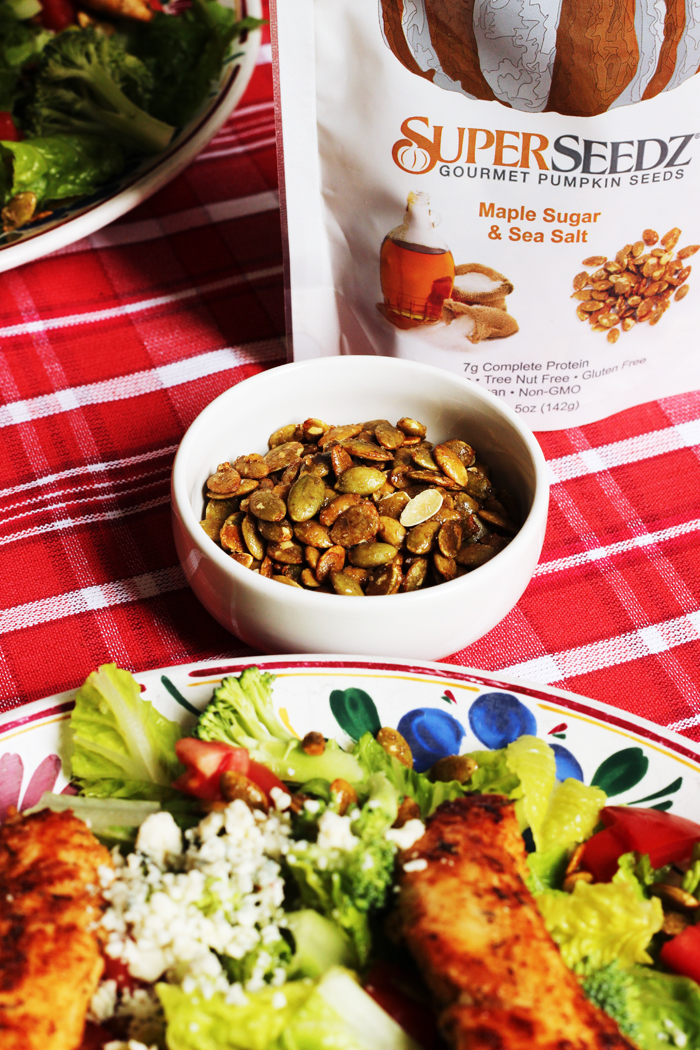 SuperSeedz are a fun new product in my pantry that I am thrilled to run through the paces. Here are some of the things that I love about them.
They are peanut- and tree-nut free, meaning my daughter can enjoy them without fear of an allergic reaction.
They are gluten-free which makes certain varieties perfect for Whole 30 or paleo or gluten-free eaters at my table.
They are a great source of complete protein.
They come in a variety of flavors, including: Sea Salt, Super Spicy, Maple Sugar & Sea Salt, Somewhat Spicy, Cinnamon & Sugar, Coco Joe, Tomato Italiano, Curious Curry, and Really Naked
They taste great!
I latched onto pumpkin seeds, aka Pepitas, as a fun way to add crunch to dishes when we first discovered my daughter's nut allergy. I'm looking forward to trying the different SuperSeedz varieties in these recipes:
Not to mention adding them to our next Oatmeal Bar.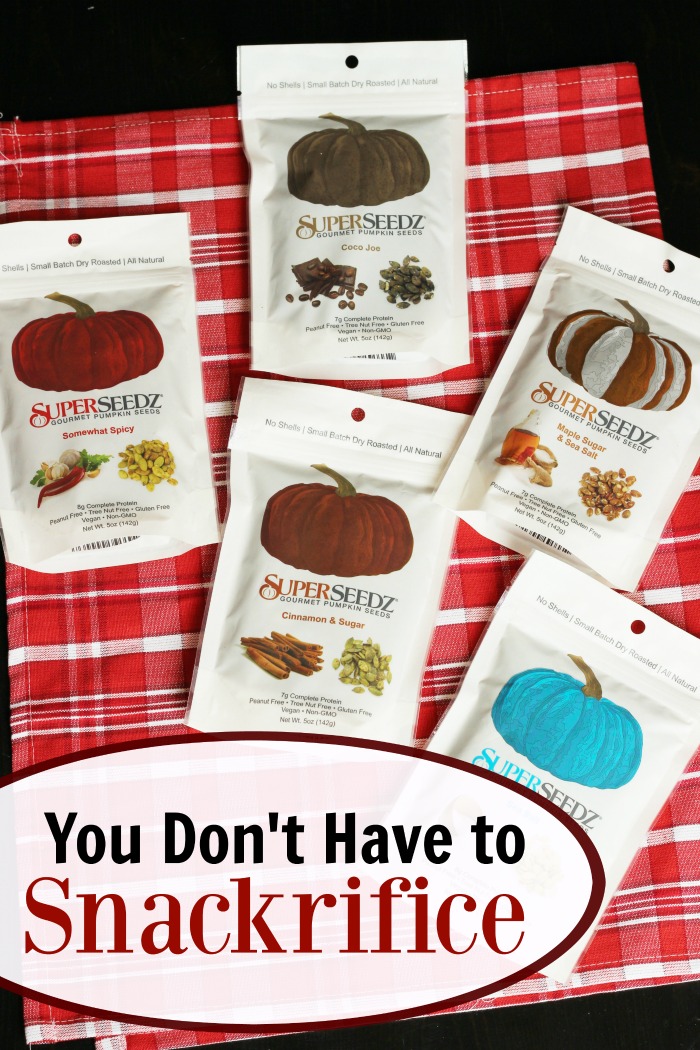 With SuperSeedz, you don't need to "Snackrifice". These all-natural, gourmet pumpkin seeds are a great addition to your breakfasts, lunches, dinners, and yes, even snacks.
Get 15% off SuperSeedz online orders until the end of June. Use the promo code: EATS15 to get your discount!
Chicken Strip Salad with Blue Cheese & Pumpkin Seeds
Want to eat a little more healthy? Enjoy this hearty Chicken Strip Salad full of vegetables and topped with blue cheese and pumpkin seeds.
Ingredients
2

tablespoon

olive oil

6

chicken tenders

2

teaspoon

Cajun Spice Mix

1

head

romaine lettuce

washed, dried, and cut into bite-sized pieces

1

tomato

diced

¼

head

broccoli

cut into small florets

1

green onion (chopped)

2

tablespoon

pepitas

2

tablespoon

blue cheese crumbles

1

batch

Dijon Vinaigrette
Instructions
In a large skillet over medium-high heat, heat the oil until shimmering. Add the chicken and season generously with the spice mix. Cook, turning, for about 10 to 15 minutes until cooked through and crisp on the outside.

Place two large handfuls of lettuce on each of two salad plates. Divide the tomato, broccoli, and green onion between the two salads.

Place three pieces of chicken on each salad. Top with pumpkin seeds and blue cheese crumbles. Serve the vinaigrette on the side.
Notes
Promptly store leftovers in an airtight container in the refrigerator, for up to 3 days.
Nutritional values are approximate and based on 1 salad.
Nutrition
Calories:
475
kcal
|
Carbohydrates:
21
g
|
Protein:
43
g
|
Fat:
27
g
|
Saturated Fat:
5
g
|
Trans Fat:
1
g
|
Cholesterol:
101
mg
|
Sodium:
328
mg
|
Potassium:
1875
mg
|
Fiber:
11
g
|
Sugar:
7
g
|
Vitamin A:
29393
IU
|
Vitamin C:
92
mg
|
Calcium:
203
mg
|
Iron:
6
mg