An efficient kitchen is one that brings about tasty, nutritious results without a lot of waste.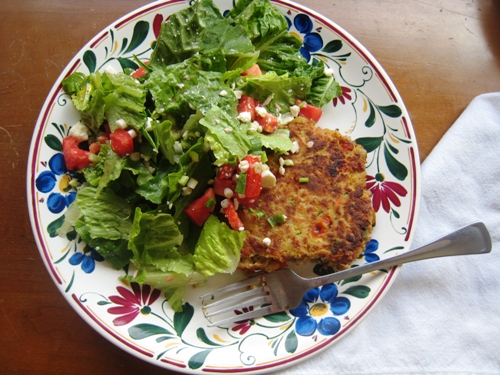 I love to cook. I love to eat. And I love to spend time with my family. Sometimes these all converge into a happy cacophony of lipsmacks and laughter. And sometimes, not.
As a result, I'm on a mission to be as efficient in the kitchen as I can be — without sacrificing our dining pleasure or time spent with my kiddos who are, indeed, growing as fast as sweet corn in the summertime.
Don't get me wrong. I like takeout as well as the next guy, but I find that the most satisfying meals are the ones we eat at home. An efficient kitchen is my answer.
What's an efficient kitchen?
Efficient kitchen? Sounds like something out of The Jetsons, doesn't it? But, truly, efficiency is a good thing. And something we should aspire to, especially in the kitchen.
ef·fi·cient

adj \i-'fi-sh?nt\

productive of desired effects; especially : productive without waste
An efficient kitchen produces desired effects without waste. Booyah! That's what I want. And really, that's the driving force behind Good Cheap Eats: great food without wasting time, money, or natural resources.
The efficient kitchen is one in which these resources are not wasted, but instead work together to create tasty, nourishing food for you and those you love.
Here are some of the secrets of an efficient kitchen:
1. Have a plan.
How much time do we waste staring into the depths of the fridge wondering what to cook for supper, or worse, driving to the store without an idea in our heads of what to buy? I've done it. Oh yes, I have. And it feels like slogging through quicksand, especially when you know someone is going to start crying for dinner anytime soon.
Meal planning and intentional grocery shopping are great ways to get a plan in action. Whether you plan for just a few days, a week, or even a month, determining your menu plan in advance can save you a lot of time, frustration, and money. You'll know what to buy, what to cook, and what to serve. No quicksand here. Dinnertime prep will be like a walk in the park.
Hand in hand with the meal plan is intentional grocery shopping. Sure, there've been times when I just went aisle-by-aisle through the store, loading my cart with pantry staples that I knew we needed or even items that struck my fancy. There's definitely a time and place for that.
But, grocery shopping with list in hand is a way to curb excess spending and to make sure you have the ingredients you need when you get around to cooking.
Meal planning and intentional grocery shopping help us be efficient, saving time, money, and unnecessary trips to the store.
2. Use what you have.
As last month's Pantry Challenge proved to so many of us, we have a wealth of great meals right under our own roofs! In fact, some of you are carrying the challenge into February because your blessings are overflowing your cupboards. It's in our best interests — and that of our pocket book — to make sure that we are using what we have.
Not only do we save money by not buying more than we need, but we also make sure that what we already have doesn't go to waste. How disheartening it is to throw away food that has sat on the shelf long past its expiration date! No fun. And definitely not efficient, especially when we are then faced with replacing the item as well as disposing of it and paying the associated costs that come with throwing something in the trash.
Enjoying the food you already have in your pantry is a great way to practice stewardship and to be more efficient with your time.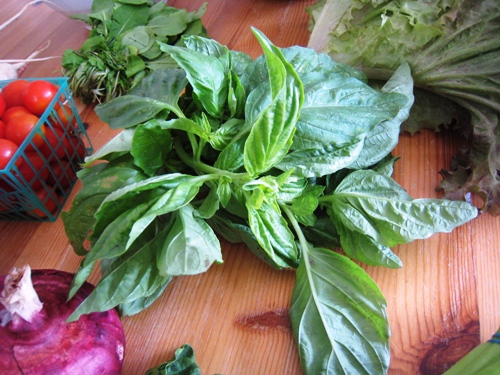 3. Go green(er).
There's no question that what we eat, how we shop, and how we prepare our foods have an impact on the world around us. While I am certainly not any kind of expert on environmental issues, I believe that God has granted us this world to take care of. I don't want to waste water or food due to ignorance or laziness. Instead, I want a healthy, balanced view of stewardship.
A few of my green ways:
For example, it's my joy to feed my children the best food I can afford. While we can't go all organic due to budgetary and sourcing constraints, I am super pleased to have found an affordable source of organic produce. This helps me feel good about what I feed my family as well as how I'm supporting local agriculture.
I cook from scratch because I think this is better for my family — and a better use of resources. Processed foods don't have a great track record. They are more expensive than plain old ingredients. And they just don't taste as good as their fresher counterparts.
I try to be mindful of the packaging I use to store our food. While I don't believe everything I read on the internet, I am trying to gain a fair view of the costs and benefits of different food storage options.
These are my little baby steps toward greener living.
At the same time, I realize that each of us is at a different place when it comes to "green living." Our family only just started recycling last month as our city moved to comingled recycling. Prior to that they gave us these itty bitty bins that were too small to hold a day's worth, and were a little too rodent friendly. I felt bad every time I threw away the recyclable, but the previous system just wasn't efficient.
Now that we have a huge recycling cart where all the recyclables can congregate together, we're putting much, much less in the garbage. And I know that we could reduce even that with a little more effort — and maybe a compost pile.
Finding small ways to go green in the kitchen can help you save time, money, and valuable natural resources.
4. Eat leftovers.
It's true! Enjoying leftovers is a great way to be efficient. Not only are you getting more meals off one purchase and prep time, but you're wasting less, too. Some leftovers, like these Poblano Chile Enchiladas, are definitely worth fighting over. Simply reheat and enjoy. Others can be reworked in a number of ways to give them new life.
Either way, eating leftovers is a great way to enjoy tasty food without waste.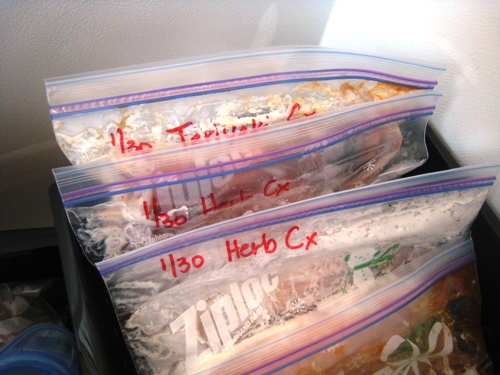 5. Use shortcuts.
There's no law that says you need spend hours in the kitchen to serve a great meal. In fact, some of the tastiest spreads are those we pull together on the fly. There are a number of kitchen shortcuts, including freezer cooking and homemade convenience items that help you get meals on the table in a flash.
Plus there are a number of kichen "servants" to help you do your job more efficiently. An immersion blender can smooth a soup or sauce quicker than you can get the upright blender out of the cabinet. A bread machine can prep pizza dough while you tackle another job. A slow cooker can simmer a delicious stew while you go about your business away from home for the day.
Shortcuts help you save time which in turn help you eat at home instead of heading for takeout at the end of a long day.
Efficiency doesn't have to be many cogs in a wheel. It's just doing what we do as well as we can do it with as little waste as possible. And in the kitchen, that can make for some good cheap eats.
What do you think makes a kitchen efficient?